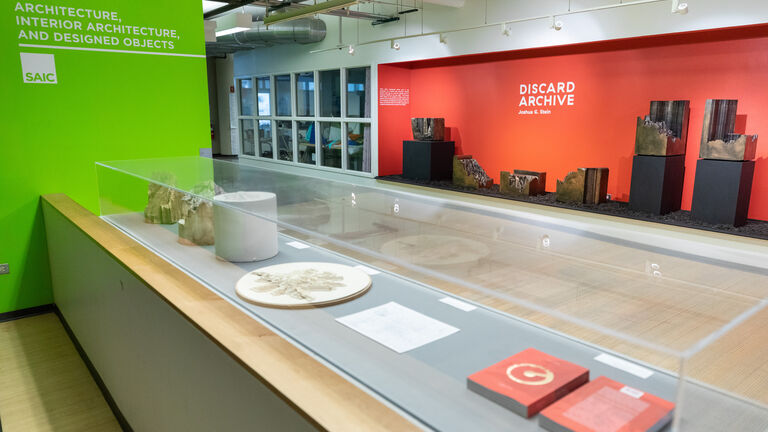 "Discard Archive" by Joshua Stein
Upcoming Events
There are no events at the moment.
Past Events
Lauren Bon
Thursday, April 28, 2022
Lauren Bon is an environmental artist from Los Angeles. Her practice, Metabolic Studio, explores self-sustaining and self-diversifying systems of exchange that feed emergent properties that regenerate the life web. Her studio's current work, Bending the River Back into the City, aims to utilize Los Angeles's first private water right to deliver 106-acre feet of water annually from the LA River to over 50 acres of land in the historic core of downtown LA. This model can be replicated to regenerate the 52-mile LA River, reconnect it to its floodplain, and form a citizens' utility. Lauren Bon is the 2021-2022 Mitchell Visiting Professor in SAIC's Department of Architecture, Interior Architecture, and Designed Objects.
Ikko Yokoyama
Tuesday, April 5, 2022
Ikko Yokoyama is lead curator of design and architecture at M+, Hong Kong's new museum for visual culture in the West Kowloon Cultural District. Before joining M+, she was based in Stockholm and served as head of exhibitions at Konstfack University College of Arts, Crafts, and Design. As an independent curator and writer, Yokoyama worked on international exhibitions and projects, including Found MUJI Sweden, Stockholm (2016); Japanese Design Revisited for Helsinki Design Week (2015); and THE FAB MIND: Hints of the Future in a Shifting World at 21_21 DESIGN SIGHT, Tokyo (2014–2015). She also regularly contributed to the periodicals Form, Casa BRUTUS, AXIS, Pen, Esquire, Elle Décor, and Studio Voice. 


Michelle Millar Fisher
Wednesday, February 16, 2022
Michelle Millar Fisher is currently the Ronald C. and Anita L. Wornick Curator of Contemporary Decorative Arts at the Museum of Fine Arts, Boston (MFA). Her work focuses on the intersections of people, power, and the material world. At the MFA, she is working on her next book, tentatively titled Craft Schools: Where We Make What We Inherit, and, as part of an independent team of collaborators, on a book (MIT Press 2021), exhibition, curriculum, and program series called Designing Motherhood: Things That Make and Break Our Births.
Tonika Johnson Lecture
Tuesday, November 30, 2021
Tonika Johnson is a photographer, social justice artist and life-long resident of Chicago's South Side neighborhood of Englewood whose art often explores urban segregation. Johnson's acclaimed Folded Map project visually investigates disparities among "map twins"–Chicago resident who live on opposite ends of the same street across the city's racial and economic divides–and brings them together to have a conversation. Folded Map debuted as an exhibition at Loyola University Museum of Art in 2018. Since then, Johnson has transformed Folded Map into an advocacy and policy-influencing tool that invites audiences to open a dialogue about how we are all socially impacted by racial and institutional conditions that segregate Chicago.
Naomi Kaempfer Lecture
Thursday, November 11, 2021
Naomi Kaempfer is the creative director of art, fashion and design and is responsible for the build up of the fashion, design, and art collaborations at Stratasys. Kaempfer explores the possibilities of crossing borders in the creative disciplines with 3D printing, and, with its advanced technologies, collaborates with designers and artists to stretch the creative envelope. Her latest focus with the Stratasys design team is on the fashion application of Polyjet 3D Printer directly on textile. Kaempfer forms relationships and collaborations with museums, art and design institutions, the creative sector, and art collectors.
Jackie Joseph Paul McFarland
Wednesday, April 7, 2020
Jackie Joseph Paul McFarland is an American artist/designer who explores the relationship of Blackness to the built environment. He is especially interested in speculative architecture explored through the lens of Afrofuturism as a means of celebrating and liberating African-Americans. Jackie is deeply interested in teaching, specifically in ways of diversifying architecture pedagogical practices, and he has written journal articles on the subject. Currently, he is creating sculptural pieces that he refers to as Ancestral Antennae.
Jenny Sabin 
Thursday, March 5, 2020
Jenny E. Sabin is an architectural designer whose work is at the forefront of a new direction for 21st century architectural practice–one that investigates the intersections of architecture and science and applies insights and theories from biology and mathematics to the design of responsive material structures and adaptive architecture. This talk will present ongoing trans-disciplinary research and design spanning across the fields of cell biology, materials science, physics, fiber science, fashion, mechanical and structural engineering, and architecture.
Industrial Facility
Tuesday, February 25, 2020
London-based studio Industrial Facility was cofounded by designers Sam Hecht and Kim Colin. Their approach reflects both a thoughtful consideration of form and a unique understanding of contemporary life, creating beauty out of utility in the products, furniture, and exhibitions they design. Hecht, from London, trained as an industrial designer, while Colin, from Los Angeles, trained as an architect. Together, they have helped their clients to produce items that display an understanding of both cultural relevance and spatial use.
Paolo Aguirre Serrano
Tuesday, February 18, 2020
Paola Aguirre Serrano is founder of BORDERLESS, a Chicago-based urban design and research practice focused on cultivating collaborative design agency through interdisciplinary projects. With emphasis on exchange and communication across disciplines, Borderless explores creative civic design and engagement interventions that address the complexity of urban systems and social equity by looking at intersections between architecture, urban design, infrastructure, landscape, planning and community participatory processes.