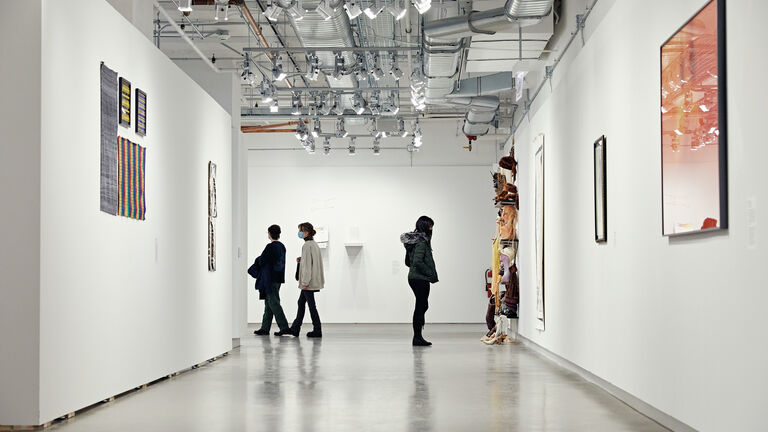 Accreditation
Institutional and Regional Accreditation
The Art Institute of Chicago is a private, non-profit corporation. The School of the Art Institute of Chicago (SAIC) is a professional college of the visual and related arts, accredited since 1936 by the Higher Learning Commission.
Higher Learning Commission 
230 S. LaSalle Street, Suite 7-500 
Chicago, IL 60604-1411
Education Program Certification
The BFA with an Emphasis in Art Education (BFAAE) and the Master of Arts in Teaching (MAT) art education programs are certified by the Illinois State Board of Education (ISBE).
Art Therapy and Counseling Program Accreditation
Architecture Program Accreditation
The Master of Architecture (MArch) degree program tracks listed below are accredited by the National Architecture Accrediting Board (NAAB).
The National Architectural Accrediting Board provides the following statement:
"In the United States, most registration boards require a degree from an accredited professional degree program as a prerequisite for licensure. The National Architectural Accrediting Board (NAAB), which is the sole agency authorized to accredit professional degree programs in architecture offered by institutions with U.S. regional accreditation, recognizes three types of degrees: the Bachelor of Architecture, the Master of Architecture, and the Doctor of Architecture. A program may be granted an eight-year, three-year, or two-year term of accreditation, depending on the extent of its conformance with established educational standards.
Doctor of Architecture and Master of Architecture degree programs may require a pre-professional undergraduate degree in architecture for admission. However, the pre-professional degree is not, by itself, recognized as an accredited degree."
NAAB formally granted SAIC accreditation for the professional Master of Architecture programs effective January 1, 2014, through 2023.
The four tracks of the Master of Architecture program:
Master of Architecture, total 102 credits (requirement: nonprofessional degree)
Master of Architecture, Option 2, total 60 credits (requirement: pre-professional degree)
Master of Architecture with a Track in Interior Architecture, total 102 credits (requirement: nonprofessional degree)
Master of Architecture with a Track in Interior Architecture, Option 2, total 60 credits (requirement: pre-professional degree)
Memberships
SAIC is a member of:
American Association for Higher Education
National Art Education Association
College Art Association of America
Federation of Independent Illinois Colleges and Universities
Illinois Art Education Association
National Conference of Artists
College Scholarship Service
Council for Advancement and Support of Education
Institute of International Education
National Association for Foreign Student Affairs
American Association of University Women
National Association of College Admissions Counselors
American Association of Collegiate Registrars and Admissions Officers
College Entrance Examination Board
National Association of Student Personnel Administrators
Nondiscrimination Statement
The Art Institute of Chicago, including both the school and the museum, is committed to providing an inclusive and welcoming environment for its students, visitors, faculty, and staff, and to ensuring that educational and employment decisions are based on an individual's abilities and qualifications. The Art Institute of Chicago does not tolerate unlawful discrimination based on race, color, sex, marital status, religion, national origin, disability, age, sexual orientation, gender identity, military or former military status, or any other status protected by federal, state or local law, in its programs and activities, public accommodations or employment practices. The following individuals have been designated to handle inquiries regarding the non-discrimination policies:
Title IX
Robert Babcock, Ed.D. (Private)
Lakeview Building, 116 S. Michigan Ave., 12th floor
Chicago, IL 60603
312.499.4165
rbabco@saic.edu
Section 504 Coordinator
Felice Dublon, PhD, Vice President and Dean of Student Affairs (Private)
The Office of Student Affairs
36 S. Wabash Ave., suite 1204
Chicago, IL 60603
312.629.6800
fdublon@saic.edu
For further information on notice of nondiscrimination, see the Office for Civil Rights Discrimination Complaint Form for the address and phone number of the office that serves your area, or call 800.421.3481.
This policy is effective as of July 1, 2015, and replaces the previous policy.
For Additional Information
Please contact the Provost's Office to obtain or review a copy of the documents describing the institution's accreditation, approval, or licensing.