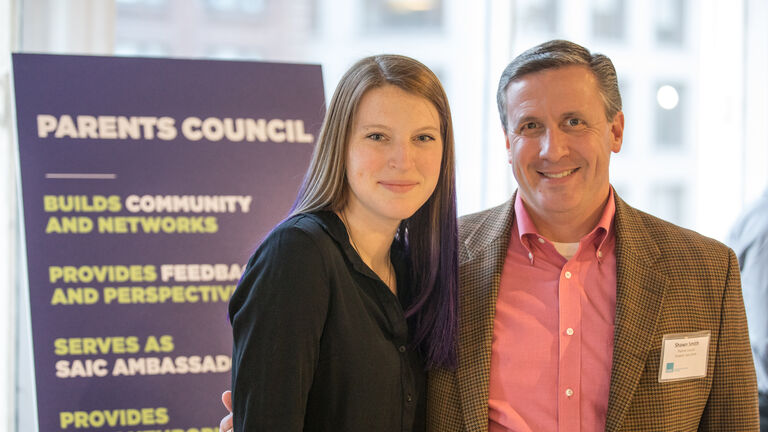 SAIC Parents
The SAIC community includes each and every one of you. Your support is beneficial to the ongoing academic and artistic success of your student, and we join you in this commitment. Together, we dedicate ourselves to providing students with high-quality art and design educational experience that is second to none. This is why we created this resource for you to keep informed and have access to helpful information to assist your student.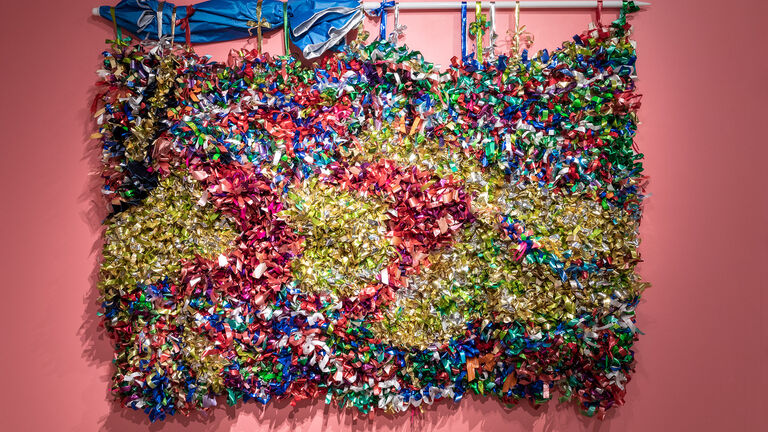 Kenna Stark, To Be Big, 2019, found holiday gift bows, beach umbrella, curtain panel
Save the Date: Family Weekend
Family Weekend 2023 will be held on October 13 and 14, 2023.
Events will begin at approximately 4:30 p.m. on Friday, October 13, with a reception at the SAIC Galleries. On Saturday, October 14, we'll have a morning welcome by President Elissa Tenny followed by a selection of classes taught by SAIC faculty. View the selection of classes and register online here, and email parents@saic.edu with questions. 
Kenna Stark, To Be Big, 2019, found holiday gift bows, beach umbrella, curtain panel
Parents and families are an important part of a student's transition to campus. Below is a recording of the Parent and Family Webinar that was held for new, undergraduate families in late July. This recording will introduce you to a variety of support services and important details for beginning your experience at SAIC.
Our Campus
Campus life at SAIC is unlike any other experience. We are nestled in the heart of downtown Chicago, so your student will have access to all the perks of living in the city, like catching a game at Wrigley Field, an art-filled night of gallery hopping, catching a show at Second City, and walking the shores of Lake Michigan.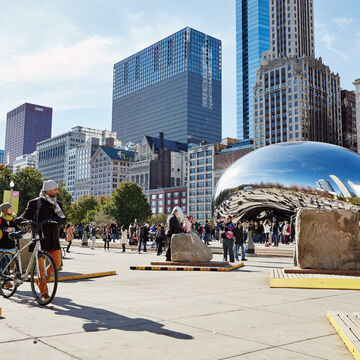 Chicago is our Campus
We do not look, think, or feel like any other campus in the world. Our residence halls are studio loft apartments. Our quad is Millennium Park. Our front yard is a sea of skyscrapers, and our backyard is Lake Michigan. Our influences are the city's entire creative community; its resources, including our own Art Institute of Chicago; and the culturally diverse neighborhoods of Chicago. Our state-of-the-art LeRoy Neiman Center, located in the center of our campus, is the ideal place for your student to meet fellow students and faculty, attend events, view student exhibitions, or grab a healthy and delicious bite to eat.
Creative Community
Your student will be immersed in a creative community where they will not merely be studying. Your student will be making, designing, thinking and rethinking, deconstructing, and making again. They will be immersed in an active and thriving community of artists, designers, and scholars who will treat him as a peer and will expect them to be an active and engaged participant. Your student will have the Art Institute of Chicago, one of the most renowned museums in the world, right at their fingertips. Your student will see, hear, and feel big ideas in the form of cutting-edge exhibitions, avant-garde performances, international film screenings, compelling artists' talks, and one-of-a-kind fashion shows, all presented by SAIC students, faculty, and alums.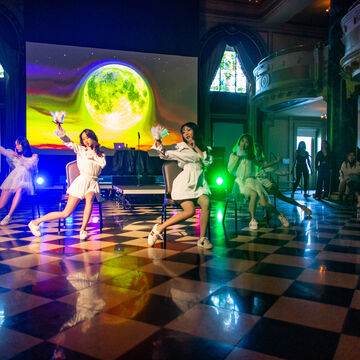 Student Groups
We want the SAIC experience to be enjoyable, rewarding, and memorable. By providing students with scores of student groups and organizations to join, we expose them to a wide array of influences so they will grow, gain perspective, and have the ability to adjust to an ever-changing society.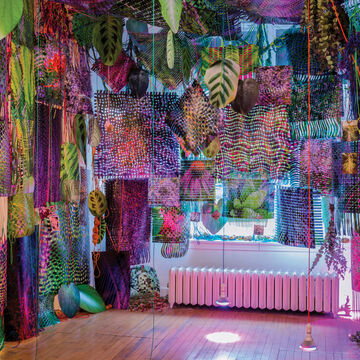 Aimée Beaubien, Twist Affix, 2017, cut-up inkjet prints, vintage c-prints, paracord, carabiners, miniature clothespins, oscillating fan, grow lights on fabric cord with dried gomphrena, eucalyptus, lemons, limes, and fallen acorns
Campus Safety
​​The Campus Security Department of the school is dedicated to protecting the learning environment of each student and responding quickly and responsibly to any situation that may jeopardize their well-being. Campus Security is open seven days a week, 24 hours a day. We are here to address the concerns of all parents. Please call us at 312.629.1668 if you are in need or have questions.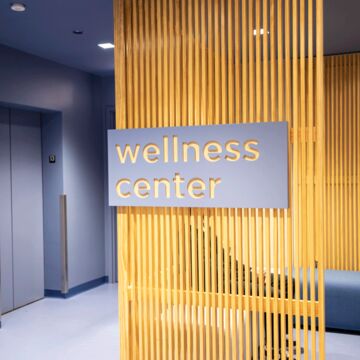 Wellness Center
SAIC's Wellness Center provides empathic and compassionate support and care dedicated to ensuring that every SAIC student's experience is a successful one. SAIC's Wellness Center houses three distinct services: Counseling Services, the Disability and Learning Resources Center, and Health Services.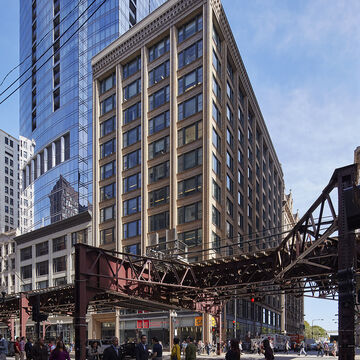 Residence Life
Support your residential student by sending a care package or celebration cake. SAIC's Care Package Program‌ is a great way to give your favorite artist a little extra TLC. The Care Package Program is only offered to the families of our on-campus students.
SAIC's food vendor Food For Thought offers celebration cakes for students. The 8" cake features options for customizing. The cake is not vegan or gluten-free, and it does not contain nuts but will be made in a kitchen where nuts were used. Submit your order online. You will be able to choose a time of day for pick up in the SAIC Neiman Center Café.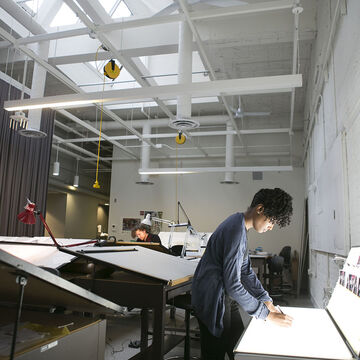 The Academic Experience
Our educational philosophy is unprecedented in that it is interdisciplinary, giving students unparalleled opportunities to develop their creative and critical abilities, while working with world-renowned faculty. SAIC has a level of rigor, investigation, and cultural relevance that is truly special. Our students translate the most complex ideas into tangible forms, whether they are paintings, sculptures, films, performances, books, installations, inventions, buildings, community projects, or a combination of these.
Students at SAIC do not learn in isolation. Our environment is one of peers, composed of engaged students and an award-winning faculty of artists, scholars, and leading practitioners working closely together, sharing exceptional resources, and establishing a forum for the vigorous exchange of ideas. At SAIC, we stress critique as a means of tracking our students' progress. It is integral in the experience here and quite intense. Students who are challenged in this manner are able to grow artistically, verbally, and professionally as they learn how to articulate and defend their ideas to their instructors, advisors, and peers. 
Above all, SAIC is about the students. We are dedicated to providing a complete education in the liberal arts as well as arts and design that will serve our students now and throughout their multifaceted careers.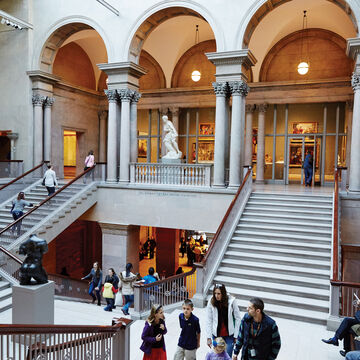 Our Museum & Facilities
Students have access to world-class facilities for learning and making, including one of the largest museums in the US, the Art Institute of Chicago. 
Investing in an SAIC Education
Attending SAIC is an investment in your students' future, and you are not alone in that investment. SAIC invests in your student, also, by awarding merit-based scholarships and need-based grants to those that are eligible. Visit the Admissions and Financial Aid pages for detailed information regarding financial aid, costs and payment.
Financing a college education can be a challenge, but it is also one of the most worthwhile and important investments an individual will make in their lifetime. Student Financial Services offers the following basic recommendations to help parents and families tackle the challenges of financing a college education.
Know Your Deadlines
Complete the FAFSA (Free Application for Federal Student Aid) as soon as possible after January 1 on the Internet at FAFSA.gov. Remember to list SAIC in the school section using FAFSA school code: 001753. This application must be completed every year to qualify for aid. SAIC's priority financial aid deadline is March 1. Make sure to apply before this date to avoid any reduction in state and institutional aid.

Understand SAIC's Financial Aid Process
Every college and university awards financial aid differently, using individual criteria and many different processes, so it is best to familiarize yourself with SAIC's financial aid process.

Read Instructions on Financial Aid Paperwork Closely  
Failing to provide requested information on various financial aid forms is one of the most common mistakes people make when applying for financial aid. For instance, if a required Social Security number is missing from the FAFSA, it will be automatically rejected.

Calculate Your Budget Annually
Each year, calculate your budget for each semester and academic year. After your student receives their award letter, confirm that you and/or your student have enough funds to cover direct costs charged to his/her student account and indirect costs for living, transportation, personal, and book/supply costs. Helpful calculation forms with sample figures are available on the Student Financial Services page. 

If further funds are needed, you may need to apply for additional loan funds. Some loans such as Federal Direct PLUS and Alternative/Private loans offer the option of pre-approvals for credit before the application is submitted for processing. The suggested time to complete loan applications is at least one to two months before the academic year or semester begins.

Discuss All Communications with Your Student
Student Financial Services sends a number of communications to students throughout the year. Make sure your student is forwarding those emails to you, as appropriate.

Research Your Student's Options
A wealth of information about paying for college is available. You can find resources via the Internet, the local library, the government, banks and lenders, and the financial aid offices of colleges and universities. You may want to consider researching outside scholarships as well. Ideally, a student should apply for outside scholarships 12–14 months before the academic year begins. Suggested websites to search for outside scholarships are listed on the Student Financial Services page. 

Making a Payment 
Payment in full may be made for tuition, housing charges, and fees prior to the first day of the term by cash, check, or money order (made payable in U.S. currency) at the Bursar's Office in person or through the mail. The SAIC Bursar's Office is located at 37 South Wabash Avenue, suite 245, Chicago, IL 60603. SAIC has partnered with CASHNet, Inc. to offer online payment availability via credit card or ACH (electronic check). 

Students can access CASHNet through SAIC Self-Service. Parents who have been set up as an authorized user by their student can access CASHNet through the login provided by their student. Please note that a service fee will be charged for online credit card payments based upon the amount of the payment, while an ACH payment has no fee.

Payment Plans
In cooperation with CASHNet, an interest-free payment plan is available each semester for students who opt to pay their balance over the semester. The plans allow students to pay their balances over four months beginning in August for the fall semester and January for the spring semester. There is an enrollment fee to set up these plans, and late fees will be assessed for each late or missed payment. Students should set up parents and others (as appropriate) as Authorized Users on CASHNet to provide direct access. AutoPay is also available for automatic monthly payments. Students re-enroll for payment plans and Autopay each semester.

Late Payments 
It is important to keep your student's account current. Students whose accounts are delinquent will have a hold placed on their records, preventing them from future registration and possibly limiting their access on campus. In addition, transcripts and diplomas will not be released until all financial obligations to SAIC have been met.

Laptop Payment Option
All incoming undergraduate students, with the exception of second-degree students, are required to purchase a laptop computer through SAIC. 

Payment in full or a payment plan must be established through CASHNet by August 1 for fall semester participants and January 1 for spring semester participants.
Their Words
Parents often ask us for advice and answers to their most pressing questions about supporting their student and helping him/her achieve success at SAIC. We decided to go to the experts. In this section, SAIC students answer some commonly asked questions.
Are there certain times of the year that students may need more support from family and friends?
There are definitely several times of the year that students need extra support from family and friends. The first time this happens is a few weeks after school starts. Orientation is over and they can begin to miss family and friends. They may need you for advice but they may just need someone to talk to about their classes. Another time that can be very stressful is near the end of the semester when final projects will be due soon. They may be very busy but they will need a way to vent and destress.—Belinda

Projects really kick into gear towards the end of October through Finals and the end of March through Finals. This is about the time schedules get too busy to keep up with all the friends and family; however, getting a good old fashioned piece of snail-mail is a delightful reminder that you're going to make it to the end of the semester.—Christina

What is the most stressful part of being a student at SAIC?
Knowing what the ideal balance is between school, work, and personal life. All three of these areas take up time, but there are points throughout the semester when more focus is given to one over the others so balance is constantly fluctuating. This fluctuation makes it hard to identify proper balance.—Kyle

The most stressful part of being an SAIC student is managing your time well enough to get your projects and assignments done well and on time. This can be hard to do because you can't always anticipate what problems you might run into when you're working on an art piece. Sometimes you get a little competitive with other students, and trying to measure up can be really stressful.—Emily

What can students do while attending SAIC to prepare themselves for a career when they graduate?
This school has formed a nest for its students within the art community-at-large—but specifically in Chicago. The school employs alumni and working artists for us to interact with on a daily basis, which also connects us to the professionals outside of the school, including the plethora of alumni that have made their art their career in Chicago (and abroad). The school can best help students achieve goals if they are openly speaking about their desires and questions. —Ingrid

Be sure to encourage your student to take advantage of the helpful resources that are available. The Career and Professional Experience (CAPX) office as well as Academic Advising are good resources where your student can find help and seek advice. —Beth

How will my student eat at SAIC and how can I help ensure that they maintain healthful eating habits?
I think just offering your own advice helps. A lot of times people assume that grocery shopping is intuitive but it's something that I had to learn. I didn't know how to cook my meat or buy produce my first year, but it helped talking to my mother and hearing her solutions to food budgeting and shopping. —Zack

I think that I've really enjoyed the variety of options available to me both on-campus and throughout the city. As a student with food allergies, it's important for me to have a variety of healthy options to choose from. I enjoy knowing that I have many different choices: know that I can grab a fresh and quick lunch in between classes, or I can run to a number of the grocery stores throughout the city. Whatever I want or need, I know I have options and I know that I can personalize my food choices to my individual needs. —Olivia

If there are no letter grades, how will I know if my student is successful at SAIC?
While it is important for every student to somehow measure and strive for their success, that doesn't always mean that a letter grade is the best way to do that. A traditional grading system is set up in such a way that it rewards good/expected outcomes and punishes error/mistakes. But, since creating art should be just as focused on the process as well as the result, a student shouldn't be "punished" with a bad grade if they take the time to experiment and create a new work that didn't turn out as expected. A student's main focus at this school should be about exploring and enriching their artistic practice and their life—not doing something by rote to simply get an "A." —Cheri

How can I assist my student in getting connected to other students and resources at SAIC?
We are given opportunities to explore school facilities and resources as well as get to know fellow students through a combination of educational and social activities provided by the school staff. You can best assist your student by encouraging him/her to attend these activities and to be involved in the community in his/her classes as well as the residence hall. —Caitlin

Encouraging your student to get out and meet others is the best way to support them in becoming part of the SAIC community. During the first few weeks of the semester, everyone will be a little out of their element, and putting in a little extra effort to introduce yourself to others can go a long way. Encourage your students to attend programs within the Residence Halls and at the LeRoy Neiman Center, check out student groups, and connect with RA, who can further connect students with other students and other resources within the school. —Maureen

I have heard that my student's critiques are very stressful. How can I assist them in managing their stress?
Critiques may be a new experience to many students coming into SAIC, and some may have never really talked about their work in a formal setting before. Critiques may be intimidating, but as with most things in life, practice and experience will help students to feel more comfortable speaking about their work and accepting feedback, as well as beginning to articulate their ideas to give feedback to other students in their critiques. If students continue to struggle with critiques, encourage them to reach out to some available resources: their Academic Advisor, Faculty Members, and Resident Advisors can help structure this conversation. — Maureen

Critiques can be a very stressful thing for many reasons. During a critique, students put their art forward for comments and feedback from a larger group—one that may not fully understand what the work is supposed to be about, or may have questions about the content and process of a work. Perhaps the biggest way to help your student is by reminding them that participating in a critique is not standing in front of a firing squad, but is instead an experience that can allow students to engage with other artists, peers, and friends in an in-depth conversation about their art that can help guide their artistic practice as they move forward. —Cheri

Chicago is a very large city and I am worried about my student's safety. How can I assist them in learning to navigate Chicago safely?
I recommend encouraging your student to meet with their RA (Resident Advisors in the residence halls) and ask if there are any opportunities to visit various places in the city together. The RAs are more than happy to have new students tag along in order to get to know the city—whether during a prearranged activity or "program" or a quick trip to the grocery store after class. Make sure your student has the basics, such as a map, a phone (or phone card), and a buddy to walk with. —Amanda

Talk to students about being aware of their surroundings and encourage them to always travel in groups. If they find themselves traveling alone make sure they know not to talk on their cell phone or do anything that puts them in a position of vulnerability. Also you may want to ride the train with them a couple times so it doesn't seem so overwhelming. —Sam

SAIC does not have majors—how do students know what classes to take or when they have completed their degree?
If your student is seeking a BFA, SAIC offers great opportunities to work with a variety of professors and students from different departments, taking unfamiliar classes to try new techniques out, or to develop an interdisciplinary practice. If your student wishes to complete a BFA with an emphasis in Art History or a dual degree in Visual and Critical Studies there are more specific requirements for graduation. I would encourage students to meet with academic advisors throughout their semesters to help make sure they are on track with all their graduation requirements.—Gabriella

Your student doesn't have to take anything or choose a specific route. It is very open but can be very intimidating. Academic Advising is the department geared towards helping students with this aspect of SAIC.—Madeline