Art Institute of Chicago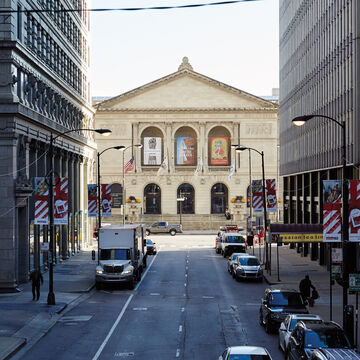 Our Museum
To visitors, the Art Institute of Chicago is one of the world's great galleries. Encompassing more than 5,000 years of human expression from cultures around the world, the museum contains more than 300,000 works of art. TripAdvisor, the popular website for frequent travelers, listed the Art Institute as the world's number 1 museum in the 2014 Traveler's Choice Awards.
To you, it is part of your daily life. Both your studio and art history faculty will bring you here often. The museum is an extension of your classroom. You will experience the incredible color range in a Van Gogh self-portrait, the intricate details of an Ansel Adams landscape photograph, and the ethereal nature of a Mark Rothko painting by looking directly at them—up close and personal. You have unlimited access to the museum collection and can linger and discover pieces that speak to your current practice, inspiring you to push your work in new directions.
Ever since the 19th century, when the museum collection of the Art Institute was established as a study center for the School of the Art Institute (SAIC), students have used the its vast holdings to inspire and inform their creative and scholarly practices. No other school of art and design can claim such a major museum as part of their campus. Visits to the museum become integral aspects of many students' Art History classes, and assignments often include analyses and responses to pieces from the collection. Studio art faculty teach through the museum's exhibitions, sparking discussion by observing actual examples of surfaces, forms, color, and techniques.
Museum exhibitions bring historical and contemporary design directly to SAIC's students and the encyclopedic nature of the collection means that global representation is always at hand. From a Power Figure (Nkisi Nkondi) from the Republic of Congo to a Chinese Neolithic Globular Jar with intricately painted abstract designs, world culture and its myriad visual representations are here to be examined, critiqued, appropriated, and built upon by our engaged students. The relationship of the museum and the school—where the display of the finest works of art and design shares space with the activity of experimental studios—allows our students to gain a solid footing in the traditions of visual culture from the Art Institute's extraordinary assets.
Gallery & Exhibition Spaces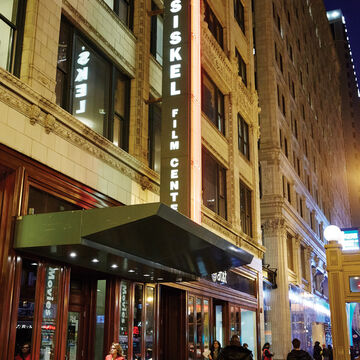 Gene Siskel Film Center
Since 1972, the Gene Siskel Film Center of the School of the Art Institute of Chicago has presented cutting edge cinema to an annual audience of 100,000. The Film Center's programming includes annual film festivals that celebrate diverse voices and international cultures, premieres of trailblazing work by today's independent filmmakers, restorations and revivals of essential films from cinema history, and insightful, provocative discussions with filmmakers and media artists. Altogether, the Film Center hosts over 1,600 screenings and 200 filmmaker appearances every year. The Film Center was renamed the Gene Siskel Film Center in 2000 after the late, nationally celebrated film critic, Gene Siskel.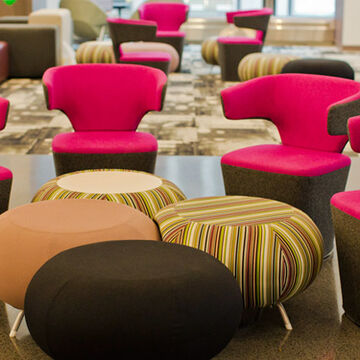 The LeRoy Neiman Center
The LeRoy Neiman Center is a space that brings the School of the Art Institute of Chicago (SAIC) community together in unprecedented ways, encourages students to showcase their work, and extends our campus into the urban fabric of Chicago. The first floor includes a street-level space for the Student Union Galleries, a curated video wall, and a programming/event space to hold everything from a lecture to an informal gathering. The second floor lounge and café enables our students, faculty, alumni, and staff to eat, meet, relax, discuss, get involved, and be inspired. The lounge also acts as a programming space that can be used for programs and events ranging from open mic nights to film screenings and informal critiques. Our Campus Life and Student Government/Programming offices are also located on the second floor as well as a new Student Leadership Suite where SAIC's student groups can hold activities and meetings.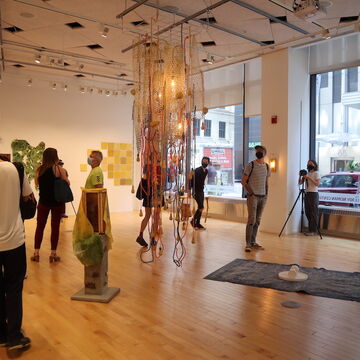 SAIC Galleries
The Department of Exhibitions and Exhibition Studies brings to Chicago audiences the work of acclaimed and emerging artists, while providing the School of the Art Institute of Chicago (SAIC) and the public opportunities for direct involvement and exchange with the discourses of art today. With shows and projects often led by faculty or student curators, the School's exhibition spaces are teaching galleries that engage process as a pedagogical model and mode of research.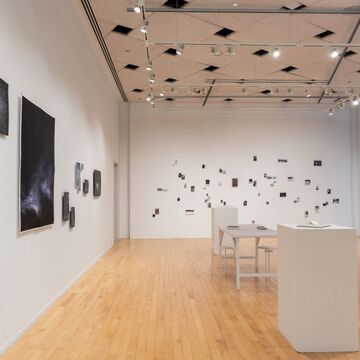 SITE Galleries
Founded in 1994, SITE, once known as the Student Union Galleries (SUGs), is a student-run organization at the School of the Art Institute of Chicago (SAIC) for the exhibition of student work. The two central tenets of the galleries are to build relationships between different departments and stakeholders throughout the institution and strengthen our role as a teaching gallery within and beyond SAIC. This is accomplished first through providing a consistent space for undergraduate and graduate directors to organize and generate exhibitions that realize the vision of student artists. Furthermore, with strategic programming, SITE supports these exhibitions and engages evolving currents and discourses in our communities. The student-led structure provides opportunities for emerging artists and scholars to explore artistic and administrative methods by placing emphasis on collaborative processes and professional practice in and out of the classroom.
Instruction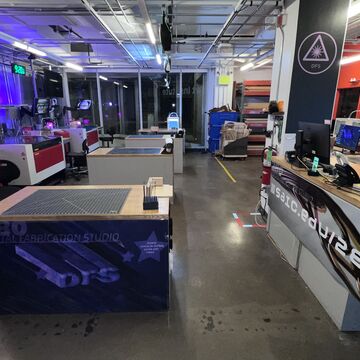 280 Digital Fabrication Studio
The 280 Digital Fabrication Studio (DFS) is a general access laser cutting and 3D printing lab located in RM 126 of the 280 S. Columbus Drive Building.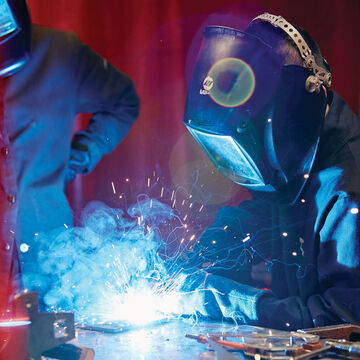 280 Metal Shop
The School of the Art Institute of Chicago's (SAIC) 280 Metal Shop is one of four Instructional Fabrication facilities that provide a professional, nurturing learning environment. The 280 Metal Shop is a general access facility set up to provide instruc­tional and material resources for the school's students, faculty, and staff. This is a creative forum for you to work cooperatively with the staff and other artists to realize your concept and develop responsible working practices.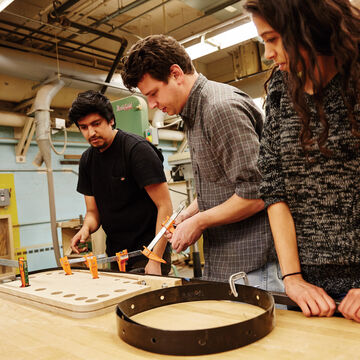 280 Wood Shop
The 280 Wood Shop provides students at the School of the Art Institute of Chicago (SAIC) with all the necessary tools and machinery to make anything from stretcher bars to a fine piece of furniture. Skilled supervisors are always on staff to offer assistance in using all of the facilities, from the most basic tools to the most advanced fabrication equipment.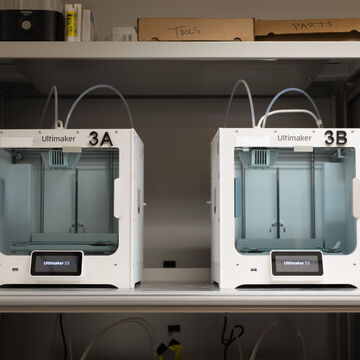 Advanced Output Center
​​The Advanced Output Center is the School of the Art Institute of Chicago's printing and prototyping lab specializing in digital input and output. The AOC's facilities include laser cutting, large format 2D scanning and 3D printing and scanning.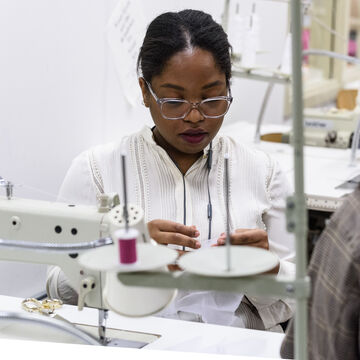 Fashion Service Center
The Fashion Service Center (FSC) has a wide range of tools that can be checked out by students enrolled in Fashion Design courses. You can contact FSC staff at fashionservicecenter@saic.edu or visit them in person on the seventh floor of Sullivan, room 713, near the student lounge.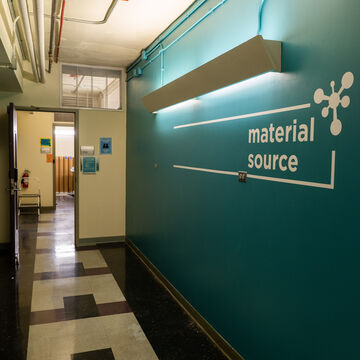 Material Source
SAIC's Material Source is your partner in obtaining supplies for the making possibilities available at the School of the Art Institute of Chicago. Our inventory serves curricular and facility needs throughout the School's many departments and our locations are embedded in or near these areas. We also provide convenience and introductory items to help you explore the variety of art-making processes our facilities support.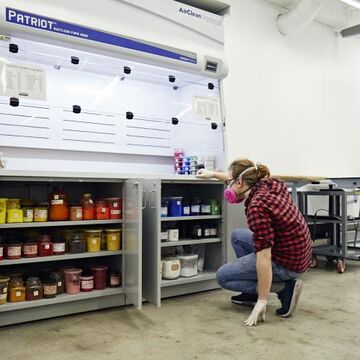 Material & Techniques StudioLab
StudioLab is the center for material study and exploration within SAIC's Painting and Drawing department. This state of the art facility provides students with the opportunity to safely navigate the breadth of material possibility under the tutelage of expert faculty members. The Materials & Techniques course curriculum bridges historical painting techniques with contemporary practices, empowering students to embrace materiality as a vehicle for meaning and intentionality within their practice.

StudioLab is accessible to all students who enroll in a Materials and Techniques course. Upon successful completion of the course, students are eligible to use the facility for the duration of their time at SAIC. StudioLab offers open hours Monday through Friday in the afternoon and evening, where students can work independently with assistance from knowledgeable staff members.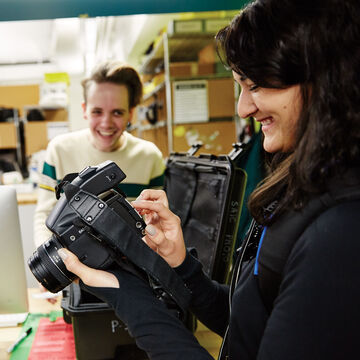 Media Center
The media centers provide the entire School of the Art Institute of Chicago (SAIC) community with audiovisual equipment and services to accommodate documentation, creation, instructional, and exhibition needs.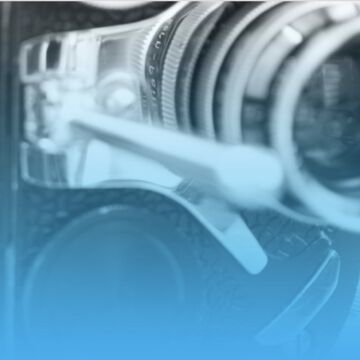 Media Resource
Find out what media equipment, editing suites, labs, spaces or studios, are available and how to get access to them. Review resources to determine what suits your needs, determine who owns and controls access, and where equipment is located on campus. Some manuals and training materials are included to get you started.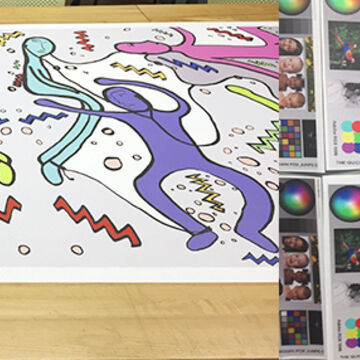 Service Bureau
The Service Bureau is a professional digital-output lab that serves the SAIC community. We offer Wide Format printing, Latex printing, Laser printing with several binding options, Risograph printing, Kiss Cut Stickers, and Vinyl Cutting.
Track, manage, and submit print jobs on campus with Print Services.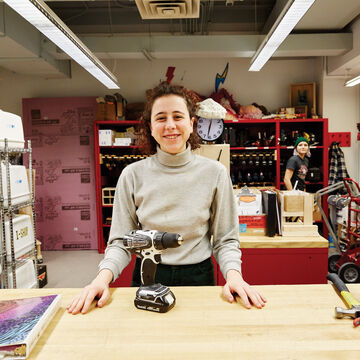 Sharp Instructional Shops
The Sharp Instructional Shops support the Contemporary Practices Department with a variety of hand and floor-mounted power tools and an on-staff manager to provide advice and training.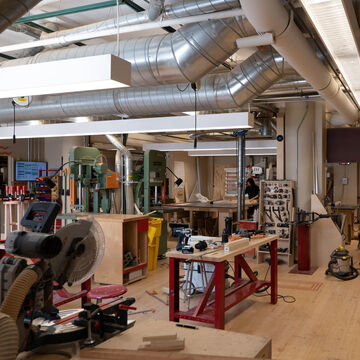 Sullivan Fabrication Studio
The Sullivan Fabrication Studio supports the Department of Architecture, Interior Architecture, and Designed Objects with a wide range of equipment. Trained technicians are on staff to help students safely use the equipment.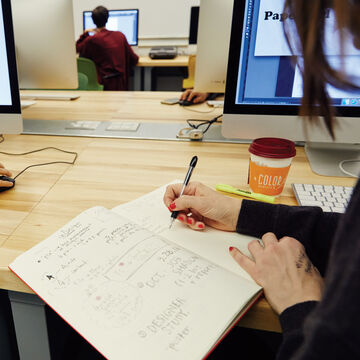 Writing Center
Writing Center tutors are available in person and online to help students achieve their writing goals at any stage of their writing process. All currently enrolled degree-seeking students are welcome, and they can work on essays, artist statements, application materials, presentation texts, theses, proposals, creative writing, or social media posts. Our tutors are kind, encouraging, and interested! 
Libraries & Special Collections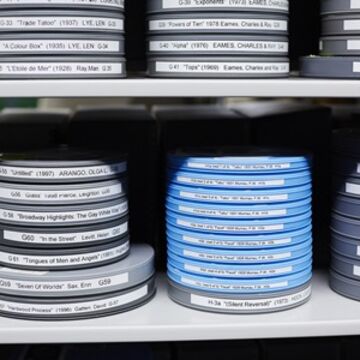 Archives & Other Collections
The Flaxman Library's Archives & Other Collections include audiovisual archives, the Correspondence Art digital library, the Ephemera Files, the Goat Island Archives, the Randolph Street Gallery Archives, the Threewalls Gallery Archives, the Tony Zwicker Archives, and the Warren Menaker Thought Books series.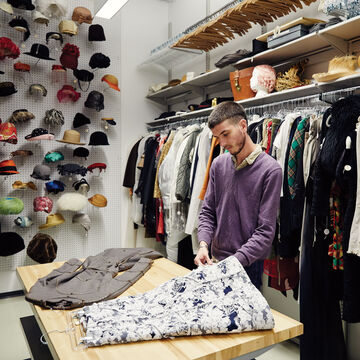 Fashion Resource Center
Part of the School of the Art Institute of Chicago's network of Special Collections, the Fashion Resource Center (FRC) maintains a unique hands-on study collection of late 20th- and 21st-century designer garments and accessories representing innovation in design, materials, construction and embellishment. Visitors can access an extensive visual, print and fabric reference library that supports and illuminates the FRC's collection of 2000 garments and accessories. These elements combine to provide students and researchers with a creative and educational environment in which to explore the most progressive achievements in the world of dress and fashion.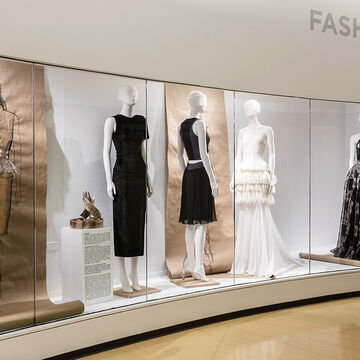 Fashion Resource Center Garment Collection
The Fashion Resource Center is a study collection and research center dedicated to the study of fashion and its relationship to diverse disciplines. Its collection of unique late twentieth and twenty-first-century designer garments and accessories represent innovations in construction, materials, and embellishments. Our digital collections provide a catalog of the FRC's garments and accessories, with descriptive data and detailed images of each item. The database is a work in progress, with new records being added on a consistent basis to represent the full breadth of the FRC's 2000+ collection.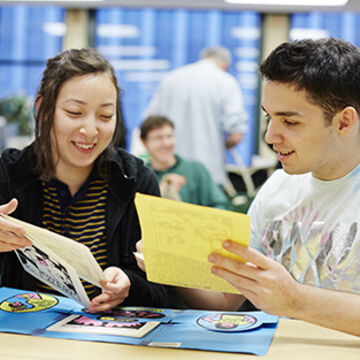 Joan Flasch Artists' Book Collection
The Joan Flasch Artists' Book Collection (JFABC) digital library is an online guide and finding aid for the rich collection of artists' publications available in Flaxman Library Special Collections. The JFABC brings together over twelve thousand artists' publications in all formats and media including: books, zines, multiples, video and audio recordings, digital works, periodicals, and other intimate works of art created by artists of local, national, and international significance. Focusing on materials published from the 1960s to the present, it is complemented by collections of reference works and exhibition catalogues to support in-depth research on artists' publishing.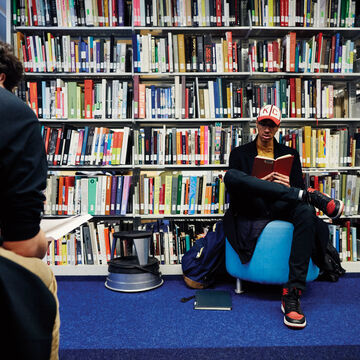 John M. Flaxman Library
The John M. Flaxman Library is located at the physical and intellectual heart of the campus. Library staff collaborate with every program at the School to support teaching, learning and research across the entire curriculum at the undergraduate and graduate levels. Hundreds of thousands of books, magazines, movies and sound recordings are available on interdisciplinary topics in late 20th and 21st century art and design, with several thousand new items added annually. A continuously growing number of scholarly resources are available online, including ebooks, ejournals, databases, digital images and streaming videos. Popular Special Collections include: the Joan Flasch Artists' Book Collection, the Randolph Street Gallery Archives and the 16mm Film Study Collection.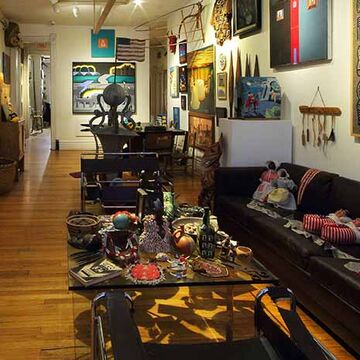 Roger Brown Study Collection
The Roger Brown Study Collection (RBSC) is one of SAIC's very special collections. Located in an 1888 brick storefront building, it extends the SAIC campus into Chicago's Lincoln Park/DePaul neighborhood. It was the home and studio of artist and alumnus Roger Brown from 1974 to 1996, when it became an SAIC house museum, archive, and place for all manner of explorations and studies The collection is preserved the way Brown installed it, as his "Artists' Museum of Chicago." The home collection is a mélange of artworks by Chicago Imagists, non-mainstream artists, folk and indigenous art, objects from material and popular culture, costumes, textiles, furniture, travel souvenirs, and sundry objects. The garden was designed by Brown in 1994/95 and his 1967 Ford Mustang lives in the garage. This place is a lab where students and faculty engage in wonder and projects, as well as aspects of the care, organization, interpretation, and preservation of an extensive collection of art and artifacts.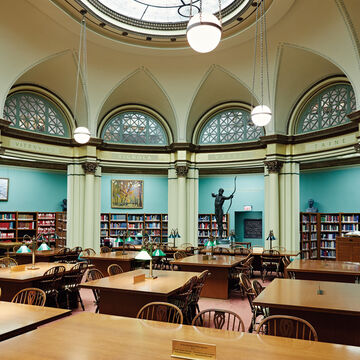 Ryerson & Burnham Libraries
Explore thousands of artworks in the museum's collection—from our renowned icons to lesser-known works from every corner of the globe—as well as our books, writings, reference materials, and other resources.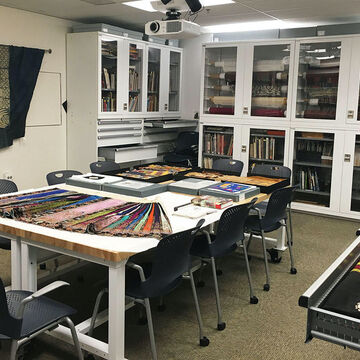 Textile Resource Center
This expanding research collection includes historic textiles, books and catalogs, and contemporary Artist Projects. This collection is only available to SAIC Faculty, Staff, and Students. 

The Textile Resource Center, opened in 2013, is a hands-on study collection in the Fiber and Material Studies department at the School of the Art Institute of Chicago. This is a non-circulating collection.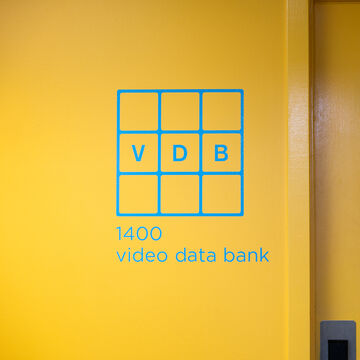 Video Data Bank
Founded at the School of the Art Institute of Chicago (SAIC) in 1976 at the inception of the media arts movement, Video Data Bank (VDB) is a leading resource in the United States for video by and about contemporary artists. The VDB's collection has grown to include the work of more than 600 artists and 6,000 video art titles.

VDB is dedicated to fostering awareness and scholarship of the history and contemporary practice of video and media art through its distribution, education, and preservation programs.
Spaces for Rent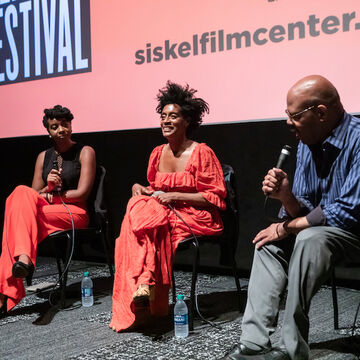 Gene Siskel Film Center
Located in the heart of Chicago's bustling theatre district, the Gene Siskel Film Center is the Loop's contemporary alternative for business meetings and special events. With two state-of-the-art movie theaters with capacities of 196 and 63 people and a sunlight-filled Gallery/Café overlooking State Street, the Gene Siskel Film Center provides a sophisticated yet comfortable setting for corporate events, luncheons, presentations, screenings, and private receptions.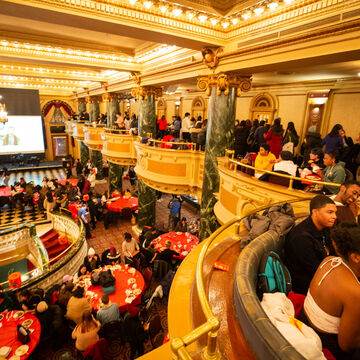 SAIC Ballroom
Ascending the grand staircase of the SAIC Ballroom, your guests are transported to another era. Like a scene out of Fitzgerald's The Great Gatsby, the gilded jazz age of the Roaring 20s, your special event will radiate classic elegance.

Formerly the Illinois Athletic Club, this room has been restored to reflect the look and feel of its 1927 splendor. Winner of numerous awards for architectural excellence, the Ballroom boasts 26-foot ceilings, marbleized columns, and a terrazzo dance floor. Complemented by permanent bars on the main floor and balcony, a performance stage, theatrical lighting, and customized sound system, the Ballroom is the perfect venue for any event.