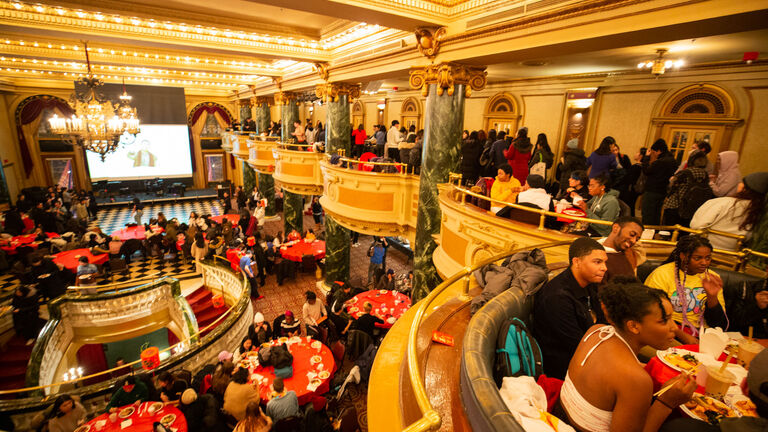 SAIC Ballroom
 
Ascending the grand staircase of the SAIC Ballroom, your guests are transported to another era. Like a scene out of Fitzgerald's The Great Gatsby, the gilded jazz age of the Roaring 20s, your special event will radiate classic elegance.
Formerly the Illinois Athletic Club, this room has been restored to reflect the look and feel of its 1927 splendor. Winner of numerous awards for architectural excellence, the SAIC Ballroom boasts 26-foot ceilings, marbleized columns, and a terrazzo dance floor. Complemented by permanent bars on the main floor and balcony, a performance stage, theatrical lighting, and customized sound system, the SAIC Ballroom is the perfect venue for any event.
The SAIC Ballroom is located at 112 South Michigan Avenue, in the heart of Chicago's Loop, within walking distance of many hotels, theaters, and parking garages. 
Reach out to get more information on the venue and pricing: 
Gene Siskel Film Center
 
Located in the heart of Chicago's bustling theater district, the Gene Siskel Film Center is the Loop's contemporary alternative for business meetings and special events. With two state-of-the-art movie theaters with capacities of 196 and 63 people and a sunlight-filled Gallery/Café overlooking State Street, the Gene Siskel Film Center provides a sophisticated yet comfortable setting for corporate events, luncheons, presentations, screenings, and private receptions.