SAIC is distinct in the way that we provide graduate, post-baccalaureate, and undergraduate students an interdisciplinary curriculum and the necessary freedom to develop as artists, designers, and scholars. We strive for a level of rigor, investigation, and cultural relevance that makes SAIC truly special.
Experimentation is at the core of who we are as a community of artists, designers, and scholars. We believe that trying and failing sparks discovery. We play with ideas and materials. We investigate across disciplines. Because a singular question shapes our work: How can we best express what we want to say? 
Our curriculum centers self-directed study across a multiplicity of disciplines. We think beyond boundaries to make new discoveries. 
Our practices evolve from our responses to what we see in the world—from Chicago's challenges to global concerns. Our work and our voices help shape change.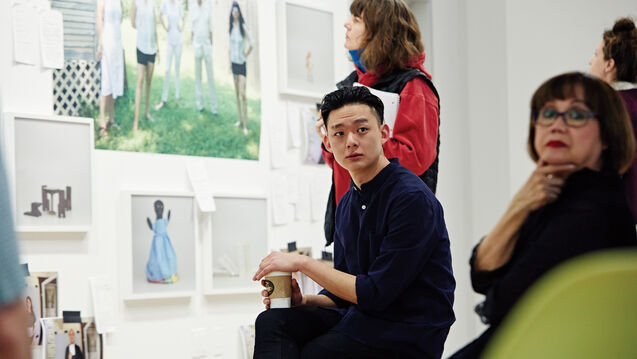 Question Everything
We use our creative and critical-thinking skills to challenge the status quo. As a community, we don't believe that anything is beyond redefinition.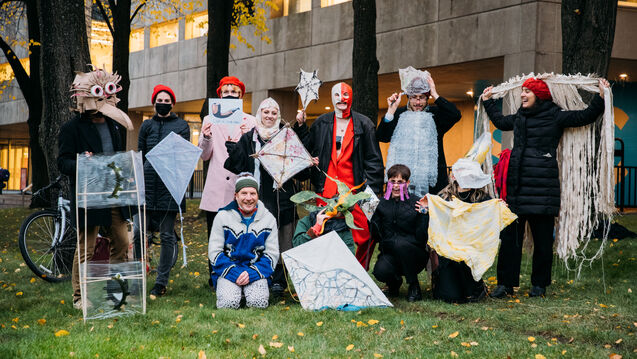 Playful Creativity
Playfulness is at the core of creativity and innovation. We like to experiment; it's how we continually make new discoveries and reimagine our fields. 
Get to Know SAIC
We take work seriously, but we're also playful and energetic. We think imaginatively, across borders and boundaries. See what makes us SAIC.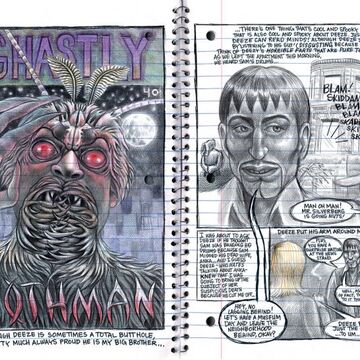 Emil Ferris, My Favorite Thing Is Monsters, 2017
A Confluence of Everything
Why SAIC? It's in the Mix
Emil Ferris (BFA 2008, MFA 2010) is an award-winning graphic novelist and an alum of SAIC's MFA program, where she studied writing after a career in toy design. Her book My Favorite Thing is Monsters secured her reputation. She believes that what makes SAIC great is the confluence of everything that makes the School different—a unique combination of factors that has helped create the SAIC makers and scholars who've gone on to shape the world.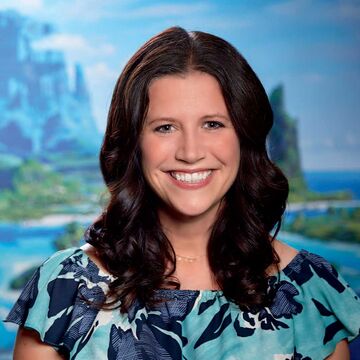 Why SAIC? Ask Amy Lawson Smeed
"The biggest influence was the openness of trying new classes. The interdisciplinarity allowed me to experiment with different art forms. Before attending SAIC, it hadn't ever occurred to me to take an animation class, and I hadn't realized it was a career path someone could take."
Amy Lawson Smeed (BFA 1997). Smeed is now head of animation for Walt Disney Animation Studios.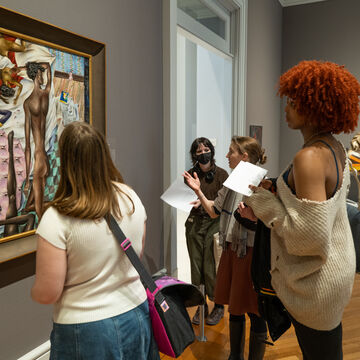 Why SAIC? Our Museum
The Art Institute of Chicago museum, created by SAIC faculty, is the School's most unique educational resource. Its collections are an extension of our classrooms and provide unparalleled opportunities for learning and research. 
Why SAIC: Our Faculty of Practitioners
Our 700-plus faculty members are practicing artists, designers, and scholars at the forefront of their fields. They're also mentors who are shaping the next generation to be bold, thoughtful, and critically astute people who will engage with the world through their work. And they're collaborators. SAIC's teachers are energized by and learn from their students. 
"My job as a teacher is about getting my students to understand how art can give them a space to think critically about the world around them, so they can bear witness and create change." — Associate Professor Maria Gaspar 
For a curious student, SAIC's course list is like a candy store. That's because faculty members develop courses that align with their unique practices and research interests.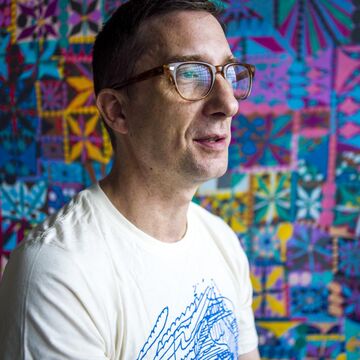 Making Work Playful
By approaching his ceramics work with a sense of absurd humor, Associate Professor William O'Brien (MFA 2005) hopes to create a safe space for both makers and viewers. His class Getting Weird and Hilarious helps students get beyond performance anxiety and simply create.  
Investigating Monuments
Art historian, theorist, and critic Professor Mechtild Widrich spent years researching her 2023 book Monumental Cares, which makes the case for a new ethics in public art. Her courses on monuments take students on her journey to understand how "a statue is never just a statue."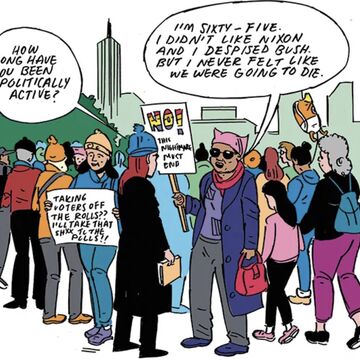 A panel from Anya Davidson's "Raised Voices" piece for the Chicago Reader.
Reimagining the News
Lecturer Anya Davidson uses her illustrations to bring headlines to life. Her course Comics: Graphic Journalism teaches students to do the same. "Comics are essentially like a universal language," she said. "They're about ease of communication, clarity of communication." 
How It Started, How It's Going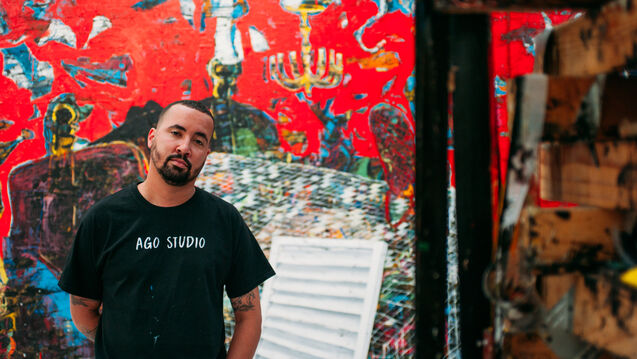 Angel Otero
Angel Otero (BFA 2007, MFA 2009) graduated from SAIC's MFA program in 20097. Today he exhibits internationally. Using unorthodox materials like dried oil paint skins, resin, caulk, tar, and linen, his paintings reflect on personal memories and experiences.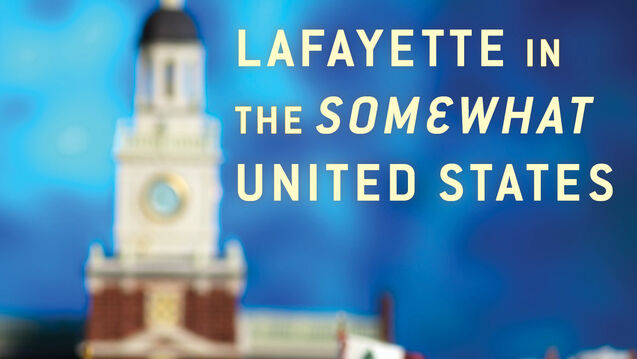 Sarah Vowell
Sarah Vowell (MA 1999) is a New York Times–bestselling author of six nonfiction books on American history and culture. (She's also the voice of Violet Parr in the animated film The Incredibles.)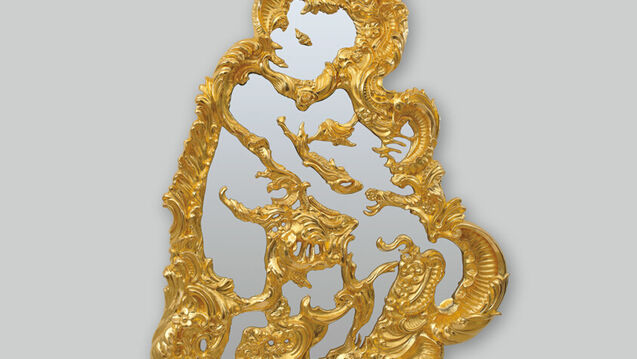 Jeff Koons
Internationally acclaimed sculptor and painter Jeff Koons (SAIC 1975–76) is best known for his "balloon" sculptures and pop culture references. He studied under influential Chicago Imagists at SAIC.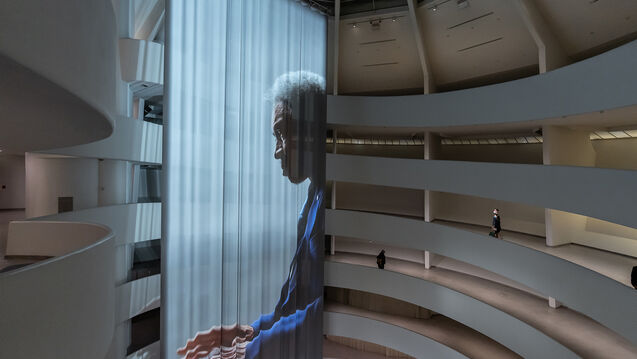 Wu Tsang
Wu Tsang (BFA 2004), filmmaker and artist, explores hidden histories and marginalized narratives through hybrid forms. Her best-known documentary, Wildness, documents LGBTQ+ communities at LA's historic bar "Silver Platter."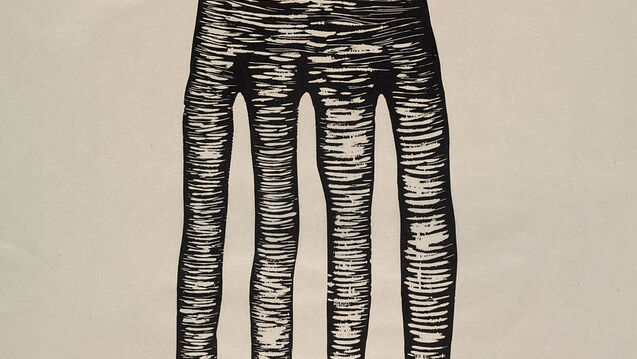 Sanford Biggers
Sanford Biggers (MFA 1999) creates interdisciplinary work that mines history and symbols from different cultures. His work has been exhibited at the Whitney Museum and the Tate Modern. Read our article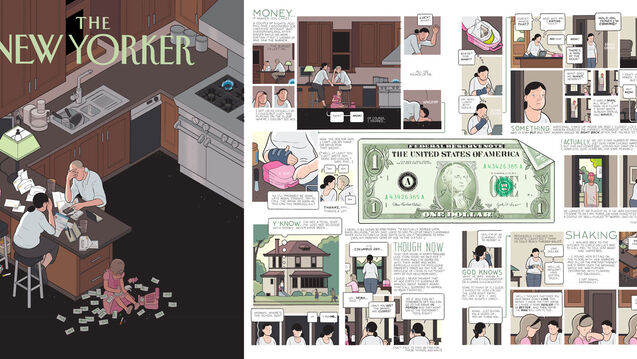 Chris Ware
Chris Ware (SAIC 1991–93, HON 2019) is an award-winning cartoonist who broke ground by telling understated and profound stories through comic strips. His works have been exhibited at MOCA LA; MCA Chicago; and the Whitney Museum of American Art, New York. Read our profile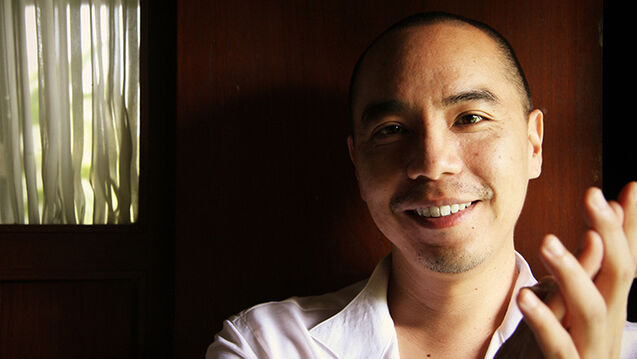 Apichatpong Weerasethakul
Apichatpong Weerasethakul (MFA 1998, HON 2011) is a film director, producer, and artist whose films deal with memory and social issues. He won the Palme d'Or at Cannes for Uncle Boonmee Who Can Recall His Past Lives in 2010