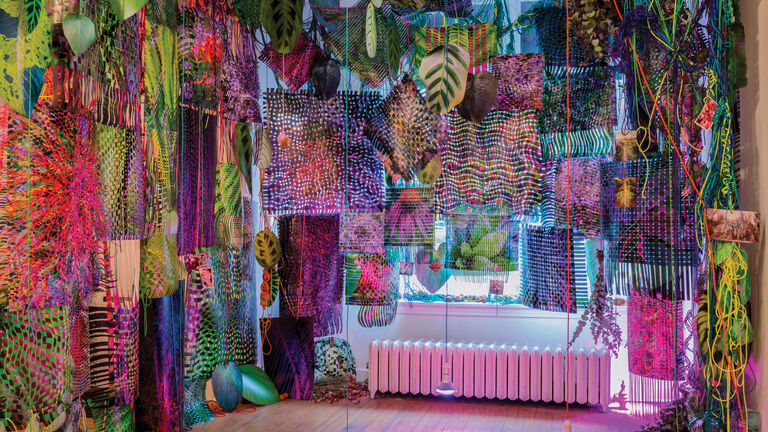 Aimée Beaubien, Twist Affix, 2017, cut-up inkjet prints, vintage c-prints, paracord, carabiners, miniature clothespins, oscillating fan, grow lights on fabric cord with dried gomphrena, eucalyptus, lemons, limes, and fallen acorns
Campus Safety
Chicago is our campus. Home to renowned cultural institutions, parks, shopping districts, gallery districts, and the School of the Art Institute of Chicago (SAIC), Chicago provides a comprehensive learning experience for our students. Because we are an urban campus, your safety and security is of the utmost consideration at SAIC. Available seven days a week, 24 hours a day, Campus Security is dedicated to protecting the learning environment of each student and responding quickly and responsibly to any situation that may jeopardize their well-being. Here you'll find helpful information regarding safety tips, emergency information, SAIC's campus security policy and crime statistics, and general contact information.
Security is everyone's concern. We depend on our students, faculty, staff, and guests to take precautions that are designed to reduce the likelihood of falling victim to crime. We encourage our students, faculty, staff, and guests to take responsibility for their security and the security of others by using good judgment, reporting suspicious behavior on the part of people they don't know, and avoiding behaviors that might put them at risk.
Emergency Communication
SAIC will provide immediate updates via cell phone text messages, voice messages, and/or email. In the event of an emergency, check these messaging systems for specific instructions on evacuation or sheltering-in-place.
Students, please make sure your contact information is up to date so you can receive these important messages. Go to Self-Service > Personal Details > Contact Details to update your information or add your parent so they receive alerts. 
Campus Security Main Office
Sharp Building 
37 S. Wabash Ave., suite 704 
Phone: 312.629.9180
280 Building
280 S. Columbus Dr., 312.443.3760
Sullivan Center
36 S. Wabash Ave., 312.629.6199
Sharp Building
37 S. Wabash Ave., 312.899.1210
MacLean Center
112 S. Michigan Ave., 312.345.3528
Jones Hall
7 W. Madison St., 312.516.5300
162 North State Street Residences
162 N. State St., 312.846.2100
Lakeview Building
116 S. Michigan Ave., 312.629.9422