Chicago's Creative Capital
Chicago is a global cultural center that's full of opportunity. It's also a diverse city of neighborhoods and strong communities, a welcoming place where creativity thrives. We feed Chicago's creative energy, and the city feeds ours. SAIC alums settle here to make work, open galleries and studios, and power Chicago's creative industries. We are Chicago: Complex, diverse, open, and engaged with the world. 
Core Value: We Are Chicago
Our Influence
Forming a city within a city, a campus, close and yet not contiguous, we are urban. Chicago's richness, complexity, and contradictions are the perfect environment for our own diverse community. SAIC and Chicago flow together. The city grounds and inspires the school's artists and designers. In turn, their impact reverberates throughout Chicago and beyond.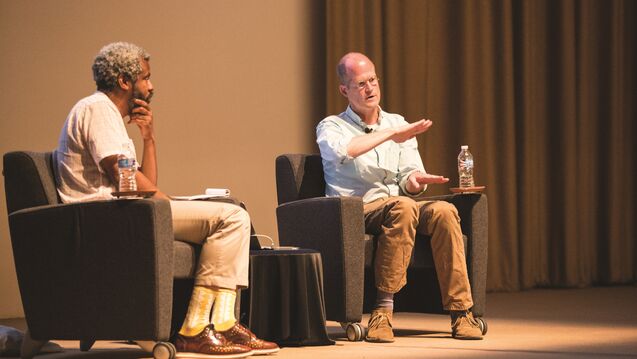 Chris Ware
"Drawing pictures of the world was the reason I came to Chicago," says Ware (SAIC 1991–93, HON 2019). "It seemed to me to be the city of real, rough life." Chris Ware made history when he exhibited his comics at the Whitney Biennial in 2002.
It's impossible to understand Associate Professor Maria Gaspar without understanding where she grew up––Chicago's Little Village neighborhood, where she learned that there are many ways to be an artist. What unites all of her work is a commitment to investigating the relationship between power and place.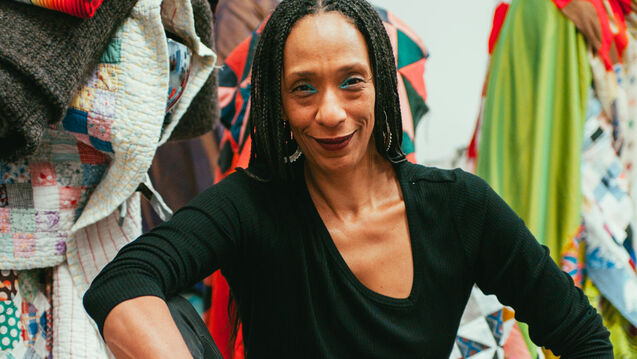 Sonja Henderson
Sonja Henderson's (BFA 1992) Chicago studio serves as a community hub. She weaves healing and care into her social practice, which grew even more expansive when she became artist-in-residence at SAIC's community partnership with Homan Square.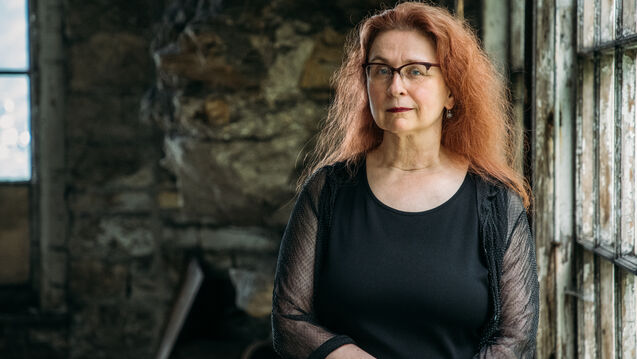 Audrey Niffenegger
Artist and best-selling author of The Time Traveler's Wife, Audrey Niffenegger (BFA 1985) finds endless inspiration in Chicago's rich architecture and storied history. 
Building Community
Chicago is a community-centric city, and SAIC shares its ethos of mutual support. Meet Vincent Uribe (BA and BFA 2013), who inherited a gallery as a student and now runs it as a place to bring people together.
"A part of the reason I do the work that I do is to give back to Chicago for providing the place and support to discover who I am as a leader. Promoting and connecting people in Chicago is integral to my mission of community building."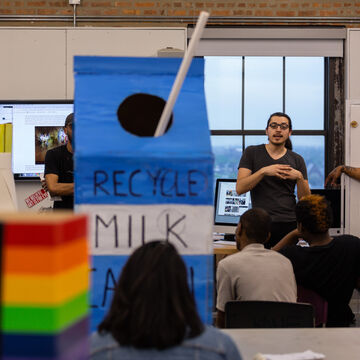 Core Value: Meaning & Making are Inseparable
SAIC at Homan Square
SAIC at Homan Square is a community of dedicated North Lawndale residents and artists in the historic Chicago neighborhood of Homan Square. Hand in hand with the community, our purpose is to identify issues, promote public discourse, and catalyze social change within specific institutions, neighborhoods, and other public contexts.
"We're meshed with the city. Chicago is our campus."  - SAIC President Elissa Tenny
José Lerma, associate professor in SAIC's Painting and Drawing Department, combines politics and humor in his work. Among his favorite Chicago spots: the Art Institute of Chicago museum, where he has been making a drawing based on every painting in the old wing. "There's no frames dividing anything. It's just one giant painting that blends into the next, into the next."
Sherwin Ovid (BFA 2007) moved to Chicago from Texas to study at SAIC and now teaches at Northwestern University. He still gravitates to spots that he loved as an undergrad, among them Gramaphone Records—a record store doubling as a community hub—and the Afro-Latin cultural center Segundo Ruiz Belvis, where he learned about Bomba.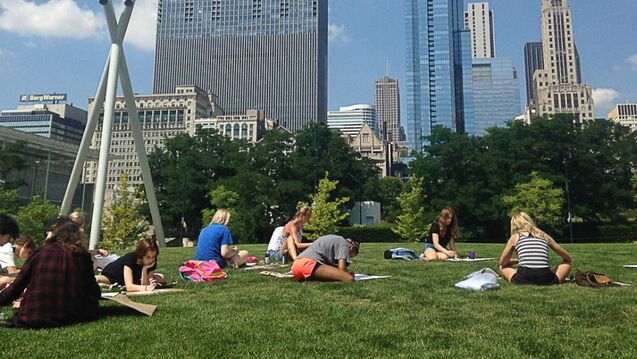 Chicago Makes Us
For more than 150 years, SAIC's artists and designers have been inspired by the wonders and complexities of living here. Alums Teresita Carson (BFA 2018), Anthony Sims (MFA 2022), and Bun Stout (MFA 2020), Associate Professor Adam J. Greteman, and Professor Emerita Anne Wilson talked to the School of the Art Institute of Chicago magazine about how the city has rooted and helped grow their work.
Hidden SAIC
When people think of Chicago's cultural landscape, they often conjure the stone steps of the Art Institute museum or the grand stage of the Lyric Opera. But there are countless places dotting the 230 square miles that make up the city, and faculty and alums have been the engine behind many of these cultural hubs. From apartment galleries to creative incubators to neighborhood art centers and everything in between, students have a lot to draw inspiration from. 
"Chicago is an interesting laboratory for cultural production," - Assistant Professor Kamau Patton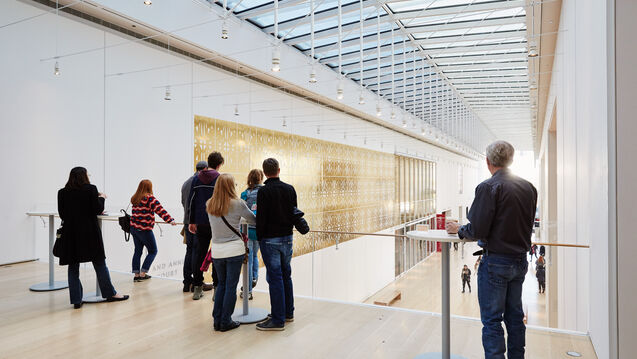 SAIC's Journey
The Art Institute of Chicago: SAIC's journey began in this Beaux-Arts building, now a world-renowned museum exhibiting 5,000 years of history.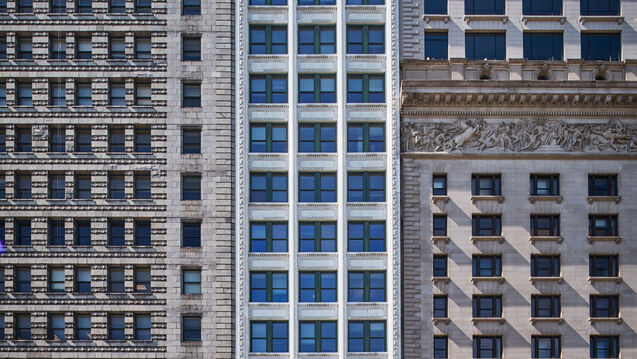 Lakeview Building
Once upon a time Chicago's City Hall, this historic building currently accommodates SAIC facilities.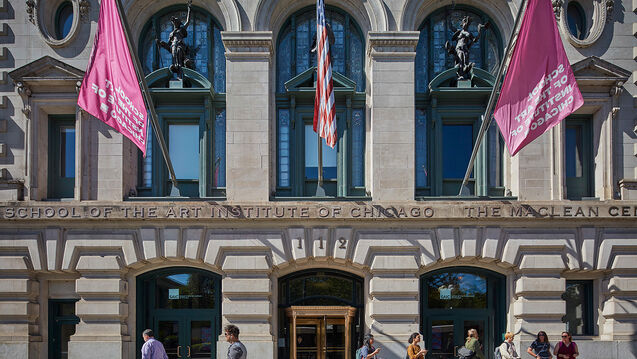 MacLean Center
A former elite athletic club, this Chicago landmark now serves SAIC students as a learning space.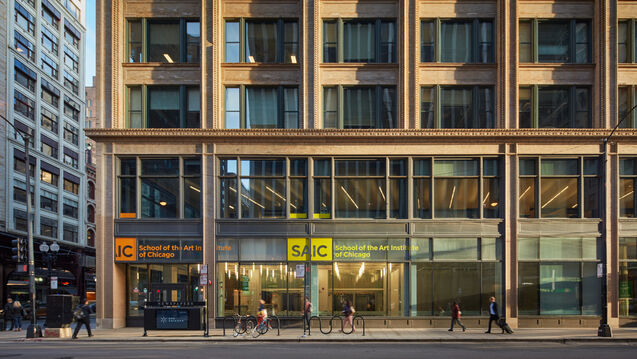 Sharp Building
Designed by the legendary Mies van der Rohe, this modernist masterpiece houses SAIC instructional shops and other facilities.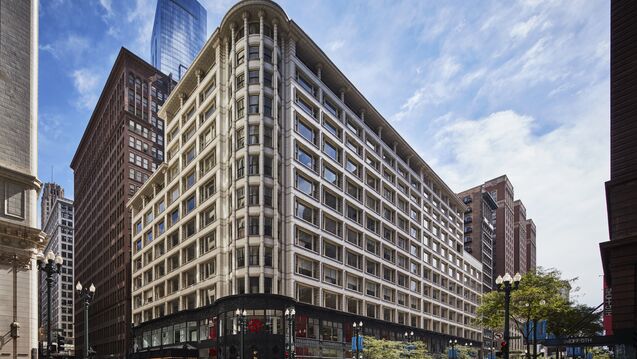 Sullivan Center
Richly ornamented, this historic building is the current home of SAIC's Architecture and Interior Architecture departments.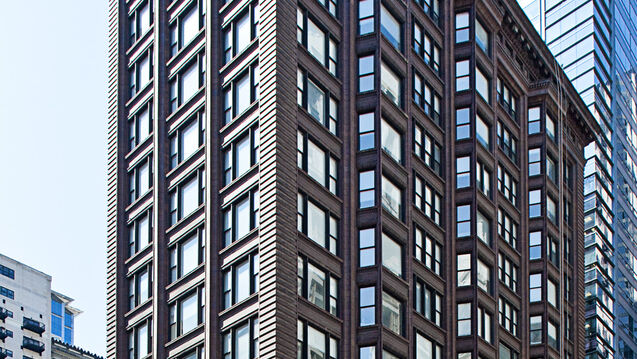 Jones Hall
An early Chicago School architectural icon, Jones Hall once neighbored the "world's busiest corner" and now provides an inspiring space for the SAIC community.
Founded in 1972, SAIC's Gene Siskel Film Center is one of Chicago's premier art house cinemas, showing international, independent, and classic films; hosting talks by filmmakers and iconic festivals such as the long-running Black Harvest Film Festival; and premiering films made by SAIC students.