Sonja Henderson's Community-Centered Studio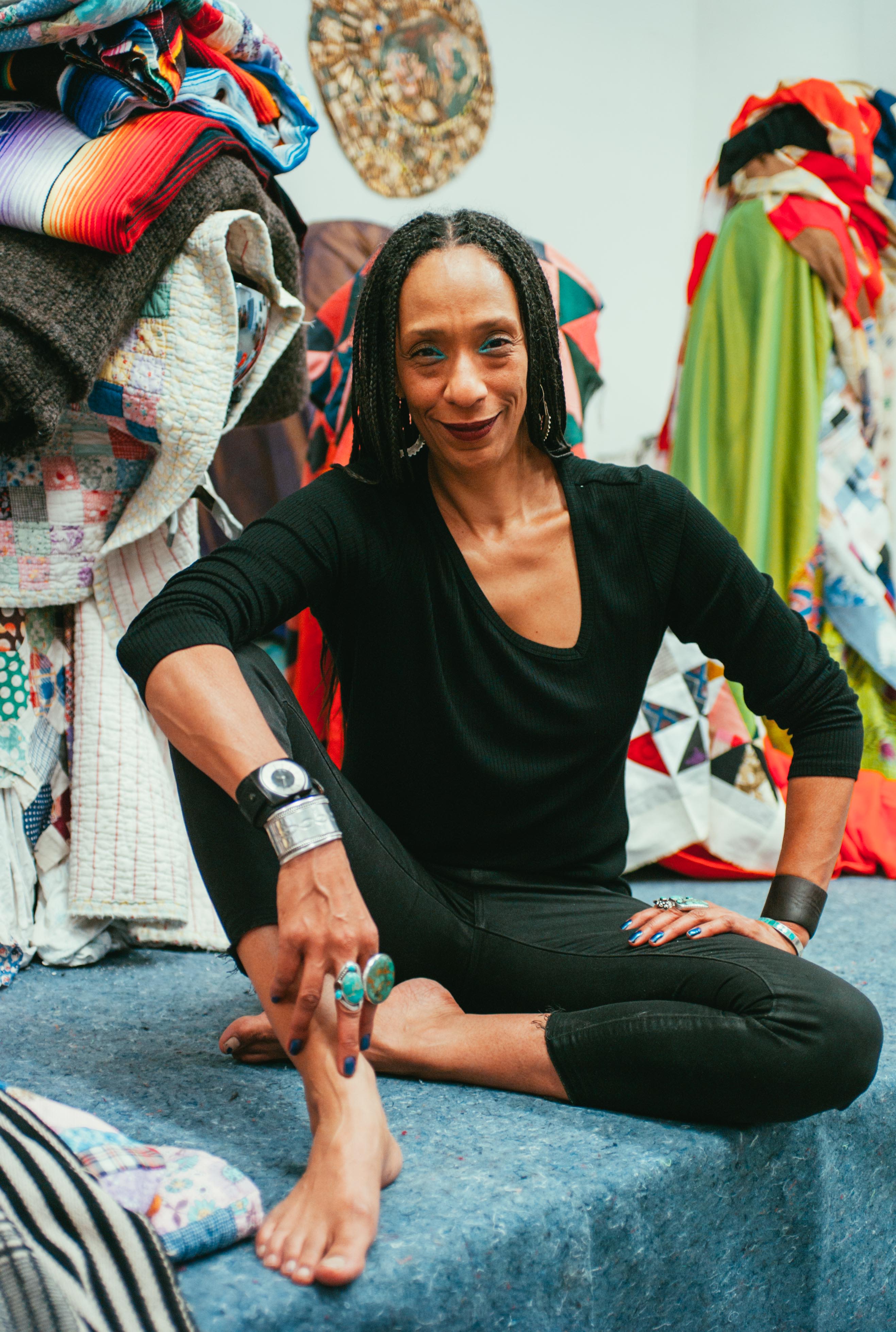 by Peyton Sauer (BFA 2022)
Photos by Greg Stephen Reigh (BFA 2013)
To artist and School of the Art Institute of Chicago (SAIC) alum Sonja Henderson (BFA 1992), a workspace is much more than just a place to create work: it's a community center, a home, and a reflection of herself.
Surrounded by materials such as beads, feathers, and textiles, Henderson's studio is all around her. "I really see myself as a folk artist," she shared. "I don't mind working on my bed in my bedroom or sitting on my sofa in my living room or being in the kitchen. I just have all of these really beautiful essential materials around me at all times. And as the spirit hits, that's what I use." Her practice covers a wide variety of mediums, including installation, sculpture, fiber work, painting, and drawing.
Henderson's artistic process is intuitive, materially driven, and informed by culture and community. "I started creating headdresses and garments when studying my ancestry, New Orleans Black Indians, and Indigenous peoples. I used the natural and modern materials around me to begin telling a new story through context and materials. I find myself recreating origin stories and trying to capture the magic of the universe with my figurative clay sculptures and mixed-media headdresses," Henderson revealed.

Throughout her artistic career, Henderson has constantly evolved. As an undergraduate student at SAIC, Henderson discovered a love for casting and an appreciation for materiality in her work. In graduate school at the University of California, Berkeley, Henderson pivoted from casting figures to making abstract earthworks out of earth, sticks, and stones. As her practice evolved, so did her space. While working on the earthworks, Henderson's studio housed a cubic yard of dirt, covering a four-foot-high perimeter around her studio. "I chose UC Berkeley because I was told they had a working foundry, but emissions standards shut it down. This change was actually a good thing because it makes you push your boundaries and step outside of yourself."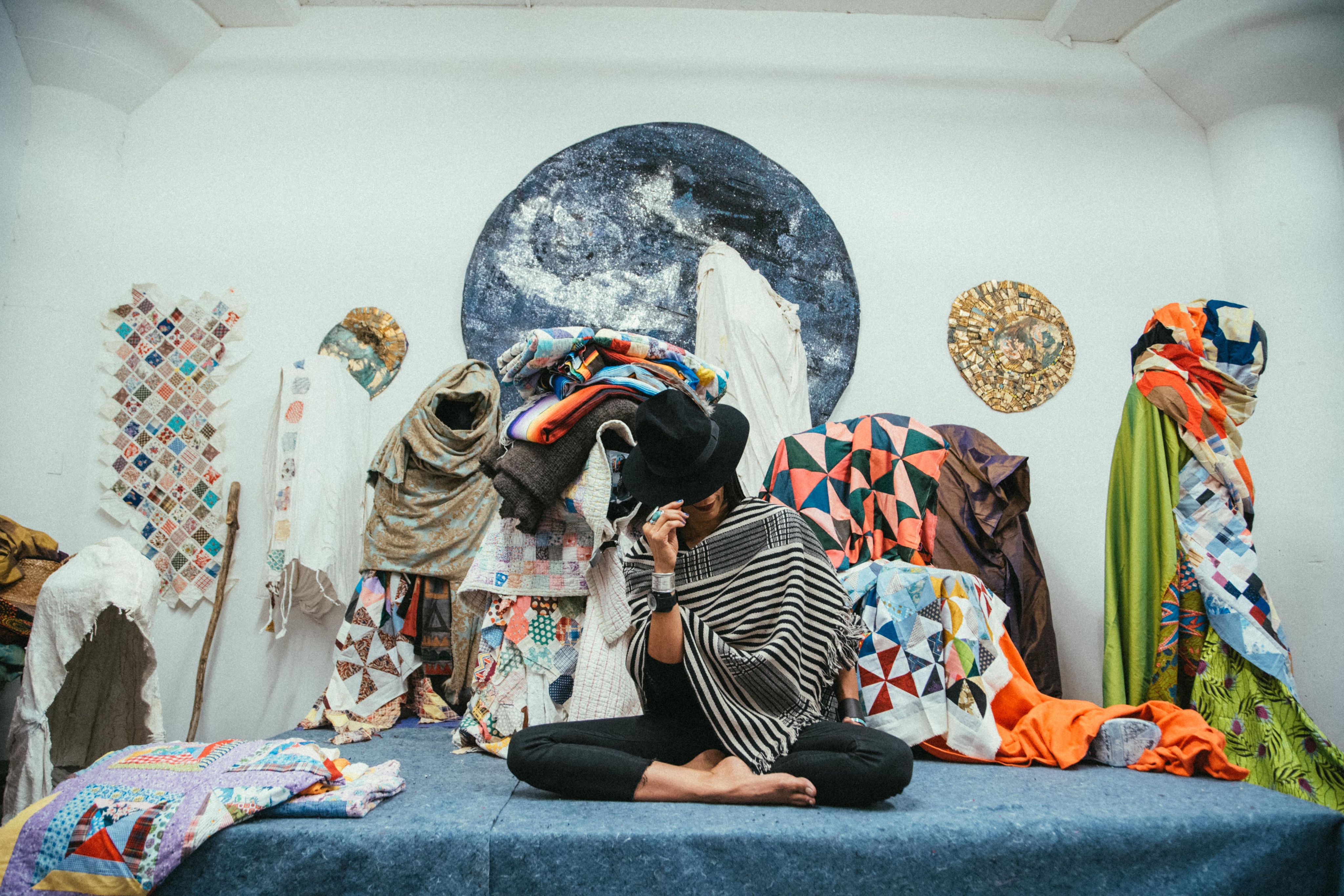 As Henderson fills her current workspaces with earthworks, assemblage pieces, and reliquaries, she also creates community within her space. In January 2020, Henderson founded an ongoing project titled the Mother's Healing Circle, which focuses on providing healing and care to mothers who have lost children to state and street violence.
While the Mother's Healing Circle first navigated operating during a pandemic, Henderson became an artist in residence at SAIC at Homan Square, a program designed for community engagement in the historic Homan Square neighborhood of Chicago. With this opportunity, Henderson was able to expand her practice. "The residency … gave me the opportunity to have some real quiet time around my restorative justice practice. I was able to use the studio and classroom space to create care packages with the mothers, as well as teach them how to grow microgreens and begin a legacy cookbook for their families and community. Currently, we are continuing our meditative healing practice by sewing story quilts. These quilts will be turned into flags, hoisted onto flagpoles and flown in the historic Sunken Garden in Lawndale for all to see."
"[My workspace] is in alignment with my practice. Everything that I do is in alignment with who I am as a healer, builder, and creator, that is the commonality. I am about community equity and wellness."
And now, as she transitions into a new space at Mana Contemporary, Henderson is eager to fill it with objects, materials, and memories that form her practice. "[The space] is in its infant stage. And it will slowly change into exactly what's needed for me."
This studio will not only provide a new meeting and work space for the Mother's Healing Circle, but it will be the birthplace of a new project Henderson is working on: a memorial dedicated to Emmett Till and Mamie Till. Emmett Till was a young Black teen who was brutally murdered after being wrongfully accused of offending a white woman, and his mother, Mamie Till, was an educator and an activist in the civil rights movement. This cast bronze memorial will be a beacon of strength and resilience for Argo Community High School and Mother's Healing Circle mothers healing from trauma and loss.
As Henderson navigates her ever-evolving practice, one thing remains constant. "[My workspace] is in alignment with my practice," Henderson shared. "Everything that I do is in alignment with who I am as a healer, builder, and creator, that is the commonality. I am about community equity and wellness. I am about building sustainable relationships with people and the earth. I am about healing and putting a loving vibration into the world. However that may present itself in the materials, that is subject to change. But it always starts from that point." ■