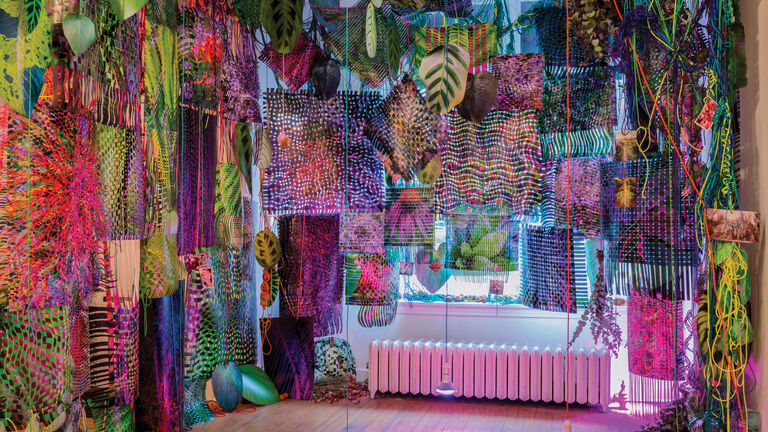 Aimée Beaubien, Twist Affix, 2017, cut-up inkjet prints, vintage c-prints, paracord, carabiners, miniature clothespins, oscillating fan, grow lights on fabric cord with dried gomphrena, eucalyptus, lemons, limes, and fallen acorns
Safe Ride and Campus Escort Program
As an alternative to walking alone, the School of the Art Institute of Chicago provides escorts between campus buildings and nearby bus and train stops. This service is available 24-hours per day, 7-days per week.
Students and employees may request an escort at any SAIC security desk. A security officer will be dispatched to your location on campus to walk with you between campus buildings. Escorts should be requested at the Security Desk approximately 10 to 15 minutes before you would like to leave.
SafeRide is an on-demand, ride-sharing service provided by SAIC in partnership with TransLōc.  SafeRide is available from 9:00 p.m. to 5:00 a.m. during the fall and spring semesters. 
Riders can watch their vehicle live, receive notifications as it approaches, and change or cancel their request. Use the TransLōc app to request a ride. Visit the SafeRide site for complete details.
Safety Tips
SAIC is committed to providing a safe and secure learning, working, and living environment. Because SAIC is an urban campus, it is important for students, faculty, and staff to keep the following safety tips in mind.
When you are alone, avoid wearing headphones, try not to be engrossed in reading, and avoid talking on your cellular telephone for long periods of time.
Carry wallets in a coat or front pants pocket.
If someone tries to rob you, give up your property—don't give up yourself. Don't struggle with an offender unless it's absolutely necessary.
Report crime immediately. If a crime goes unreported: The assailant cannot be caught. Criminals are allowed to operate without interference.
Not reporting a crime allows the criminals to commit more crimes against other people. Whether you are a victim or a witness, call the police at 911. Give as complete a description as possible, as soon as possible. Write it down! You may not remember it when you need it. Make notes about the offender's height, weight, sex, age, race, distinguishing marks and clothing. Get witnesses if you can.
Locker Safety
To keep your personal belongings safe inside of your locker at all times, we would like to suggest some options when choosing a lock for your locker.
Locks should be metal and strong, with at least a 6mm (millimeter) shackle. Please DO NOT choose a lock with a small shackle, or a small lock that can easily be broken (i.e. TSA travel locks or small locks that fit on a suitcase).
A combination lock or a key lock is fine. 
If you ever find that your locker has been broken into, or you notice that your lock/locker has been tampered with, please visit the nearest security desk and inform Campus Security immediately.
Reporting a Crime or Emergency
Press the emergency button on those phones in SAIC buildings that have an orange sticker with the word "EMERGENCY" on it next to the button; 
Call Campus Security at extension 9-1230 from an SAIC phone; or, 
Call Campus Security at 312.899.1230 from a non-SAIC phone.
Emergency Communication
SAIC will provide immediate updates via cell phone text messages, voice messages, and/or email. In the event of an emergency, check these messaging systems for specific instructions on evacuation or sheltering-in-place.
Students, please make sure your contact information is up to date so you can receive these important messages. Go to Self-Service > Personal Details > Contact Details to update your information or add your parent so they receive alerts.
Campus Security Main Office
Sharp Building
37 S. Wabash Ave., suite 704 
Phone: 312.629.9180
280 Building
280 S. Columbus Dr., 312.443.3760
Sullivan Center
36 S. Wabash Ave., 312.629.6199
Sharp Building
37 S. Wabash Ave., 312.899.1210
MacLean Center
112 S. Michigan Ave., 312.345.3528
Jones Hall
7 W. Madison St., 312.516.5300
162 North State Street Residences
162 N. State St., 312.846.2100
Lakeview Building
116 S. Michigan Ave., 312.629.9422