Fashion Innovation at Your Fingertips
Part of the School of the Art Institute's network of Library + Special Collections, the Fashion Resource Center (FRC) maintains a unique hands-on study collection of historic, as well as late 20th and 21st century designer garments and accessories representing innovations in design, construction, materials, and embellishment. These elements combine to provide students and researchers with a creative and educational environment, to explore the most progressive achievements in the world of dress and fashion.

Explore the FRC's collection of garments and accessories remotely through our Digital Collections. In addition, students and researchers can search the FRC's books and lookbooks through SAIC's Flaxman Catalog by narrowing their search by location.
Housed in the FRC's non-circulating research setting are 3,200 fashion publications, scholarly texts, contemporary designer biographies and interviews. Rare books are shelved alongside recent publications on dress and more than 25 current fashion and lifestyle magazine subscriptions. Available for viewing is an expanding collection of 800 videos of ready-to-wear and couture runway presentations, technical instruction, interviews, fashion history, and SAIC student fashion shows. In addition, the FRC archives vintage magazines from the 1890s to the present, foundation garments, 19th century lingerie, uniforms and occupational dress, as well as dictionaries, encyclopedias, look books, articles and a comprehensive fabric library.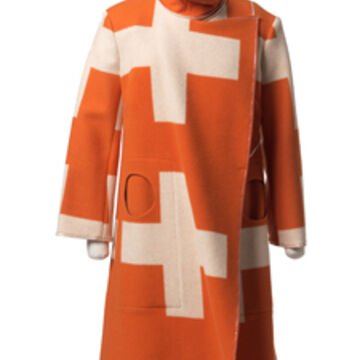 FRC Collection Highlight
JEAN-CHARLES de CASTELBAJAC
(b. 1949, French)
Fall-Winter 2000
FRC Donation, Jean-Charles de Castelbajac, 2001
Castelbajac launched his first collection in 1970 with a signature coat cut from a blanket. A collector of contemporary art, he collaborated with noted artists and musicians such as Andy Warhol, the Sex Pistols, Takashi Kenzo and Raoul Haussman. Castelbajac named his Fall-Winter 2000 collection 'State of Emergency,' in response to global demonstrations and conflicts. Made from felted wool trimmed in plastic, this blanket coat references combat wear and the cross as a symbol of peace. It physically protects the wearer from the elements as well as metaphorically from the world's harsh realities.
Fashion Resource Center
Sullivan Center, suite 735
36 S. Wabash Ave.
Chicago, IL 60603
Phone: 312.629.6730