Featured News
Image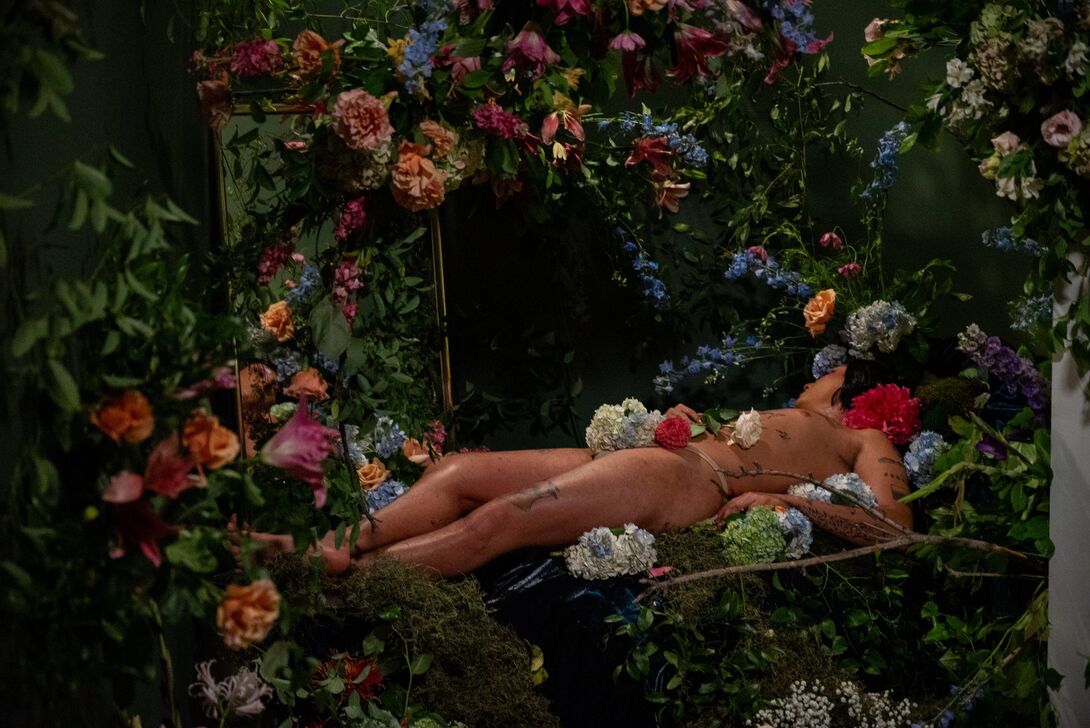 Alum Ále Campos Discusses Celeste and Drag with Sixty Inches From Center
School of the Art Institute of Chicago (SAIC) alum Ále Campos (MFA 2022) discusses their personal work processes and solidarity with drag performers.
Friday, January 26 12:00 a.m. - 11:59 p.m. CST at SAIC Galleries Street Level
Monday, February 26 - Wednesday, March 06 11:00 a.m. - 6:00 p.m. CST at SAIC Galleries Street Level, SAIC Galleries Lower Level 1, SAIC Galleries Lower Level 2
Friday, April 05 - Saturday, April 13 11:00 a.m. - 6:00 p.m. CDT at SAIC Galleries Street Level, SAIC Galleries Lower Level 1, SAIC Galleries Lower Level 2
Past Events
In/Form Performance Festival
Friday, November 18, 2022–Sunday, November 20, 2022
In/Form presents new performances exploring the relationships we build with ourselves, each other, our histories, and our more than human encounters. These two-hour programs over three days present a variety of works by selected artists who are current MFA candidates in Performance at SAIC.
Propositions Lecture Series: Flo Fitzgerald-Allsopp
Monday, September 12, 2022
Flo Fitzgerald-Allsopp is a creative producer of contemporary art and performance and a PhD student at the University of Surrey, UK. Her research focuses on performance practice that engages with non-human animals, which she investigates through a multispecies feminist lens. She is an associate researcher at DAS Amsterdam, and is currently co-editing a book on Interspecies Performance with the Lector Laura Cull Ó Maoilearca. The book will foreground how artistic research can create new ideas and visions of the entanglement of human and nonhuman animal lives, taking an intersectional feminist approach to animal oppression. 
Curatorial Hospitality: Lisa Baldissera, Bojana Videkanić and Living Within the Play in conversation
Thursday, March 18, 2021
How might we ponder curatorial hospitality? How do we begin to flesh it out? Join us to hear about three very different approaches to these urgent questions. This panel brings together curator Lisa Baldissera, art historian Bojana Videkanić, and the participants of the project/platform Living Within the Play (Kelly Lloyd, Kelly Kaczynski, Mark Jeffery, and Shannon R. Stratton), whose texts are featured in the current issue of the journal PUBLIC: Art | Culture | Ideas. Edited by curator/critic Sylvie Fortin, this publication examines the currencies of hospitality.
OLD WAYS NEW TOOLS
Friday, February 19, 2021–Sunday, February 21, 2021
With the shift to online learning in the face of the COVID-19 pandemic, the medium of live performance has faced particularly acute challenges. The works presented in OLD WAYS NEW TOOLS demonstrate how performance makers and live artists continue to innovate in response to this moment. The works, presented entirely within the Zoom platform, confront the edges of liveness, the possibilities of digital intimacy, and the urgency of art in a time of crisis.
Dread Scott Parlor Room Lecture
Tuesday, October 20, 2020
Dread Scott (BFA 1989) works in a range of media including performance, photography, screen-printing, video, installation and painting. In his own powerful words, "I make revolutionary art to propel history forward." His work has been shown across the US and internationally in exhibitions at MoMA PS1, the Walker Art Center, Jack Shainman Gallery, and Gallery MOMO in Cape Town, South Africa, and is in the collection of the Whitney Museum and the Brooklyn Museum. 
Nathan Walker Visiting Artist Lecture
Wednesday, March 11, 2020
This talk charts the details of experience within performance, how the body transfers weights or how events arise from breath. Rooted in the tasks and actions of performance art that does not seek to include narrative nor biography but could not exist without either.