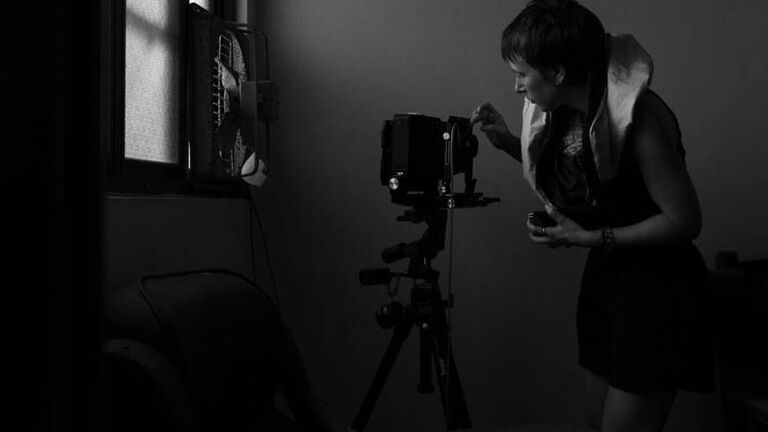 Meet Two of SAIC's 2023 Fulbright Recipients
Year after year, the School of the Art Institute of Chicago (SAIC) is among the top-producing institutions for the prestigious Fulbright Program—and 2023 is not an exception. This year, the School has six Fulbright Student Program Open Study and Research Award recipients and one Fulbright Scholar. Fulbright is one of the world's most reputable education exchange programs, providing its scholars with an opportunity to study, teach, and conduct research in more than 140 countries.
Besides cultivating artistic curiosity and critical thinking throughout its curriculum, the School also offers students and alums the support of Career and Professional Experience (CAPX). Among its cohort of experienced staff is Lecturer and Faculty Advisor Christalena Hughmanick (MFA 2012), who herself was a Fulbright Scholar in 2018. Utilizing her personal experience and in-depth understanding of the program logistics, Hughmanick has been consistently providing SAIC applicants with thorough guidance through the Fulbright application process. Armed with a creative vision and School's resources, SAIC Fulbright recipients implement innovative projects at the intersection of research and artmaking all around the world.
Meet Clara Emery (MFA 2023) and Catie Rutledge (MFA 2018) whose original project ideas were recognized by Fulbright in 2023.
CLARA EMERY
PHOTOGRAPHY MFA 2023
Seattle → Taiwan
Tell us about your project and what you will be doing.
Previously, I had become involved with several Taoist temple troops, often aiding in preparation and joining excursions, some of which I had a chance to document. Now, I am narrowing my research down to exploring site-specific Taoist lore. There are broadly two temple types based on the Taoist folk religion: the first type venerates the gods that were historically imported—they came from China; whereas its counterpart focuses on commemorating the unidentified remains and the ghosts of the people they might belong to. My research is, in fact, more about these immortalized spirits and the sites memorializing them. My idea is to interview the members of such communities and document the locales associated with their lore in an attempt to identify the details of this once-real person's death that has since become deified.
Why did you decide to apply for Fulbright?
Two years before even starting my master of fine arts, studying photography at SAIC, I had been doing some minor research in Taiwan, where I grew up between the ages of four and 10. My mom received a Fulbright-Hays grant, which, besides funding her project on the island, also allowed her to bring us, her family, along.
When I returned as an adult, I became involved with the local temple community by helping at various ritual events. Now, I am going back again and hope to develop some of the elements relating to the Taiwanese temple life I have been incorporating into my work.
How did your time at SAIC prepare you for Fulbright?
At SAIC, I experimented with surreal narratives—the modality that I am bringing with me to Taiwan. I am planning to shoot large format, but also hope to incorporate sound recordings of the temple ambiance and conversations with community members. The project will take the shape of a multimedia exploration which hopefully will result in an outline for a documentary film. My time at SAIC also informed my interest in artmaking as an approach to research. I hope to hone my research skills and then build on that by pursuing a degree in cultural anthropology.
What is the most exciting aspect of your project?
A fascinating facet of my project is collecting the stories of the miracles and other folklore associated with the ghost-deities—these are unique pieces of folklore that you can't just google or read in a book. For instance, in one story, a local god was not prayed to enough, so he ran off to a neighboring locale to terrorize his hometown. Another peculiar story involves a tree that got cut down, which evidently made it very angry and, according to the story, caused 16 people to die. Such stories seem ancient, but, in fact, the tree incident occurred in 2007. I am very interested in how such contemporary myths and the locational power of the site have kept the beliefs going.
 
CATIE RUTLEDGE
PERFORMANCE MFA 2018
Chicago → Germany
What motivated you to apply for Fulbright?
In the simplest of terms, I was interested in applying for the Fulbright because I wanted the opportunity to live and make connections abroad and focus intensely on my art practice. The structure of a Fulbright research grant requires that you pick a specific topic and very intentionally sketch out how you plan to conduct research, who you will work with, and what artistic product will result. I knew the rigor and inherent collaboration would push my practice in a new direction I was hungry for.
What is your research idea? 
My project is about intersections between the queer BDSM community in Berlin and trauma. I purposefully formulated trauma in very broad terms: it can be classified as quotidian, interpersonal, or national. Germany has lived through a number of traumatic events in recent history—its traces are fresh and apparent. So Berlin is the ideal milieu for my research.
For the first part of my project, I plan to partner with the Schwules Museum and Spinnboden, which both have extensive archives of queer materials. In addition, I will conduct interviews with people from within the community. The data I collect will be presented during three community dinners, which will hopefully spark fruitful discussions around trauma processing using BDSM practices.
In the second stage, I hope to engage the people that I meet along the way to produce a publication summarizing my findings as well as to collaborate on a performance. The two modalities will allow me to approach my findings from two distinct, almost polar perspectives: publication is material and durable, while performance—immediate and intangible.
How did your time at SAIC inform your future Fulbright project?
I took a class titled Abandoned Practices at SAIC that informed how I decided to carry out my Fulbright project. The methods presented in the class were iterative, exploratory, and collaborative, and the instructors, Mark Jeffery, Matthew Goulish, and Lin Hixson, were encouraging and invested in what the students were creating. As my project was taking shape, I realized that the collaborative approach I first learned in Abandoned Practices would best serve the project and the interweaving stories I wanted to share.
How do you hope to grow from working on this project?
I hope to find stories of survival and resistance that employ unexpected subversive tactics, and consequently stitch them together into an impactful and meaningful performance. In grad school, I primarily did solo performances, and I hope to learn more about directing a group and being a decision-maker, which is particularly challenging in a new environment and in a new language.