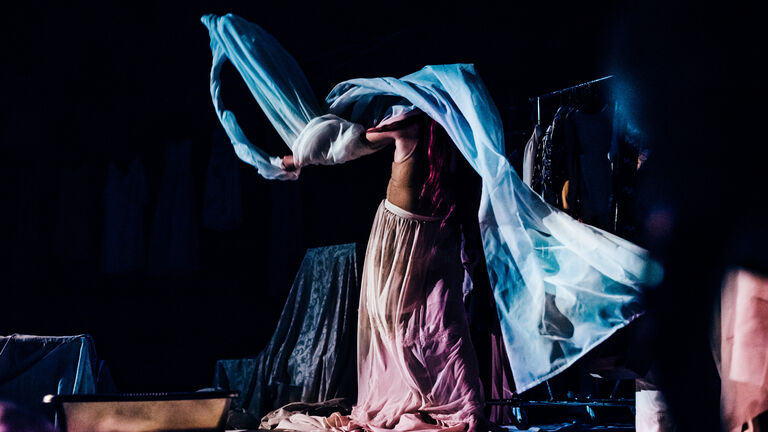 "Unravel" Madison Mae Parker (photo courtesy of the artist)
MFA Students & Featured Alumni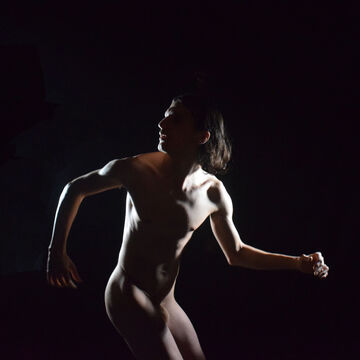 Kyriakos Apostolidis
Kyriakos Apostolidis is a visual and performance artist from Greece. Since 2022, Apostolidis is an MFA student at the department of Performance at the School of the Art Institute of Chicago (SAIC), while holding an Integrated Master's degree in Fine Arts at the School of Visual and Applied Arts, Aristotle University of Thessaloniki (2017) and studied in Facultad de Bellas Artes, Universidad de Granada (2014) with the Erasmus+ program.
Exploring the term 'morphoplastic', Apostolidis's art deals with how the body can produce innate forms of human existence through its movement plasticity, energizing the expressive potentials of the so-called "body intelligence".
In his project, under the title ""Morphoplastic: From Visual Representation to Performance Art"", Apostolidis want to connect the western history of art with live art / performance art to define the very specific way perceives the representation in performance coming from visual arts.
By expanding his artistic practice from visual act to physical action, Apostolidis articulate a non-verbal communication art language in which the body is presented as a living sculpture that gets forms in real-time.
In this context, Apostolidis's whole art deals with the philosophical concept of ""hypostasis"", exploring the relationship between material and spiritual hypostasis of human existence.
Apostolidis has been actively involved in contemporary performance since 2017, presenting his work individually and in collaboration with other artists. He participated in the project ""Cyborgians : Your Brain is not an Onion with a tiny Reptile Inside"" in collaboration with Olivier de Sagazan, the IPED Project - Larnaca Biennale 2021, the 3rd International Forum of Performance Art, the 1st Symposium of Contemporary Art - Archaeological site of Philippi,  the 7th Thessaloniki Biennale of Contemporary Art | Performance Festival, and the INSPIRE Project 2018 / Christopher Makos: Face the strange in MOMus-Museum of Contemporary Art.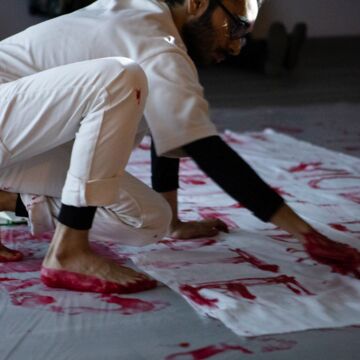 Akshaj Kilewala
From his experiences of maximal cultural land of India, Akshaj Kilewala brings to you hybrid performances, digital illustrations, collages and mix media paintings. He has graduated from National Institute of Design, Andhra Pradesh with a bachelor's degree in Communication Design. 
To experience the idea of wholeness and with an intent to pass it on to the viewer, Akshaj uses bodily moments trying to represent divinity, tranquility, variations in breath and playing with properties of reflection, pattern and repetition to create captivating visuals. 
The current direction of his art practice happens simultaneously in the fields of Fabric studies and experimental performance films.  The use of materials present in the immediate surroundings and exploration of conventional and  unconventional tools help him generate balance, harmony, rhythm in order to create dynamic visual compositions.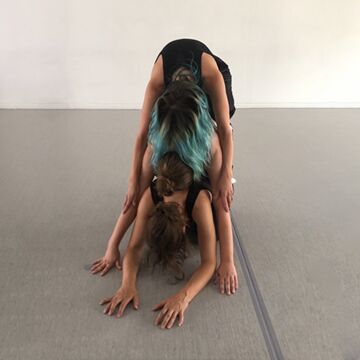 Blue McCall
CV/Happenings:
2022. Touch System at Performance Works NorthWest, Portland, OR
2022. touchsystem✿✿✿ and meroitic at CMG's Improvisation Summit, Portland, OR
2022. XOIR performer in Colin Self's Tip the Ivy, Performance Space New York
2022. "Slip Wip" on No Bounds Radio, London/Manchester
2022. Slip Wip: Fantasy Industrial at XHURCH, Portland, OR
2022. Discordance: Noise Ensemble, Portland, OR
2021. Movement Direction for film "Basement Bimbo" by Jan Julius
2021. "Worm in Heaven" at No Fun Bar, Portland, OR. 
2021. "Ablation Cake Sit" at Jan Julius' Meat Shot Idyllic album launch, twitch
2020. RENT STRIKE, decentralized
2020. "Improvisational Weaving: An Invitation to Anti-Fascist Demonstration," Portland, OR
2019. Vessels in Ultra-Gushy History Color, Portland Textile Month
2018. Flag, Utopian Visions Art Fair, Portland, OR. 
Publications
2022. ""Map of Factory"" in Second Factory Issue No. 4, Ugly Duckling Presse
2022. Touch System & meroitic cassette out on MonoMicro
Dance ensemble: https://bluemccall.com/touchsystem             
Novella: https://slipwip.com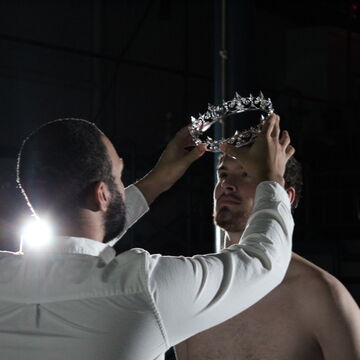 Nathan D. Manna
I am frustrated by the way that historians and scholars construct the events of gay history. Contemporary scholarship frames it through the lens of straight history and frames things as either pre- or post-Stonewall. This refuses the notion that gay history is connected to itself and has been for centuries. My work seeks to reconstruct these narratives that have been long forgotten and present them as a true, grand narrative. 
The tools I utilize to explore this history are varied. I principally work as a theatre director, a montagist, and a scholar. Each medium brings with it different ways to tell and explore this history, whether through action, visuals, or words. What they all offer is the ability to distill complex thoughts and theories about gay history and culture into digestible portions. 
During the academic year, I am based in Chicago, IL, and during breaks, I am based in my home studio in Worcester, MA. I am currently working on a major research & practice grant funded through the Worcester Arts Council, the National Endowment for the Arts, and the American Rescue Plan Act that is exploring the work and life of John O'Reilly. 
Areas of interest for research and practice: experimental theatre, the theatrical avant-garde, gay history, depictions of conversion therapy, homoerotica, the history of gay pornography, the history of gay media, utopias, dystopias, body positivity in performance, self-portraiture, the performance of governance, gender performance, theatre & performance theory.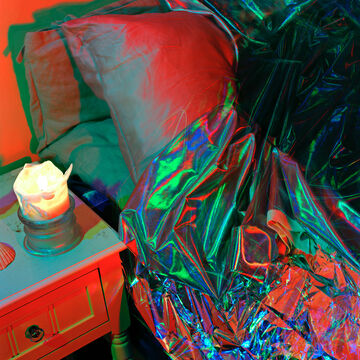 Ella Valenstein
Ella Valenstein (she/her) is an interdisciplinary artist working with photography, installation, performance, sound, and fibers to create and hold spaces for experiencers to explore, expand, rest, and come home. She has just completed a Post Baccalaureate certification in fine art at School of the Museum of Fine Arts in Boston.
Ella earned a Bachelor of Science degree in Nursing from University of Maryland School of Nursing and has worked as a pediatric nurse in top children's hospitals, in pediatric clinics, and through the first years of the COVID 19 pandemic. She has a long history of art making, and is passionate about continuing to care for and heal people through her art practice..  She invites you into her art works through multi sensorial experiences and hopes that the spaces provided allow for what you are seeking and may change and expand your sensation and knowingness.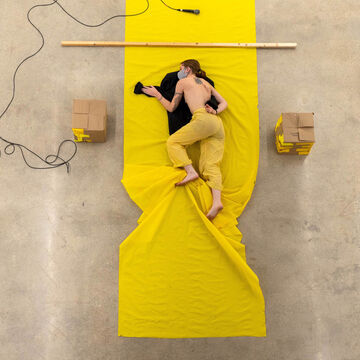 Camille Casemier
I perform with a troupe of objects and materials. Today my troupe includes: two buckets, one green, one white; a sliding glass window that is slightly taller than me; a found concrete half block with a face drawn on one side; a glass fishbowl; my father's coat; my mother's hand mixer; an emergency blanket; a wheelbarrow tire; two bolts of fabric, one pink, one orange; and flour. Like a magpie in its nest, my practice is one of retrieval. In the assemblage of these lived-with objects, I am able to recover parts of myself and give utterance to my particular existence. I have found that when I tie my emergency blanket to the paddles of my mother's hand mixer, I can give gesture to a churning that lives in my chest. I have found that when I stick my hand in a fishbowl filled with flour, I return to my childhood middle-of-the-night-missions to the kitchen, silently unscrewing the flour jar and sticking my hand inside while my family was sleeping and I was aching for softness. 
Camille Casemier is a performance artist based in Chicago, Illinois, born in Vermont in 1995. She received her BFA in Interarts Performance from the University of Michigan in 2020 and has taken workshops with Johannes Deimling of Performance Art Studies, Eiko Otake, and the Hinterlands. Camille's performance practice traverses many disciplines including video, sculpture, dance, puppetry, and writing. She has performed at New York Live Art (NYC), Stonewall Inn (NYC), SiteLab's Rumsey St. Project (Grand Rapids), Detroit Fringe Festival, Ypsi After Glow (Ypsilanti, MI), Phantom Theater (Warren, VT), the Hive on Pine (Burlington, VT), Ox-bow School of Art (Saugatuck), No Nation (CHI), and Streifen Performance Art Festival (Germany). She also shares her practice as an educator, previously working as a teaching artist at the Generator Makerspace in Burlington, Vermont and as an art mentor to high school students.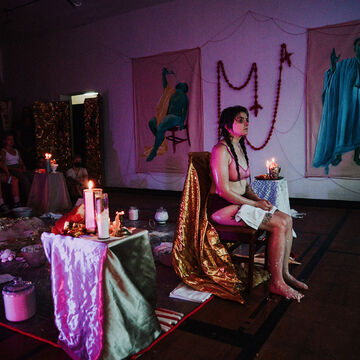 Madison Mae Parker
Madison Mae Parker (she/they) is a ritual artist, a performer, and a space-maker. Holding a BA from Texas A&M University in English Creative Writing, she finds deep belonging in the stretching of language through poetry and questioning where a poem might long to live. Through this exploration of poetics in the material world, she invites desire, curiosity, and play as spiritual practices into her studio. Where does desire live? How might we chase it? Is there grief inside the chase? The chasing results in a mess of glitter and flour and fabric and bodies. 
Her previous work has led her to Charlotte Street Foundation as a resident, Mic Check Poetry, serving as President, and Texas Grand Slam Poetry Festival as Director, along with other residencies, arts education, and community organizing work. Having toured and taught internationally with her poetry in the US, Australia, Europe, Canada, and Singapore, she feels most at ease while performing and facilitating rituals and conversations around the things that make us human.
She is currently an MFA Candidate in Performance at SAIC (2024) alongside the Tamalpa Institute to receive an Expressive Arts Therapy Certification (2024). When she is not art-ing, you can find her watching anime and eating Hot Cheetos with her cats MeowZaki and Mochi. @MadisonMaeParker anywhere on the internet.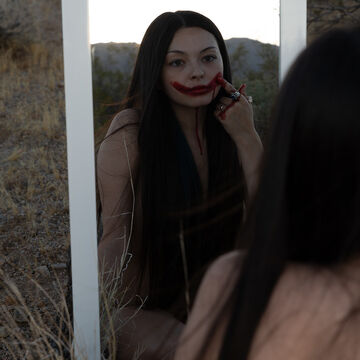 Nicole Daskas
Nicole Daskas (she/her) is a Chicago-based interdisciplinary artist originally from Las Vegas. She works across mediums such as performance, video, installation, sculpture, and zines. She received her BFA in Studio Art from Chapman University in 2021. Her work focuses on feminist issues such as gender violence, catcalling and harassment, and gender inequity in the art world. 
Daskas utilizes red, blood-like liquid in her work as a direct signifier for violence against women as well as a rejection of standards of femininity. Spiderwebs also appear throughout her practice, representing ideas of domesticity and protection. More recently, Daskas has also been experimenting with craft materials. 
Daskas' work aims to question the arbitrary, patriarchal structure of the art world. Under the Greenbergian model, one "genius" creates an original work of art. The "genius" is white, straight, and male, leaving little space for women, BIPOC, and queer artists. Daskas contends with this notion, asserting that this elitist, exclusive structure of the art world has resulted in an incomplete art history.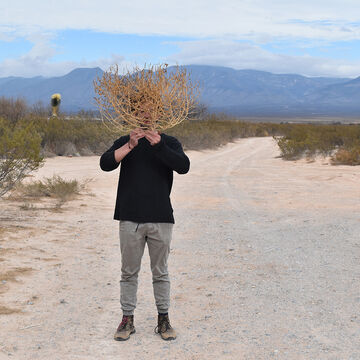 Marco Guagnelli
Performer and director of community theater from Mexico City settled in Chicago, Il. Since 2007, he performs site specific performances using various media such as theater, music, poetry, and performance. His topics are linked to the defense of human rights, relationship with nature and gender. His work with specific communities integrates testimonies by protagonists in the stage, to generate  processes of individual and collective identification. He has been a beneficiary of the mexican government grant Fonca in 2017 and 2019, in 2021 he was awarded by the Dutch´s Prince Claus Seed Award.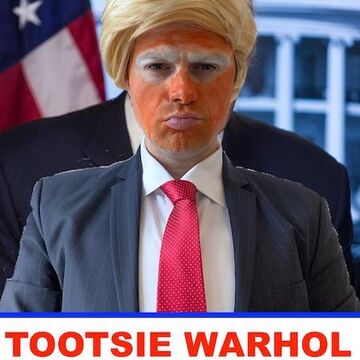 Tootsie Warhol
Bio:  tootsie warhol, he/him (b. 1985, New York - @tootsiewarholNY), is a Chicago and New York-based, Iraqi American artist and activist with degrees from the University of Virginia (B.A. American History and Spanish, 2007), Brooklyn Law School (J.D., 2010), and forthcoming from the School of the Art Institute of Chicago (M.F.A., 2024).
On the eve of Donald Trump's inauguration, tootsie warhol met with the president at Trump Tower along with civil rights leaders to discuss voter suppression. In an act of self-redemption, the artist defaces the iPhone screenshot of himself shaking hands with Mr. Trump from the New York Times digital front page by hand scrawling Mr. Trump's own words over the image. tootsie warhol applies this method to other photos which capture key human and civil rights violations by Mr. Trump. Moreover, tootsie warhol's meeting with Mr. Trump has inspired his recurring performance as a satire of the Donald Trump, most notably, MAKING THE BIENNIAL GREAT AGAIN! (The Whitney Museum of American Art, New York, 2019), which channels the experience of meeting Donald Trump to many people who may not have that opportunity. tootsie warhol often performs inside and in front of cultural institutions and at rallies and protests. He takes inspiration from Greta Thunberg's school strikes for climate and is steeped in the history and the spirit of Dr. Martin Luther King, Jr.'s philosophy of nonviolent protest. 
He became deeply engaged in human rights as an assistant district attorney in the Brooklyn DA's Domestic Violence Bureau where he aided Spanish-speaking female victims of domestic violence from Bushwick and Sunset Park. He is an active member of the MoMA Junior Associates, the Guggenheim Young Collector's Council, and the Whitney Contemporaries.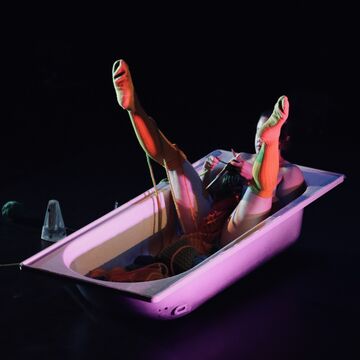 Virginia Kennard
I call myself an explicit body performance/live artist and have made a range of solo and ensemble performance works, from short performances to durational installations. My focus is to facilitate the telling of stories - mine and others - by building safe spaces to create intimate interdisciplinary performance. I create queer works that intersect with feminist theory and abstracted autobiographical practice.
I trained as a classical, commercial, and contemporary dancer, whose labour "is nothing else than to constantly embody, disembody, and re-embody" (Lepecki, 2016: 15). Whose output could be a whole greater than the sum of its Euclidean parts. Whose body could be "a body of agency that can politicize something" (Gorman/Holstein, 2017).
My focus on body-based practice began with my work as a life model, encountering notional and practical differences in sexualised, objectified, and commodified bodies. I am, and have been, a sex worker, cheerleader, promo girl; these inform/become my art practice. Acknowledging that my earning power benefits from #CisWhiteWoman privilege, i realise that my work is limited and complicated by (dis)empowerment, normativity, agency, ethical consumption under capitalism, and neoliberalist bodies-as-art.
For the last wee while, i have been based in Ōtautahi/Christchurch, in Aotearoa New Zealand. I co-managed two small arts charities - a community dance organisation called Movement Art Practice that provides dance classes, artist residencies, and community dance projects and events, and Ōtautahi Tiny Performance Festival, a biannual site-specific platform for experimental performance. I had the privilege of being a jazz dance teacher where i worked to queer the dance studio, developing a safe space for teenage girls to be their best dance selves in a supportive choreographic somatic studio environment, whilst also doing many fouette turns and high kicks.
I hold an MA Performance from Leeds Beckett University, UK, a BSc majoring in Mathematics and a BCA majoring in Economics from Victoria University of Wellington, NZ, and a Diploma in Performance Arts from Wellington Performing Arts Centre, NZ.
I am a low-waste, cycling, ADHD human who likes delicious food and snuggles.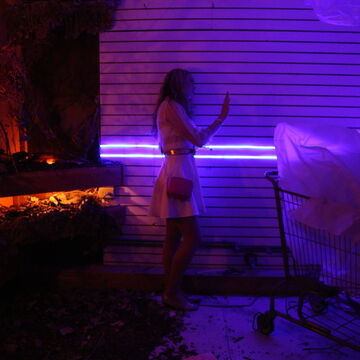 Derek Spencer
My performances distill contemporary philosophical ideas into salient emotional experiences. Typically my work is devised with an ensemble, performed in unusual venues, and formatted with immersive and interactive elements. Ultimately I aim to decentralize traditional narrative structures in favor of a pluralized approach in which conflicting perspectives and colliding stories are presented for the audience to inhabit and process.

I curate spectacular moments of orchestrated chaos alongside intimate, interactive encounters in pursuit of collective and contingent truths. I aim for immediate experiences that remove the possibility for second-order analysis until after the performance has concluded. Through spectacle and immersion, I attempt to absorb the audience into my shows and create personal, rather than merely dramatic, stakes.

I fill these chaotic and immediate containers with urgent and expressive characters, often trapped in a single pivotal moment. I am interested in obsessive characters that go deep down the rabbit hole in a desperate search for satisfying answers. I imagine performers sacrificing themselves in a futile search to make the audience's own search slightly less futile. This sacrifice may look like the dissolution of self through a destructive process of manic self-critique or frivolous self-construction, sometimes escalating to the point of abstraction.

While my work structurally diverges from canonical theater, I make use of dramatic tools. I over-indulge in sentimentality, anxiety, joy and nostalgia. Ultimately, I want to mobilize the audience's emotional journey toward conceptual ends.

Through these exaggerated, expressionist, and parodic performances, I create a dialectic process between contradictory positions. Sometimes these are my own internally held contradictions, and other times they are inspired by my collaborators or collaged source texts. I push these perspectives and conflicts as far as they can go so that the audience can sit in the crossfire and synthesize their own position.

To obtain this effect, I collaborate closely with ensembles of performers to devise material. My practice consists of designating space for performers to explore within, guiding them to generate material, and then editing it into a cohesive whole. I ask my collaborators to identify an idea, mold it into an obsession, and push it to the most radical degree. The conflicting positions embedded in my work become more nuanced and alien from one another when I am able to draw from perspectives and experiences beyond my own. I work with collaged text from diverse sources for similar reasons.

Since 2016 I have served as Artistic Director of Ceaseless Fun, an LA-based immersive theater ensemble. I received my B.A. in Philosophy from the University of Chicago in 2014.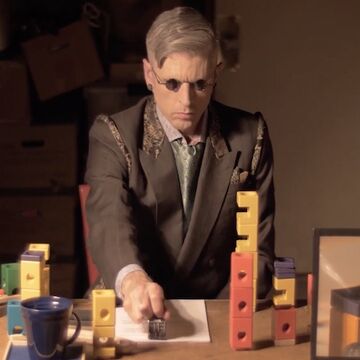 Kyle Gregory Pierce
I am Kyle Gregory Price - I don't create because I can, I create because I have to. My work is a form of exorcism and catharsis sprinkled with public service. I have come to grips with the notion that I am a vessel through which the bigger picture passes. It's my responsibility to organize finished products through creative making. Any creative output is on one hand universal, and on the other very personal and aimed at engaging with audiences that come to it open for a deeper and adventurous meaning.

Story-telling and narrative shape are crucial elements for me in performance and composition, solo or collaborative, in part due to my many years of experience working with children. I have observed in younger audiences that the kids themselves become catalysts and inspirations for the direction of the performances. For me, working with children as a performer necessitates and presupposes experimentation, improvisation and playfulness. I am discovering how to translate this to adult audiences and environments.

The intensity of my diagnosed bipolar disorder plays a significant role in my artistic work, as my emotions can oscillate quickly and drastically. I regularly express this through the work I produce, which is frequently composed of contrasting sections that relate dynamically. 

One happy strength of my "different kind of mind" is my ability to find the comic element or voice in quotidian and artistic situations - including the occasionally overly academic, solipsistic and even dour experimental art scene. Comedic timing is as important as a good modulation or suspended cadence. The intense moments my neurodivergence presents me with grant me the opportunity to not always take things too seriously and to embrace fun and the unexpected - within life and my craft. 
Regarding being an artist-servant, much of my focus is on mental health and trauma - I want to help. How do we heal and forgive, yet embrace all that has happened and how do we share our story in a way that gives hope to those still pained from wounds and atrocities? My particular story is as much verbal as it is somatic and I encourage others to either join in or find that they too can heal through creativity, if they are willing to dig into themselves and find their way of 'doing the work'. 

Having grown up in a less than privileged environment I needed to find ways to express myself in a DIY fashion, utilizing the few resources that were at hand and I am motivated by the core value of accessibility so that audiences can enter arenas where they are invited to speak their piece and seek relief and liberation.
Refined and adventurous: Does my audience know the lineage of human creation? Will they understand the formal, conceptual and literal references, past and present, that I make? How do I challenge traditional and current practices? Do I understand my own acculturation and direction? With this I am grateful for the voices of those around me and who also came before me.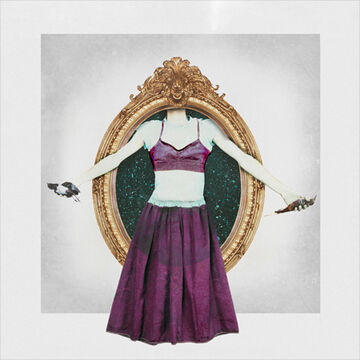 Hesam Salehbeig
I work across multiple disciplines – video, digital art, sound, curation, architecture,
theater, and performance – but all my projects share the same critical view of social, political, cultural, and gender issues and all operate through a variable mix of documentary and narrative forms.

In practice, this means I generally start with a central concept, then decide which media can express the notion more innovatively. Then I start to accumulate materials and documents around that center and finally design the final form to provide an experimental chance to challenge one's perceptions, perspective, and assumptions, where realism meets abstraction. My future projects focus on using mixed media collage, immersive installation, and video to explore connections between personal experience and larger social and political structures, based on my interests in complex narratives of third-culture identity, their precarious invisibility/hyper-visibility, and the friction often experienced between the individual and the collective.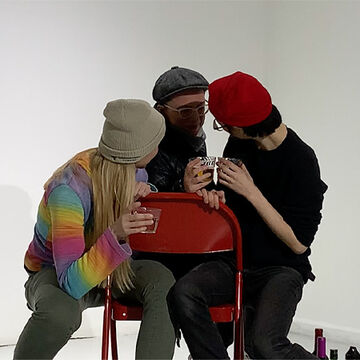 Eunjin Choi
I am a performance maker, poet, and community builder from South Korea. I draw from my background in dance, choreography, and theatre to investigate subjects such as disappearance and grief, incapacitated and unproductive bodies, performance and objecthood, and language and performativity. What motivates this exploration is my desire to discover new forms of social interaction and ways of forming relationships with our bodies that prioritizes and empowers tenderness and vulnerability.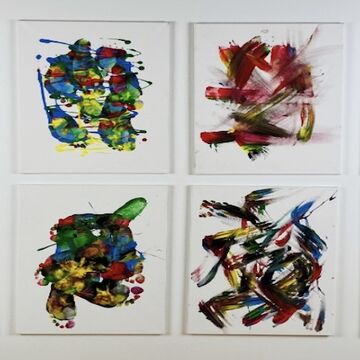 Ivan Mreïs
The aim for my work is to find out how one can explore and understand an emotion through movement and documenting it through art. Providing a means of release and a sense of connection with themselves and with others. I use the body as a tool to paint an expression on a canvas combining performing arts with visual arts.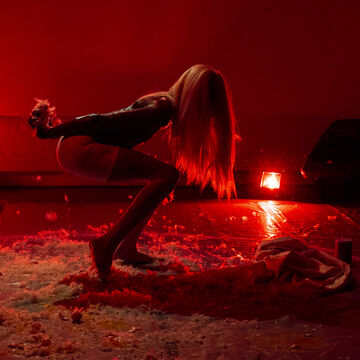 Kezia Waters
I would define myself as a storytelling Artist. Having been influenced by a Theatre Arts background I value the importance of storytelling and dialogue. I do not see dialogue as being limited to things that are audibly stated but what the work sounds like in between the pages of performance. My work leans heavily into sonic performance, I like the idea of deep listening for understanding, incorporating body and emotional intelligence as strong values. Things are repeated, chopped, elongated, reduced and expanded based on how I feel within the immediacy of a moment. Time Traveling is not only a subject matter in most of my work but a method of creation/ a praxis/ a pedagogy. I push against, overlap and reject syncopation often. Growing up in The Black Pentecostal Church traditions, despite my queerness, I think of my work as trying to find that which is holy, whole, holistic and/ or holds within Black and/or Queer functionality. I am interested in homemaking, the feeling of home as an intelligence, and Queer Refugees of the American bible belt. I do this often through spiritual surrealism and traditional folkloric techniques. My creative, scholarly and pedagogical lineage consist of Audre Lorde, Zora Neale Hurston, bell hooks and Paulo Freire.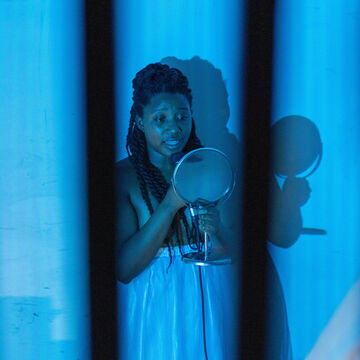 Carissa Pinckney
My work consists of traditional theater, public intervention, filmed performance, sound performance, and workshops. I use my body, Black Archives, vulnerability and conversation to foster empathy and build connections between people, aiming to change the audience experience from that of a passive viewer to an active participant. 
I see performance has the ability to transform audiences' perceptions about individuals and society. I am constantly striving to harness the power of performance. Seeing it as an art form that goes beyond mainstream entertainment or education. Utilizing it as a device that provides visual experiences and helps me to marry two parts of myself: the artist and the citizen. Permitting me to look at my own experiences and explore the legality and illegality of black vernaculars in a larger cultural context. Black archives and personal family history are used alongside cultural narratives surrounding Black women to explore the tensions and misunderstandings that shape the current emotional landscape of anti-blackness.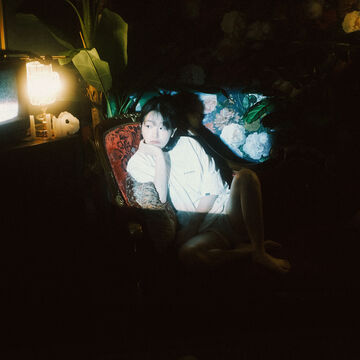 Yeji Lee
Performer, Painter, Sculptor, Photographer
Education
2021–2023 SAIC performance masters course
2014–2019 Ewha Women's University
Bachelor of Fine Arts - Ceramic Arts/Paintings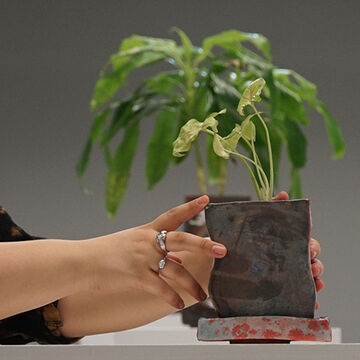 Becs Epstein
Becs' (she/her) current practice is based around the dynamics of human-plant relationships. She uses the language of bureaucracy, combined with clean corporate aesthetics to invoke the feeling of cult magnetism and to create propaganda about the environment. Becs makes sculpture, ceramics, performance, video, painting, and installation which all culminate in transformative moments for participants. She imagines her work as earnest world creation. Humor and sincerity act as lubrication to engage with the seriousness of human-created climate chaos. Community and research motivate the making process. She oscillates between sincerity and irony, connection and disconnection, Anthropocentrism and Ecocentrism. She is pursuing the failure of the utopian dream; while at once maintaining the hope that lives within it.  Failure here is not defined by the ability to reach a certain goal but as an opportunity to look at utopia from the other side.
She graduated from Carnegie Mellon University BFA with a focus in Contextual Practice and Sculptural Installation. She has exhibited internationally and across the United States. Exhibitions include Graduate Showcase, Carnegie Library, Glitterbox Theater, August Wilson Center, Assemble, Frame Gallery, Wills Creek Exhibition, Folly Tree Arboretum, BabyLands, Miller Gallery, Legend Galleries, Spinning Plate Galleries, Elbow Room Gallery, and NZ Manifestos of Systematic Change. She has been a resident at Barim in South Korea, Stomping Ground in NY, and NARS Governors Island Satellite Residency in NYC. She has curated extensively in performance and visual art. She squiggles everyday into tight spots of toxicity and feeling with the non-human.
Autumn Ahn
I am working with broad notions of systems, consciousness, and utopia through and multidisciplinary time-based practice including object-making, performance and installation. Whether drawing studies of bodies in motion, suspending stone with mountaineering rope, or painting using family ink that migrated to the US a generation ago, I am thinking about how movement informs identity, society and survival. 
During my time here at SAIC, I am focused on writing, sculpture, and new installation/performance work, particularly the ideas of armatures/models, masks, ceramics, rituals as language, sunlight, and script -  to explore metaphors of the sky in relation to states-of-change and metaphysics.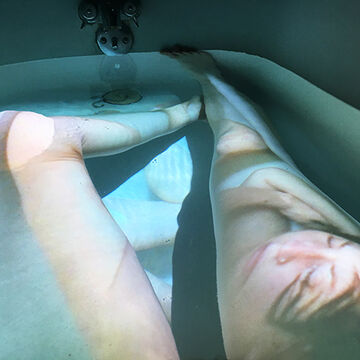 Anna Johnson
Anna Johnson (she/her) is concerned with spiritual, material and interpersonal energy. Her practice explores emotional and metaphysical landscapes, made manifest and inhabited through one's body. She experiments with ways of engaging the viewer's senses and feelings, particularly through immersive, tactile, sonic and architectural designs as well as collaborative activity and social rituals. This attempts a transformation of elements that is designed to yield the extraordinary. Her work employs and hybridizes the languages of moving image, performance, music, sound and installation.
Anna is a Midwesterner, originally from the Twin Cities and now residing in Chicago. In this spirit, she is devoted to community-based arts initiatives and passionate about artist-run spaces and DIY culture. Her work has been presented at spaces including Co-Prosperity Sphere, Roman Susan Gallery, Companion Cooperative, ARC Gallery, The Soap Factory, Mirrorlab Studios and Gamut Gallery. Anna formed and directed the Minneapolis-based music and performance ensemble Bella Yaga, who performed at venues including Open Eye Figure Theatre, The Cowle's Center for Performing Arts and the Cedar Cultural Center. She participated in Red Eye Theater's Works In Progress and Isolated Acts programs and performed in the culminating New Works 4 Weeks Festivals in 2018 and 2019. In addition to her solo practice, she currently plays with Microviolet, an improvisational music project.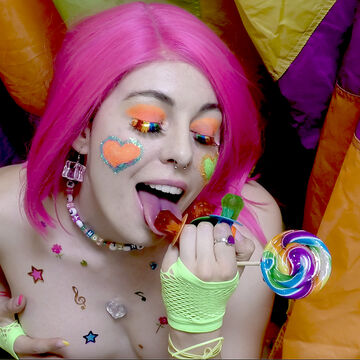 Tilcara Webb
Tilcara Webb hails from the Land of Enchantment. Her work navigates the practice of elastic storytelling on quotidian playgrounds and prioritizes narrative ambiguities of various identities, relationships, and social structures. Often incorporating the parafictional, Tilcara seeks to coax mischief into the process by toying with certainty and legitimizing the illegitimate. 
side effects: humor, disorientation, unease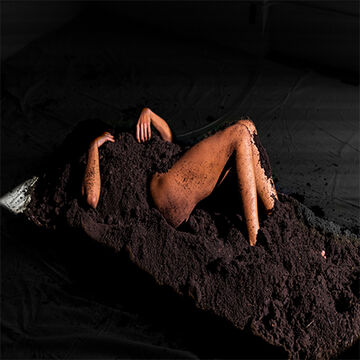 lynn hunter
lynn hunter (she/they) is a multimedia performance artist from Baltimore, Maryland currently pursuing a masters degree in fine art and performance from the school of the art institute of Chicago. She loves exploring new boundaries of imagination and Black presence. This is activated through mentally and physically charged, time-based endurance pieces. Repetition, movement, and historical allegory all contribute to Hunter's new world dedicated to taking up space, and honoring identity, bringing audiences with her.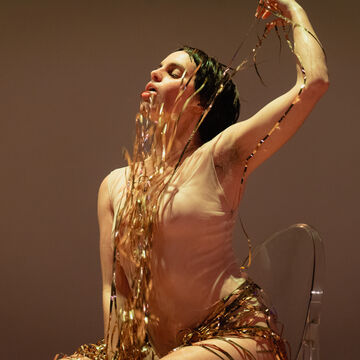 Nikki Telegan
I examine the interconnected possibilities of the self-fetishized body as a site for vulnerability and power while questioning the relevancy of flesh and liveness in our current and post-pandemic culture. Through a variety of wet and messy techniques to express the leaky body, often involving sweet, sticky, and artificial substances, I question the allure of the abject, the call of the void of the internet, and the extent to which the body-image can and does exist across space and across time. This strategy is often executed through a multiple-channel, combined live and virtual performance work as a method of implicating my audience's gaze and inviting them to question, when presented with both, what takes priority. I look at glimmers of resistance to censorship throughout history by tracing my erotic ancestry, popular culture uptakes of algorithm deflection, and my own childlike-sensibility and approach to play in kink. These ideas are absorbed through semipermeable membranes, such as the surface of my skin, and are expelled onto the surface of the screen, broadcasting out, welcoming others in.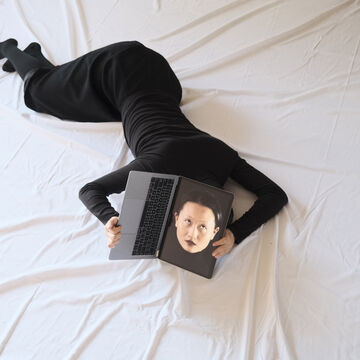 Mao Chenhui
Mao (she/her) is a movement-based performance maker from China. Her current interests are embedded in research on the body in mundanity, digital others, repetition, and the subject of time. Mao's practice draws on improvisation and de-contextualization to create performance works that explore the bodily response to constant flux. Her experiences include working with Butoh group Sankai Juku, Dimitri Chamblas, Julie Bour, Rubberlegz, Oguri, Sam Wentz, and many more in a wide range of performances across Japan, France, China, and the United States. Currently an MFA pursuer at the School of the Art Institute of Chicago, she hopes to continue testing the sense of boundary, practicing "un-do," and creating works with a gentle sense of humor.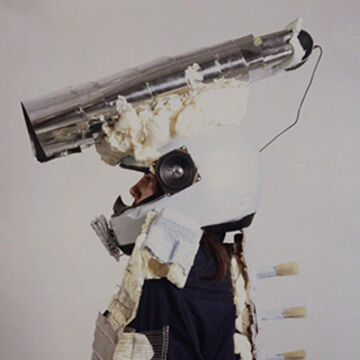 Angeliki Tsoli
Angeliki Chaido Tsoli is an interdisciplinary visual artist and Fulbright Scholar from Athens, Greece currently based in Chicago USA, pursuing her MFA in Studio/Performance at the School of the Art Institute of Chicago. Angeliki graduated with distinction from the department of Fine and Applied Arts, Aristotle university of Thessaloniki.
She has been working predominately in the field of performance art for a number of years now since studying in Spain (UPV Universitat Politècnica de València) with Bartolomé Ferrando. Her practice deals with durational, process based and material led concerns and she is interested in exploring these through a visual and mental poetic space, creating and transforming images within a political, identity based and ritual contextual and conceptual approach. Her practice stems from, and is rooted in a visual arts discipline, considering her approach as one of sculpting experiences, or liken her approach to painting in the way she constructs her aesthetic terrain.
Her work has been exhibited nationally and internationally and over the past few years she has participated in a number of international workshops such as Venice International Performance Art Week, and has worked with La Pocha Nostra, Zierle & Carter, Manuel Vason, Tania Bruguera, BBB Johannes Deimling, Francesco Kiais, Dagmar I. Glausnitzer-Smith, and Andreas Pashias, in addition to working as a lead assistant to commissioned artists (Zierle&Carter) for the SPILL Festival of Performance in London(2015).
She is cofounder and curator with Francesco Kiais of the performance platform in Athens [MIND THE] G.A.P - Gathering Around Performance. Their intention is to catalyse performative cultural activity, build bridges and facilitate connections, invite national and international artists, and to organize performance workshops, exhibitions and lectures in the field of performance art.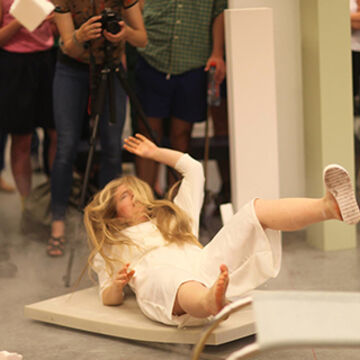 Mie Fischer Christensen
My work emerges from an interest in the way film, TV and pop culture reinforce social constructs such as the relations between women, objectification, violence and power.
 Installations reminiscent of the set designs that stay in the background in dramas and comedies are brought to the forefront and become the basis for social commentary. Real life, risk and ephemerality is added to the safe, never changing, staged environment. I build sets and environments that seem controlled and untouchable – celebrating specific aesthetics; femininity, beauty, film and art history. By using uncontrollable materials I hope to challenge myself as well as my audience and invite people to break the structures or create new ones. 
In my work I am searching for the balance between restraint and release and hope to make the drama and the theatrical a catalyst for change while also simply enjoying the playfulness of materials and the tensity between chance and purpose.
My work often takes on a personal angle – even when I try not to. In the case of my recent collaborative works with Margaux Parillaud, our work has become about our relationship; both as humans and women and as friends and collaborators. Our collaboration became an exploration of the space in-between these categories as well as an experimentation with the borders between privacy and performance.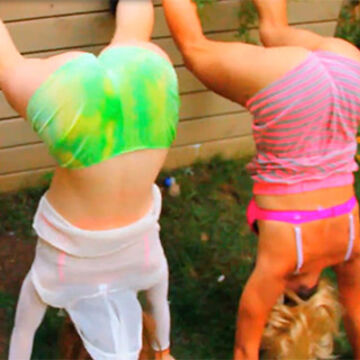 Maire Witt O'Neill
Máire Witt O'Neill is an interdisciplinary artist based in Chicago, IL. She makes performance, reality television, lecture, and installation to undermine constructs of a broadly defined 'authority'—seeking stability in groundlessness. Especially interested in the uncertainty that abounds when the authority (or 'common ground') of a singular truth is unraveled. Her work claims that cultural and socio-political ideas function more productively when held in contradiction to one another. O'Neill's work tests the veracity of seemingly contradictory ideas, states and perspectives by mashing them together, blurring them and forcing them to coexist within a body, a space, a text, or an object. O'Neill's work is often not what it seems and exactly what it seems simultaneously—its purported genre or context (performance, lecture, reality tv, etc.) becomes the trampoline that ideas are bounced off of, but in the process, gravity flips and the trampoline begins bouncing off of the ideas. O'Neill is one half of the collaborative duo, Mia+Máire. Their largest project to date is the performance of a television corporation, SoftPantsStudios, which creates Sad Girls Club TV and the new Mad Girls aka MAGGOTS Club TV. Theory and research cycle through O'Neill's solo work and Mia+Máire, creating a circuit—further testing ideas and perspectives by prioritizing collaboration and resisting the singular authoritarian perspective. O'Neill received her BFA from Maryland Institute College of Art (MICA) and her MFA at The School of the Art Institute of Chicago (SAIC).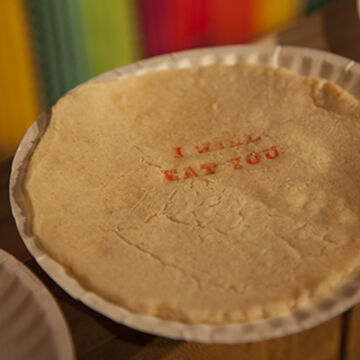 Vicente Ugartechea
As a transmale, first generation Mexican-American, born on the border of the United States and Mexico to an immigrant mother, I occupy a divergent space in American culture. As a result, the primary focus of my work is rooted in defining and redefining issues that subsist within marginalized identities. Drawing from personal narrative, I explore this landscape of constructed normatives, ethnocentrism, and privilege through various mediums such as performance, video, and installation. In dissecting these topics, I am able to question the binaries of gender, sexuality, race and the sociopolitical structures that inhabit them.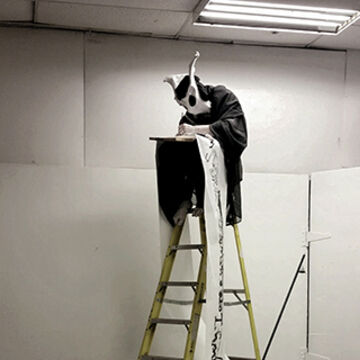 Jacob Melgren
My work attacks the veils between psychology, art and spirituality. Through it I seek to excavate humanity's primal connection to mythic symbols and the art of myth-making by enacting interdisciplinary rituals. In these rituals I use a reductive aesthetic to transmute traditional and modern spiritual allegory into new forms that broaden and enhance their applicability. Material and objects play a large role in facilitating this transmutation and often act as vessels for new symbols to be projected upon as well as remnant installations. By repurposing these symbolic actions and materials, I open a dialogue on their integrality to understanding intrapersonal relationships in a demythologized, superficial world.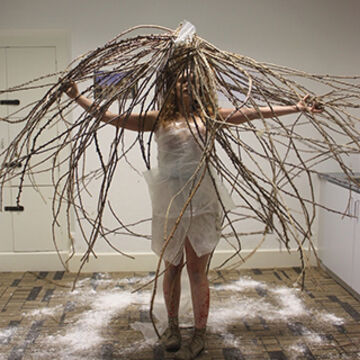 Mairead Delaney
Mairead Delaney is an Irish-American artist working transatlantically in performance and installation. She explores how gendered bodies respond to the unleashing of systemic violence.
Delaney studied at the postgraduate level in Ireland, working with the Irish women's collective Survivors of Symphysiotomy. Delaney has exhibited internationally, in New York, Ireland and the UK, and Ethiopia. She has presented work in the 2015 Dublin Live Art Festival and BIPAF, at the Queen's Museum, Grace Exhibition Space, Panoply Performance Labratory, for Dublin's Livestock and with the Dublin-based collective Pre-form and Beyond at the Ulster Museum in Belfast. She has also made a series of public performances entitled "Hold Harmless,' outside the National Maternity Hospital and the Four Courts in Dublin.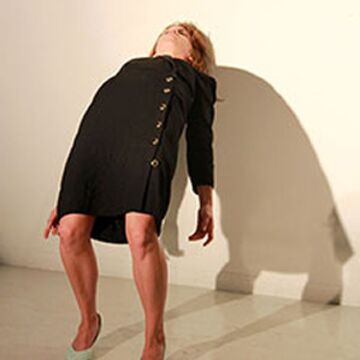 Sophie Leddick
I am a choreographer, dancer, director, and multi-media artist. The origins of my performance practice are rooted in classical ballet. After receiving a BFA in painting from San Diego State University, I returned to performance and joined the experimental theater company Proximity. I have performed at the Museum of Contemporary Art Santa Barbara, the BAU Institute in Italy, and various Chicago-based venues including the School of the Art Institute of Chicago.
I am currently completing my MFA in performance art at SAIC.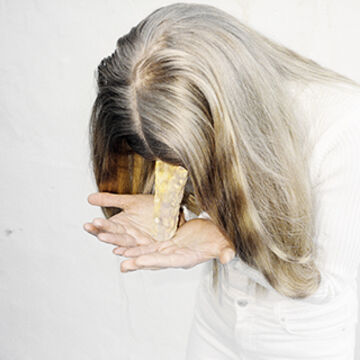 Nanna Rosenfeldt-Olsen
Nanna Rosenfeldt-Olsen was born in Denmark in 1985. She is currently based in Chicago where she is finishing a MFA at the School of the Art Institute of Chicago. In 2010 she finished her Bachelor's Degree in Fashion and Textile from The Design School of Kolding. In 2014 she was selected to receive the Working Artist Grant from the Danish Arts Foundation. 
Through the use of performance, photography, film and in the construction of objects she aims to recreate new systems of mark making connected to questions about attachment to family and place of belonging. A relationship between body and site is something reappearing in her work and with this she is exploring the ways in which ideologies and institutions shape our understanding of the natural world and history.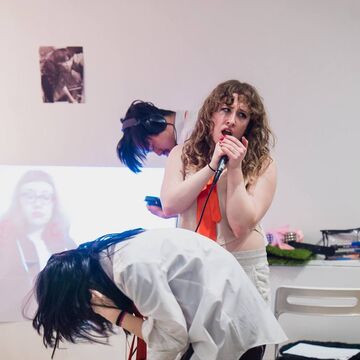 Catie Rutledge
Catie Rutledge (b. 1992, Alexandria, VA) makes work that engages with experiences of grief and sexuality through practices of writing, painting, video, and performance. She received a BFA with honors from the University of Wisconsin-Madison and is a second year MFA candidate in Performance at the School of the Art Institute of Chicago. She has exhibited and performed in locations across the United States, Canada, and Italy.
Misael Soto
Born in Puerto Rico (1986), Misael is currently based in Chicago pursuing an MFA at the School of the Art Institute of Chicago.
Misael graduated Magna Cum Laude with a Bachelor's Degree in Art History from Florida Atlantic University (2008) and has shown at MCA Chicago, Open Engagement 2015, the Museum of Contemporary Art in North Miami, Material Art Fair in Mexico City, David Castillo Gallery in Miami, Museum of Art Fort Lauderdale, and Young at Art Museum in Davie, Florida, amongst others. He has participated in the ACRE Residency Program in Steuben, WI and HomeBase Project's HB Build Artist-in-Residence program in Berlin.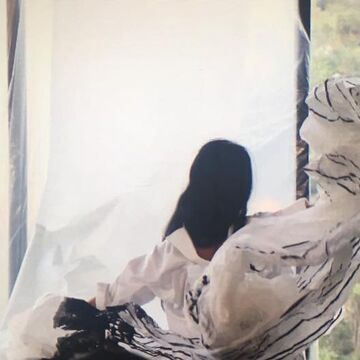 Helen Lee
Helen Lee was born and raised in Chicago. Her parents immigrated from South Korea in the mid 1970's. She received a BA in Dance with a minor in Acting from University of Hawaii at Manoa. Studying in Hawaii was an important time for Helen. It was the first time she was able to truly feel comfortable in her own skin and fully appreciate where her family roots came from. It was at this time, she started to cultivate her artistic and creative voice. While in Hawaii, she was a company member for Tangentz Butoh Performance Group led by Lori Othani. Upon returning to Chicago, she joined The Humans directed by Rachel Bunting, a company she performed for 11 years. She also formed Momentum Sensorium in 2007, a dance performance company that has been known to perform in unconventional venues and have been seen ripping open grapefruits, releasing ladybugs and inviting audience members to walk with their eyes closed in gardens, busy city streets or quiet corners. Momentum Sensorium was a recipient of the Dance Bridge Residency at the Chicago Cultural Center and has performed at various Michigan lighthouses since 2011. Helen was mentored by Noémie Lafrance to create, direct and choreograph her short experimental dance film for Experimental Film Virginia. The short film was presented by Dance Film Association in New York and for Chicago Onscreen at Northerly Island Park. She collaborated with Indira Johnson, artist for Ten Thousand Ripples, an organization to promote peace and nonviolence and presented works Shanti Ahimsa and Dear Travel: Are we there yet? at the Lakefront Path by Fullerton Beach and at Loyola University Museum of Art (LUMA). She was an Awardee for Chicago Moving Company's D49 program and had the opportunity to present a new work, Watermelon Graveyard with Carl Wiedemann as an Affiliate Artist for Dance Shelter 2016. Helen has also been teaching yoga since 2007 and has had the privilege of teaching in China, Belize, Finland, India, Italy, South Korea and Mexico.
Many of her passions and curiosities lean towards the sensorial, the tactile, the internal workings; how these components can bring us closer to truth, self discovery and evolution in relationship to ourselves, other people and our environment. As part of her process, she utilizes silent meditation, mindfulness practices, exploratory pursuits in sensory stimulation and sensory deprivation and Butoh techniques.
Currently, her work," a glimpse of me, my mom" is investigating home, unpacking family history,  identity, memory, travel, migration, immigration, displacement, belonging, guilt, shame and what it means to be American through performance, storytelling, video, animation and installation. Most recently she had a solo exhibition in South Korea at CICA Museum and had a residency at Arteles Creative Center in Finland.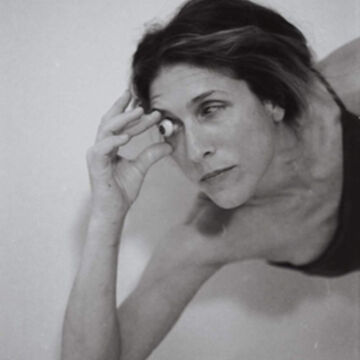 Kyra Lehman
My brain skids dry against my skull
I'm slowing down
Going back to my first breath
Learning the body on her own terms
Learning you on your own terms
I listen from my pores, my arteries, my nerves
I hear the tone of your voice
loud
your words
soft
I see your eyes closely expanding and contracting
Bowing or resisting
Your hands rest, flutter or grasp
express and repress
I see the shape your feet make as you land
I wonder about the weight all the legs on earth have carried
What would your pelvis say if it could scream?
What happens when you shut the door behind you?
When you are alone?
What do you do with all your parts?
What have you lived through?
Can I touch you?
I make to tell the truth, to understand, to communicate, to rebel
to love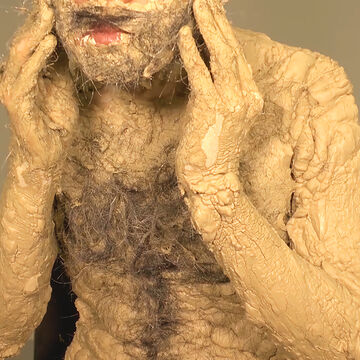 SUNGJAE LEE
SUNGJAE LEE (b. Seoul, Korea) is a multidisciplinary artist who probes the relationship between societal fringes and center through performance, installation, text, and video. He received MFA and BFA in Sculpture from Seoul National University. He has presented his works globally, including Seoul Museum of Art, Art Sonje Center (Korea), Galleri CC, KHM gallery (Sweden), Evanston Art Center, and Zimmerli Art Museum (USA). His recent performances are "THAW" at Links Hall (Chicago) and "ITINERANT Performance Art Festival" at Last Frontier (NYC).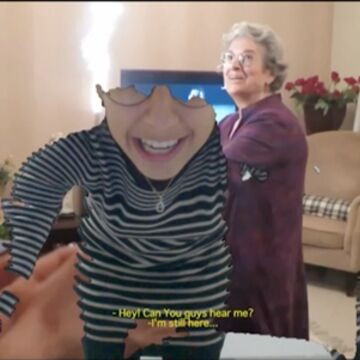 Maryam Faridani
After finishing my undergraduate work in Tehran I moved to Chicago to pursue a masters. However, currently I am living in my computer and my computer is not Tehran nor Chicago. My computer is a space that allows me to live in both cities. I can watch television with my parents or take a walk in the streets of Tehran with my friends. I can find translations for my words to communicate better in my new city or learn all the sports team names to sound more 'Chicagoan'. Yet, my computer always warns me, I am a stranger in both cities.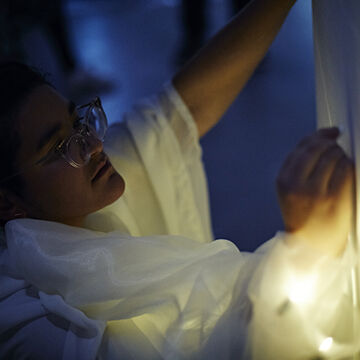 Devyn Lorelei Mañibo
Devyn Lorelei Mañibo (b. 1992) is a Chicago-based poet, performer, and cultural organizer. Through text, art object, and gesture, she seeks to activate and disrupt constructs of time, body, and geography. Her research thinks intimately about the weight and musculature of intergenerational and corporeal trauma, death, and the ways physical material and ephemera inform and collide with understandings of language, loss, and home.
Mañibo has had video, performance, installation, and academic work shown and presented internationally in festivals, museums, and conferences including the MIX NYC Queer Experimental Film Festival, the National Queer Arts Festival, the Berlin Porn Film Festival, the Queens Museum, and the Allied Media Conference. Mañibo is a 2013 Princess Grace Foundation Undergraduate Film Award Recipient and is an alum of Cycle III of the Innovative Cultural Advocacy Fellowship with the Caribbean Cultural Center in Harlem. She received her BA in New Media and Queer Studies at Hampshire College in Amherst, MA.
She recently released a collaborative art publication entitled |][\ through the [Multitude] Residency with The Overlook Place. She is a second year MFA candidate at School of the Art Institute of Chicago where she is studying performance and performance studies.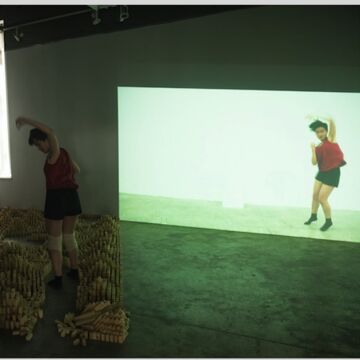 Cherrie Yu
Cherrie Yu is an Chinese artist born in Xi'an in 1995.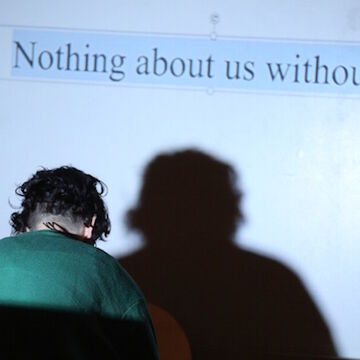 Katie O'Neill
Katie O'Neill (b. 1995, New Jersey) is an artist, educator, and disability-rights activist living in Chicago. She received her BFA with a minor in Art History and focus in Art Education from Moore College of Art & Design in 2017. During her undergraduate studies, O'Neill traveled to Melbourne, AU to work with children ages 1-17 with identified emotional and behavioral disorders in the fields of art and drama therapy. She presented her research and experiences at the Pennsylvania Art Education Association in 2015. O'Neill has since presented workshops on topics such as radical self-care, mental illness representation in visual art, and inclusive dance in Toronto, Chicago, and New York. 
Through an anthropological lens, O'Neill archives her symptoms of schizophrenia and borderline personality disorder using footage and drawings collected from her episodes. She then re-performs the recorded body in the structure of labanotation to build a choreography that physicalizes mental movement, as an act of documentation and communication. O'Neill pairs her bodily gestures with lectures, projection, and sound to contextualize her personal experiences with issues of systematic incarceration, erasure, and phobia. In her collaborations with people with disabilities, O'Neill is interested in symptoms and histories that overlap, and how differences become uniform in their confrontation against stigma.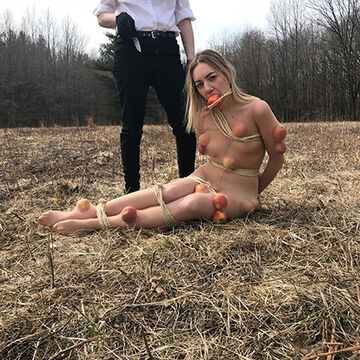 Marie Ségolène
Marie Ségolène C. Brault (b. 1988 Montreal, Qc) holds a BA in Creative Writing and a BFA in Intermedia Cyber Arts from Concordia University (Canada). She is currently completing her MFA in Performance at the School of Art Institute of Chicago.
Marie's work has been featured in Poetry is Dead Magazine, DRY MAGAZINE and Glamour Girl. Her books Proprioception (2015), Libation (2016), Aphrodite (2016) and Requiem (2016) have recently been published by Anteism. Marie has participated in several group exhibits, in spaces such as the Knockdown Centre, Pioneer Works, City Bird Gallery (NYC), Vox Populi (Philadelphia), 8eleven (Toronto), Projet Pangée and Never Apart (Montreal).
In the last few months, Marie Ségolène took part in the Conversations on Contemporary Poetics at Hauser & Wirth in New York City as well as exhibited & performed work in Chicago at the Congruent Space, 062(Zhou B Art Center) and Extase (To have and to hold).
In July 2018, Marie performed as part of the performance and noise biennial: Tempting Failure in London (UK), after which she completed a short residency at BetOnest in Berlin, Germany.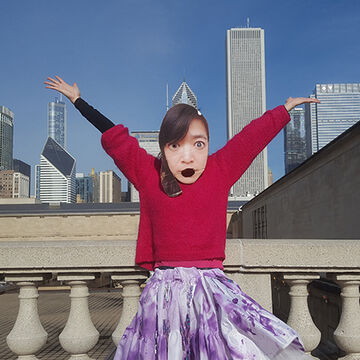 Li-Ming Hu
Li-Ming Hu is an interdisciplinary artist from Aotearoa/New Zealand. Using pop culture as a critical lens, she explores her own art world anxiety, particularly in terms of the performance of artistic identity and the labour of art making, which, in our high performance culture, are becoming less distinct from one another. Lately, she has also been exploring aspects of immigration and the construction of subjectivities through diaspora. Drawing on her past experience as a stage/screen actress (including playing Gemma the RPM Silver Power Ranger) Li-Ming is interested in the intersections between art, popular culture and entertainment. She is also part of the artist duo Riff Raff with Daphne Simons.
Li-Ming has exhibited widely throughout New Zealand, including at Enjoy Public Art Gallery, The Physics Room, Glovebox Ltd and St Paul St Gallery, and performed at Links Hall and the Art Institute of Chicago.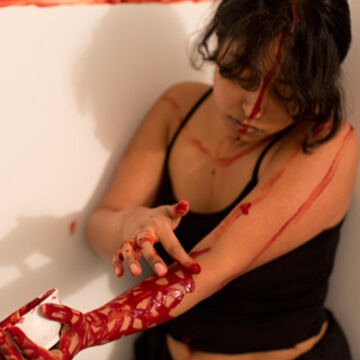 Udita Upadhyaya
Udita Upadhyaya is an interdisciplinary artist from Mumbai, India. She is also a researcher of consumer behavior and has worked extensively in western India to understand the evolution and rise of materialism, labor, and urban migration in the rural community.
While studying film at Boston University, Upadhyaya sought to uncover the faces of the ordinary survivors of sexual assault and simultaneously empower them by introducing the art of filmmaking as a cathartic tool. Living and working in India in 2010, Upadhyaya interacted with the Female Sex Workers on G.B. Road in New Delhi. The purpose was to uncover the cyclical nature of the trade, whereby older victims of trafficking become agents of trafficking or pimps in order to keep an income flowing. The goal was research to better understand this concept and seek ways for rehabilitation of older sex workers.
She is currently living in Chicago and studying performance art at SAIC. Her artistic explorations include a study of global cultures and an uncovering of personal and collective histories, both ignited by the passion to transcend cultural, social, and gender binaries.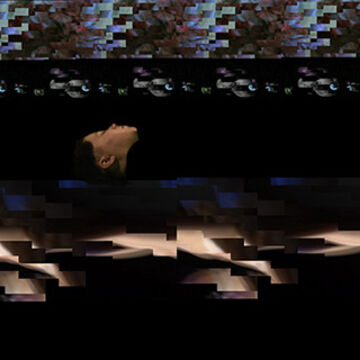 Mev Luna
Mev Luna (b. 1988 Houston, Texas) is an MFA Candidate in Performance at SAIC and holds a BFA from California College of the Arts (2011) with a concentration in Textiles and Media Arts. Luna addresses the weight of bearing a shape-shift body, exploring intersectionality through textile, experimental video, and performance. Charged by politics of dematerialization within the contemporary technological landscape, Luna elevates the body as central ground for ancestral remembering. Luna's works have been exhibited at The Margulies Collection Warehouse, the Contemporary Arts Museum Houston, Oliver Arts Center, and screened at Artists' Television Access, MIX NYC and as part of Open Your Golden Gates: Shorts from the Bay in Berlin, Hamburg, and Montréal, Québec.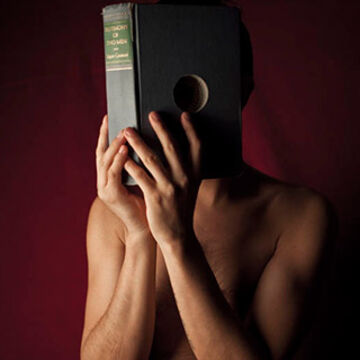 Emilio Rojas
Emilio Rojas was born in Mexico City, (ca.1985). He is a multidisciplinary artist, working primarily with the body in performance using film, video, photography, installation, public interventions, and sculpture. Rojas utilizes his body as a political and critical instrument to unearth removed traumas, embodied forms of decolonization, migration, and poetics of space. He has attended numerous residencies including the Banff Centre, Elsewhere Museum, the Surrey Art Gallery, the Botin Foundation, Hammock Residency, and Pirate Camp: Stateless Pavilion at the 54th Venice Biennale. His works have been exhibited in the US, Mexico, Canada, Austria, England, Greece, France, Germany, Italy, Spain, and Australia.
Besides his artistic practice, Emilio is also a yoga teacher, translator, community activist and anti-oppression facilitator with Migrant and Queer Youth. His work is represented by José de la Fuente in Santander, Spain, currently exhibiting his first solo show in the gallery entitled Poetics of Embodied Landscapes: Moving through Borders (September 18–November 9). He recently relocated to Chicago, to pursue an MFA in the performance department.