Performance Department
The School of the Art Institute of Chicago's (SAIC) Department of Performance was founded in an experimental spirit and is unique in the United States as one of the only contemporary live-performance art departments in an art school at the undergraduate and graduate level focused on performance practice and performance studies.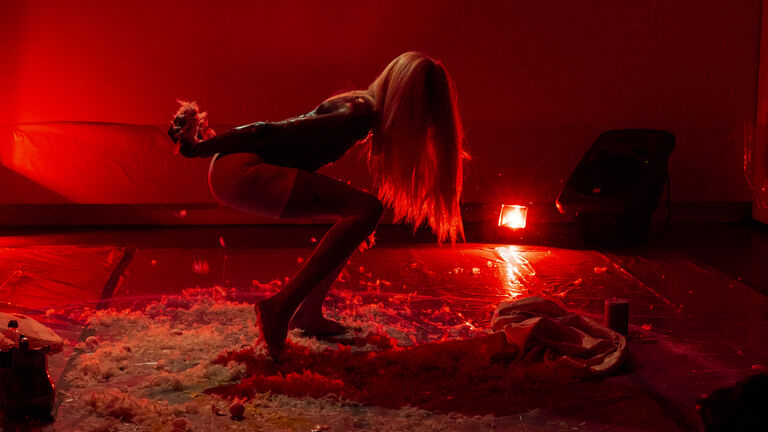 Undergraduate Application and Merit Deadline: January 15
Submit your application and portfolio by January 15 to be considered for Fall 2024 admission and merit scholarship.
Graduate Programs Application Deadline: January 10
Apply to SAIC's Graduate and Post-Bacc programs by January 10 for Fall 2024 admission. 
The department continues to evolve in relation to new developments inside and outside the field and aims to be responsive to new ways of seeing and understanding the world in the 21st century, from both student and faculty perspectives.
Our curriculum combines intensive studio practice with rigorous critical, theoretical, and historical study to inform your aesthetic choices and expression, while our interdisciplinary approach builds on a broad range of performative modes, including Live action, Performance installation, Movement research, tactical and site performance, interactive digital technologies, and performative writing. Students are encouraged to consider their art-making process as an interdisciplinary practice that can range across various departments including, but not limited to, Fiber and Material Studies; Sculpture; Fashion Design; Art & Technology / Sound Practices; Film, Video, New Media, and Animation; and Ceramics.
Undergraduate Studies in Performance
The Bachelor of Fine Arts undergraduate program allows you to explore performance through a wide array of beginning, intermediate, and advanced courses, while investigating the intersection of artist and audience, performance art theory, and the history of performance art. The program's size allows you ample one-on-one contact with faculty, time for in-depth critiques, and many opportunities to share work with your peers.
Undergraduate Performance Gallery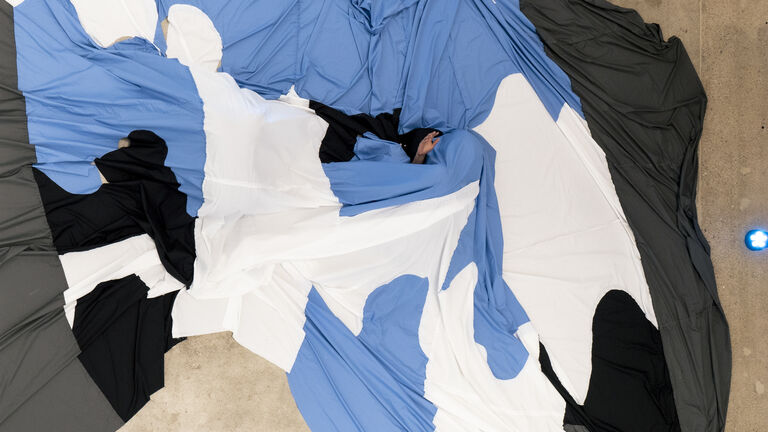 Andy Giovale BFA 23 Title: Sandtimer Photo Credit: Ruby Que
Ricardo Vilas Freire De Carvalho Filho BFA 23 and Polina Shklovskaya BFA 22 Title:: To the fullest extent Photo Credit: Ji Yang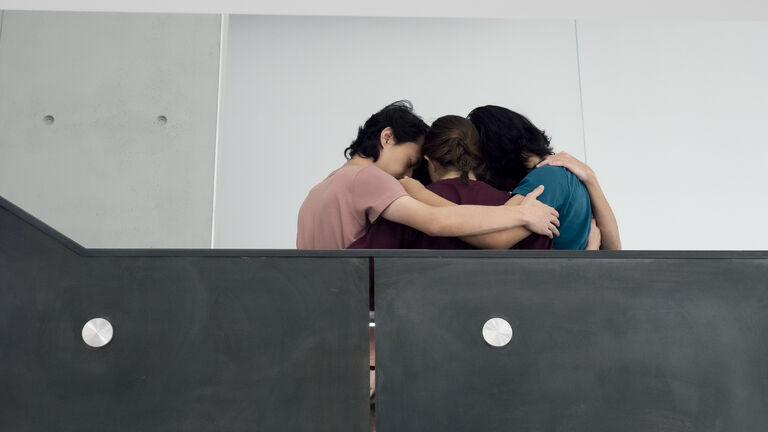 Mallory Qui BFA 23 The title "Still, Move, Walk with me" Photo Credit: Ji Yang
Mallory Qui BFA 23 The title "Still, Move, Walk with me" Photo Credit: Ruby Que
MFA in Studio: Performance
One of the country's only performance studies graduate programs, our MFA in Performance Master's program educates artists who produce groundbreaking, meaningful work that impacts the very paradigm of performance. The core of the graduate program is a series of interdisciplinary theory/practice lab courses that explore the use of the body as an expressive medium and critical site of research and action.
Master of Fine Arts in Performance students present a 30-minute lecture on their work during the last semester of study and participate in a full-day symposium/critique of their culminating thesis show and their exit strategies post-graduate school. The department offers six teaching assistant positions and one graduate assistant position each semester.
Graduate Performance Gallery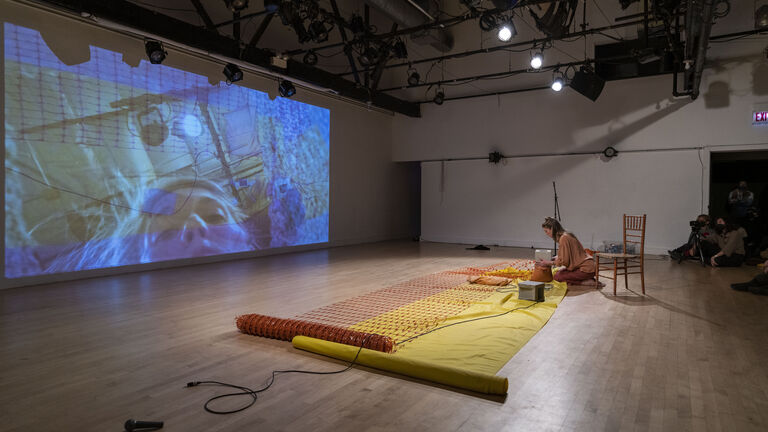 "Wait, Weight Sit" Camille Casemier (photo: Eugene Tang)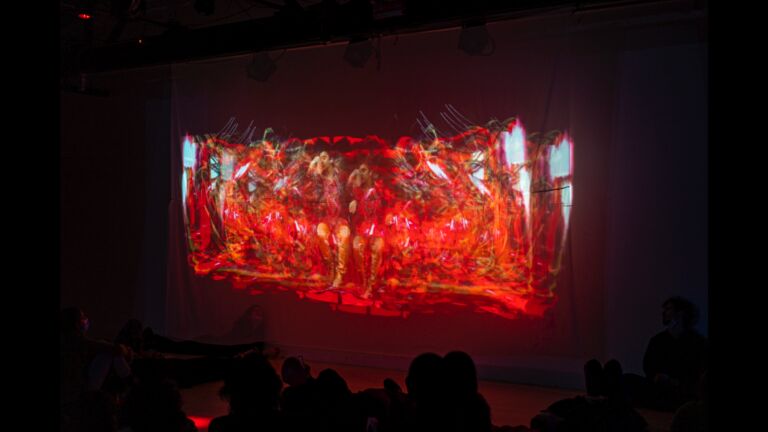 "Song of the Sea" Akshaj Kilewala (photo courtesy of the artist)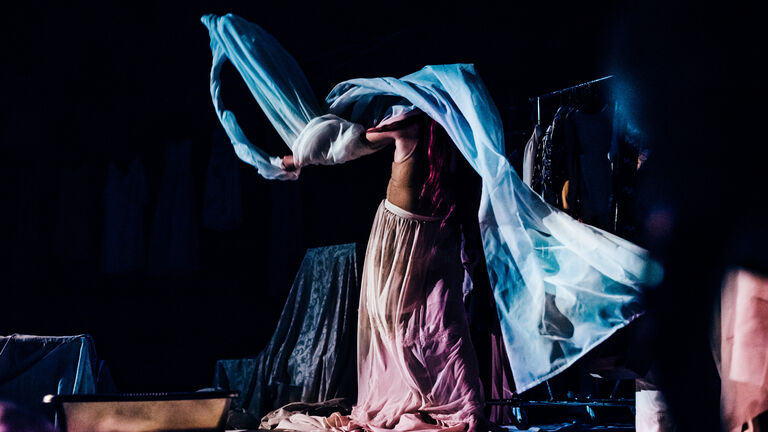 "Unravel" Madison Mae Parker (photo courtesy of the artist)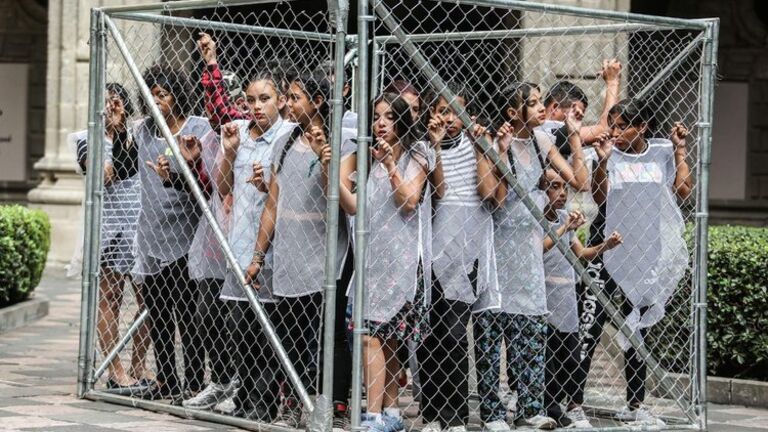 "Immigrant Tempest" Marco Guagnelli (photo: Carlos Hernandez)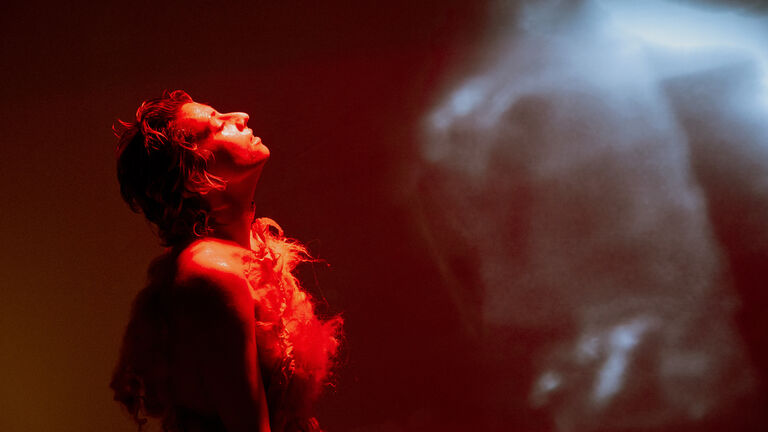 "Antithesis" Anna Johnson (photo: Ji Yang)
Intensive Performance Experience
The department offers students intensive performance experiences through summer and winter institutes, including Abandoned Practices in the summer, led by Matthew Goulish, Lin Hixson (of Every House Has a Door), and Mark Jeffery; and Frozen Intensives in the winter led by department faculty and visiting performance artists. By arrangement, advanced and graduate students may also apprentice with performance artists and groups locally and nationally.
Series, Symposia, and Exhibitions
Each fall the department hosts the biweekly Propositions series with presentations by cutting-edge visiting performance artists, curators, writers, alumni of the department, and faculty practitioners. A Performance Symposium that considers contemporary currents in performance practice and theory with invited performance artists and scholars is held in the spring, including presentations by current students. Recent symposia have included "Spouting Off: The Performance Lecture," "Mixed Reality Performance" as part of The Simulationist exhibition, and "Performing Futures: Sustaining and Continuing a Live Art Practice."
Our students also exhibit their work in the SITE Galleries on campus and present their work in the LeRoy Neiman Center.
Image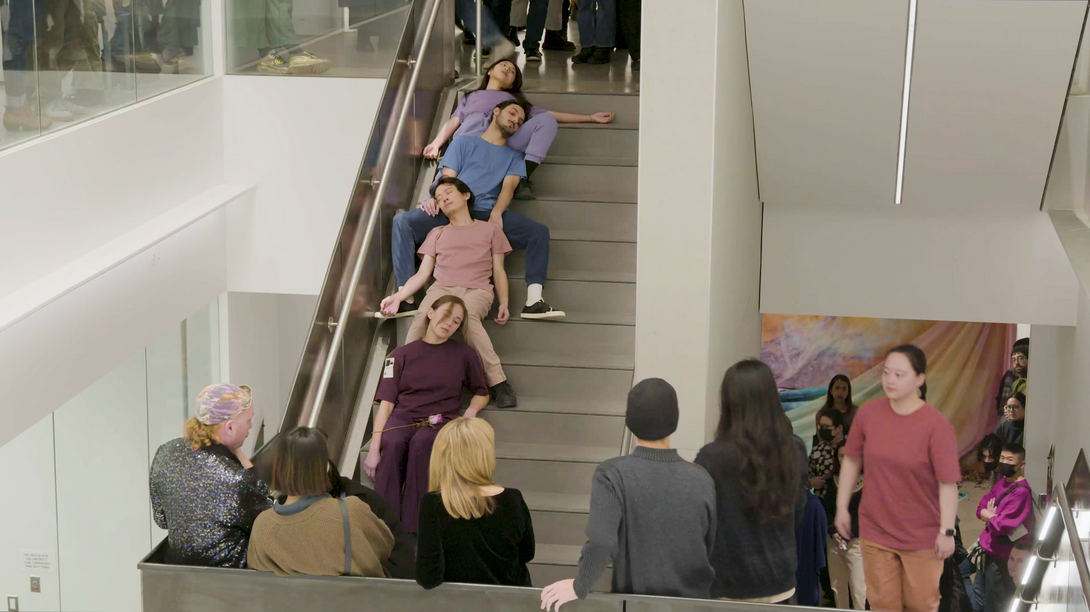 "Still, Move, Walk with me", by Mallory Qui (BFA 23) Photo: Ruby Que
Performance Department Office
280 Building
280 S. Columbus Dr., suite 115
 
Phone: 312.857.7660
Senior Administrative Director
Katie Short
Administrative Director
Jessica DuPreez
Administrative Assistant
Maria Dunaevsky
Technology Manager
Joshua Hoglund