Early College Program Online Summer Institute
Online classes take place Monday through Friday in Central Time. Times will be adjusted for international students outside of the US to ensure meeting times work for your time zone. On average, students will join their peers in a virtual classroom and will navigate the virtual resource library and work on studio projects on a schedule that works best for them. Faculty will work with each student to determine a one-on-one advising schedule and assist students as they work in a more self-driven way on their projects. Virtual classroom meetings and critiques will be complemented by visiting artist lectures, workshops, admissions presentations, and portfolio reviews. Note that faculty will have office hours and will be available to assist students during designated independent studio work time and will help students make meaningful connections with peers. 
See our program brochure to learn more.
Summer 2023 Session Dates
Session 1: 2 weeks, June 20–June 30 
Session 2: 2 weeks, July 3–14
Summer 2023 Courses Include:
Online: 2D Animation*
Online: Advanced Drawing and Painting Projects
Online: Animation and Video Projects*
Online: Design Projects (Topic: Architecture)*
Online: Drawing/Painting/Comics and Graphic Novels
Online: Fashion Design
Online: Painting Intensive
Online: Portfolio Prep Studio
Online: Visual Communication Design

View all courses and register now!
Note: Students are required to have their own computer. If enrolled in Animation and Video Projects, Design Projects, 2D Animation, or Visual Communication Design, you will be provided with an Adobe Creative Cloud License for the duration of the course. We recommend that you have a laptop that meets the minimum requirements for Adobe Creative Cloud.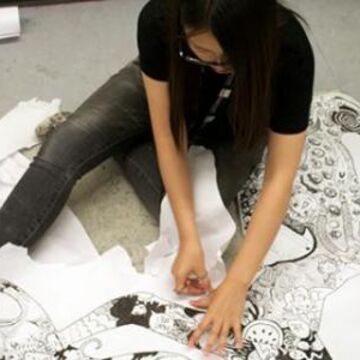 Online: Drawing / Painting / Comics and Graphic Novels
Monday–Friday, 1:00 p.m.–4:00 p.m., July 3–14, Course #1008
You bring your creative interests—traditional and non-traditional drawing and painting techniques, comics and graphic novels, and more—and our incredible faculty of artists, designers, and scholars will work one-on-one with you to push your skills to the next level. You may choose to work in a variety of media: wet and dry media, ink, pencil, charcoal, collage, observational drawing, storyboarding, or a combination of different materials.
The course will include online demonstrations geared to your passions, visiting artist presentations, online museum resources, as well as time for self-directed work and comprehensive faculty advising. You'll engage in discussions and critiques with a vibrant online community of other students from throughout the country and around the world, create portfolio-quality work, and receive comprehensive guidance on developing competitive applications for college admissions to art and design programs.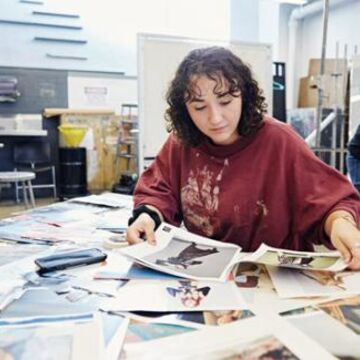 Online: Portfolio Prep Studio
Monday–-Friday, 9:00 a.m.–12:00 p.m. CT, July 3–14, Course #1057
In this hands-on course, students will not only develop new works of art to round out their portfolios for upcoming college applications but they will also select, revise, and edit their existing works. Through dynamic workshops with SAIC faculty and admissions staff, students will discover the most effective way to document and organize their work and represent their unique points-of-views as artists to the colleges of their choice. This course also places emphasis on studio time and support from faculty to create one final project that will enhance the student's overall portfolio presentation.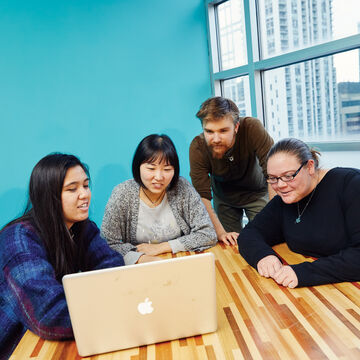 Online: Visual Communication Design
Monday–Friday, 1:00–4:00 p.m. CT, July 3–14, Course #1007
This course covers the elements and principles of graphic design and provides students with the technical and conceptual tools to develop effective design strategies. Students expand their understanding of what surrounds them and learn how to look at and evaluate products, graphics, architecture, advertisements, and more. Class discussions challenge students to consider the world of design through a contemporary art lens, drawing upon the work of Saul Bass, Paul Rand, Paula Scher, and others.
In addition to using traditional materials like sketchbooks, students use Adobe Illustrator, InDesign, and Photoshop, and output work using high quality digital printers. Students can expect to create portfolio-quality works that explore symbols, logos, typography, layout, image and text integration, and sequential design. *NOTE* Basic computer experience required.
Contact Us
Continuing Studies staff members are available Monday–Friday, 8:30 a.m.–4:30 p.m. CT at 312.629.6170 or cs@saic.edu to answer your questions. We are here to help!