Chicago and Residential Life
Chicago—Our Urban Campus
"As an artist, Chicago's Loop is such an awesome place to be; I was enriched by being enveloped in the city's culture, and my passion for art was completely strengthened." —Joelle Scher, student
Interwoven into the fabric of vibrant downtown Chicago, home to six other major universities, SAIC's campus is your ideal home base. As home to one of the country's largest concentrations of working artists, Chicago is a city of architecture, innovative public art, and world-class museums and galleries, and our faculty will help you explore it. Chicago is an integral part of the Early College Program Summer Institute (ECPSI) experience, and we provide programming to give you exposure to a little bit of everything it has to offer. Trips have included venturing to local art museums, enjoying Chicago's food (we have so much more than pizza!), exploring thrift stores, and swimming and sunning at Lake Michigan. We think you'll really like it here. We know you will be inspired.
Our Museum—Art Institute of Chicago
It was faculty at the School of the Art Institute of Chicago who founded the Art Institute of Chicago's museum as a teaching resource for students. Today, the Art Institute of Chicago has the world's third-largest collection of art and is an integral part of the education of every SAIC student.
As an ECPSI student, you have free access to the museum's collections—nearly 300,000 pieces of art in the permanent collection—while you are here.
Put Google images aside. At the museum you can see the incredible color variations in a Van Gogh portrait, Picasso's works on paper that are too light sensitive to be on display for the public, Rembrandt paintings and drawings, the first exhibit devoted to architect David Adjaye, site-specific sculpture, fiber art designed and executed by Lenore Tawney, and Diane Arbus's famous Identical Twins, Roselle, New Jersey.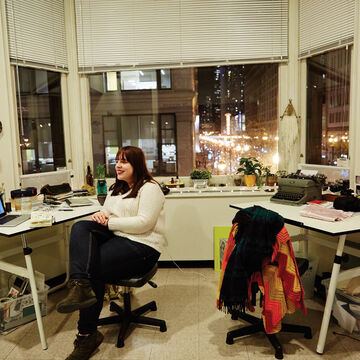 Immerse Yourself in a Community of Artists
There is a tremendous amount of energy in a community of artists living together. As a resident, you can truly immerse yourself in a community of fellow artists, live right in the heart of Chicago's Loop, and enjoy conveniences you won't find in most student apartments. 

Our residence halls are just minutes away from classes, have controlled access to the building, and have 24-hour security staff. You are also close to almost all the major cultural attractions of the city and the comforts of neighborhood living, from grocery stores to coffee shops.

Students often find it most helpful to live on campus as they make the transition to SAIC and Chicago. Staff in each of the facilities include student Summer Resident Advisors (SRAs) and full-time, live-in professional staff. Our staff is available to help students become more familiar with the school and the city, assist with personal and academic issues, and build a strong artist community.
Have a housing question? 
Email Residence Life about ECPSI at SAIC-ResLife-ECP@saic.edu.
Jones Hall 
Each loft-style room contains:
a private bathroom
a kitchenette with stove, full-size refrigerator, and microwave
spectacular city views
wireless Internet
Room Configurations
Configurations shown are for Jones Hall floors 3–14. Double and Triple occupancy are available for ECPSI housing.
ECP Summer Institute Housing Handbook
For more information, refer to the handbook. Check back in spring for the summer 2023 update. 
ECP Summer Institute Housing Handbook
Contact Us
Continuing Studies staff members are available Monday–Friday, 8:30 a.m.–4:30 p.m. CT at 312.629.6170 or cs@saic.edu to answer your questions. We are here to help!