Visual and Critical Studies Graduate Overview
SAIC's Master of Arts (MA) in Visual and Critical Studies program integrates scholarly, studio, and hybrid research practices.  It is designed for students who wish to pursue a scholarly and creative investigation of practices of looking and the production, circulation, and impact of visual images
The Master of Arts (MA) in Visual and Critical Studies program at the School of the Art Institute of Chicago (SAIC) is designed for students interested in the scholarly and creative investigation of the production, dissemination, and impact of visual images, objects, experiences, and practices. With the visual as a starting point, students use multiple methods of critical investigation to study the interactions between visual phenomena and their historical, disciplinary, and social contexts.
Through immersive research intertwined with studio practice, writing, or both, students explore ways of seeing and representing social, cultural, and visual phenomena. The curriculum balances topic-based seminars, independent work with advisors, and electives to create a singularly interdisciplinary course of study.
At the heart of the Master of Arts degree in Visual and Critical Studies is a core structure of visual theory surrounded by a flexible curriculum in which students, guided by SAIC faculty advisors, design their own course sequence to match their interests.  The Visual and Critical Studies program aims to redefine disciplinary practices, and explores interdisciplinary, transdisciplinary, and post-disciplinary thinking and making.
Each year artists, curators, and scholars participate in critiques of MAVCS student work.  This opportunity enables students to understand their production in a broader context.
Depending on students' research interests, the final thesis may be a written work of criticism, a creative writing project, a body of work presented in a gallery during the annual student-run exhibition, or a hybrid-platform production.  Graduate students also organize an annual symposium to share their research in a professional context.
Upcoming Admissions Events
Graduate Portfolio Day provides the opportunity for prospective students to meet one-on-one with faculty, receive immediate feedback on their portfolios, and learn more about the curricula, faculty, and application procedures from a number of colleges. RSVP.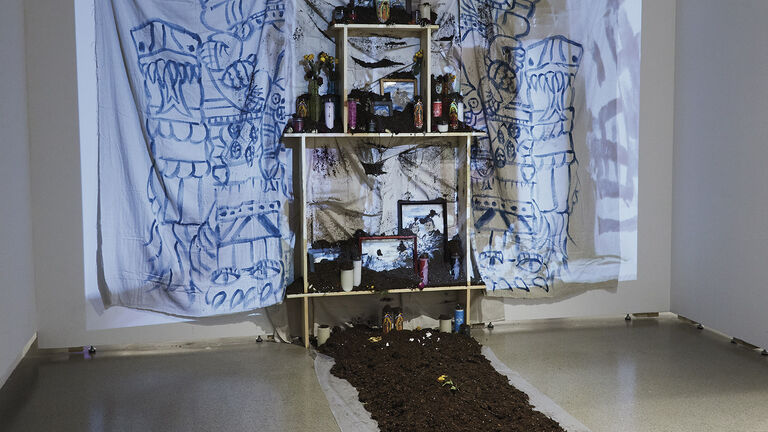 MA Visual & Critical Studies Program Brochure
Clau Rocha, Do Ghosts Cast Shadows?, 2022