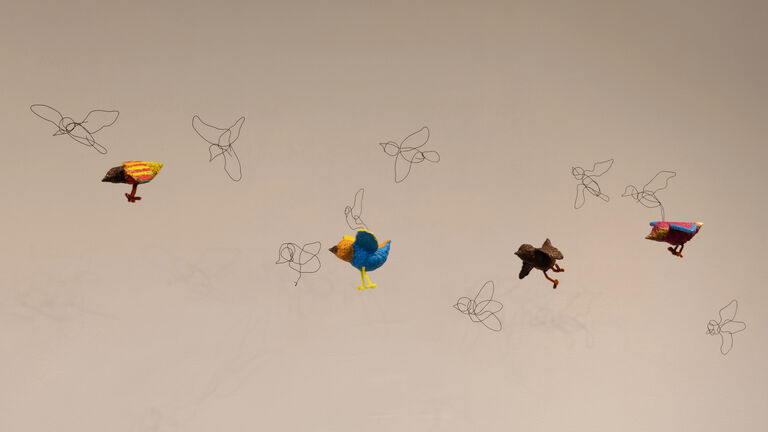 Teresa Yu, "Birds of Connection," 2019, wire, paper mache, and acrylic paint.
Art Therapy & Counseling Undergraduate Overview
The School of the Art Institute of Chicago (SAIC) offers several undergraduate courses for students interested in exploring art therapy as a future profession or considering how the approaches and philosophies of the field can inform their artistic development.
While SAIC does not offer a formal undergraduate major in Art Therapy, bachelor of fine arts (BFA) students can combine practical SAIC Internships with psychology classes from the Liberal Arts department and studio coursework as preparation for a graduate education in Art Therapy.
The profession of art therapy requires a master's degree. To learn about the SAIC Master of Arts in Art Therapy and Counseling program, please download the Master of Arts in Art Therapy and Counseling Program Guide [PDF] for detailed information. Undergraduate students interested in eventually applying to graduate art therapy programs in the United States should take the required prerequisite minimums: 12 semester credits in psychology courses, including abnormal psychology and developmental psychology, and 18 semester credits in studio art courses.

Art Therapy and Counseling Department Undergraduate Learning Goals:
Understand the core concerns of the field of art therapy and perspectives from related fields
Understand how the ideas and practices in the field of art therapy relate to contemporary theories of art and psychotherapy
Critically question medical, mental health, care, and wellness discourses in the profession of art therapy and other related clinical or therapeutic professions.
Critically explore therapeutic thinking in art disciplines through methods of creative practice and research

The undergraduate courses in the Art Therapy and Counseling Department focus on the following subject areas. 
Becoming an Art Therapist 
Community Practice
Critical Cultural Studies
Disability and Mad Studies
Materials and Media