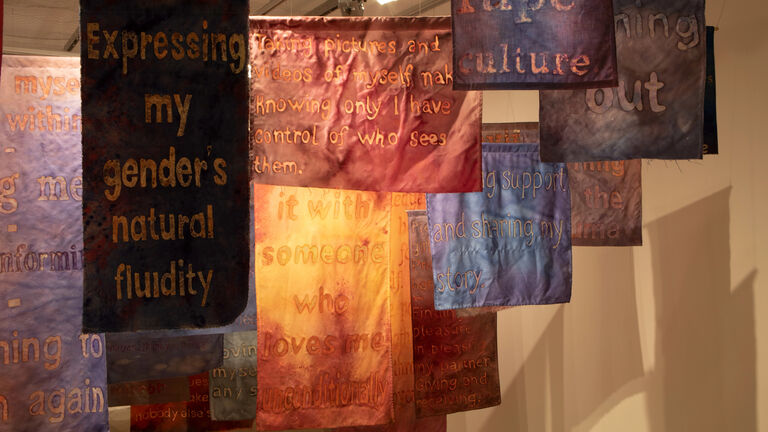 Candice Block, "Pleasure Poetry," 2020
MA in Art Therapy & Counseling Admissions Information
Master of Arts in Art Therapy and Counseling Admissions Information
SAIC's Master of Arts in Art Therapy and Counseling (MAATC) program cultivates influential, compassionate leaders who are critically engaged with the social and cultural contexts surrounding artmaking and healing.
SAIC's Art Therapy program is a national leader in articulating the role of the artist and art therapist. As part of their art therapy education, students are expected to be fully engaged in the intellectual dimensions of art therapy theory, research, and philosophy, as well as important trends in related fields such as counseling and psychology. The MAATC curriculum is designed to meet the standards for post-graduation application for registration and board certification with the Art Therapy Credentials Board, as well as the academic requirements to sit for the Illinois counseling exams and similarly designed licensing guidelines in other states.
The MA in Art Therapy and Counseling program offers you:
A comprehensive art therapy and counseling education that emphasizes development of the artist-art therapist

Preparation to function as art therapists in specialized settings

Critical engagement within social and cultural contexts
Experience and Connections
Students will take foundational courses with a diverse and experienced group of faculty and complete fieldwork hours to build the personal and professional resources needed to practice in the fields of art therapy and counseling. Students can choose from a diverse array of healthcare and social service settings with the support of a fieldwork placement coordinator, fieldwork supervisors and faculty academic advisors. Our three-year program allows students to critically engage with core art therapy questions in their first academic year of coursework. In their second and third years, students will further explore and focus their learning at two fieldwork placements.
The MAATC program is designed to meet Illinois counseling licensure requirements. Due to the variable requirements of art therapy and counseling credentials in different states or countries, students and alumni are given access to a licensure specialist to assist with post-graduation applications for Illinois professional counseling licensure and similarly designed credentials in other states or countries.
Doing Counseling Education at a School of Art and Design
The dynamic exploration and study of art is central to art therapy. MAATC students bring a range of academic backgrounds and are encouraged to use every opportunity at SAIC to produce innovative creative projects and individualized educational initiatives. As a component of the Art Therapy masters program curriculum, students will take six credits of studio coursework and three credits of specialized coursework on art-based community practice. In addition to rigorous scholarship, research, and direct service experiences, students will encounter various approaches to the study of art throughout the MAATC curriculum, from personal artmaking to art reception studies. Students will have the opportunity to initiate and develop their own focused practices while studying at one of the most historically significant accredited independent schools of art and design in the nation.
Thesis Abstracts
Each year, SAIC celebrates the culmination and closure of students' studies at the masters level. In studio areas, the celebration takes place in the form of the thesis exhibitions. The academic areas complement this with the publication of students' theses.
SAIC Art Therapy and Counseling Thesis in the Flaxman Catalog
Application and Admissions Information