Learning with Artists and Designers
Studying an MA in Art History at SAIC includes various exciting opportunities to learn alongside contemporary practitioners, both in and outside of the classroom. Because MFA students at SAIC are required to take the equivalent of one Art History class per semester, MA seminar groups usually include MFA candidates working in a variety of practices. This unique seminar experience creates dynamic discussions on art theory, history, and criticism between practicing artists and art historians in training. In addition to these in-class discussions, there are a number of interdisciplinary programs and courses that allow MA students to learn and socialize with artists and designers.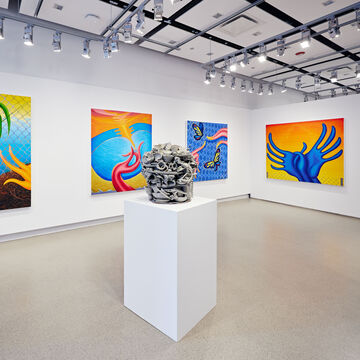 Works by Michael Casey, Josiah Ellner, and Deo Rai
Advanced Curatorial Practice
This course provides students with background on the issues and practices of contemporary curating, while preparing them to work as a team, taking on the role of Graduate Curatorial Fellows. This course is open to MA and MFA students by application and instructor consent.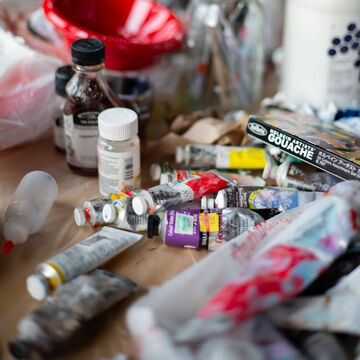 Studio Visits
The program is designed to foster cross-departmental opportunities for MFA and MA students through intimate discussions of student work within the artist's studio. Each semester, MFA students sign up to host MA students in their studios for a 45-minute discussion of the student's work. These discussions allow artists to share their work with a wider audience, getting valuable feedback outside of an exhibition context. For MAs, the program offers the opportunity to meet artists, see studio spaces, and develop conversations around work in progress.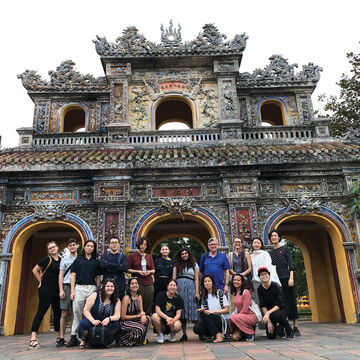 Study Trips
SAIC offers a large selection of faculty-led study trips to provide students with relevant and dynamic opportunities to experience international travel and build intercultural competency, all while earning credit toward a degree. Study trips take place during the winter and summer holidays and typically last for two to three weeks. Study trips are lead by Instructors from both the MA and MFA programs, offering participants the opportunity to travel, learn and socialize with faculty and students from across SAIC. Eligible students may apply for financial aid to cover a portion of study trip tuition costs.
Recent Theses
The thesis project is a central component of our MA program and involves in-depth, original research on a topic of the student's choosing. All MA students in Art History complete a written thesis; Dual Degree students choose between the Art History thesis or Arts Administration thesis. For a full list of thesis projects, including abstracts, see the SAIC Thesis Repository.