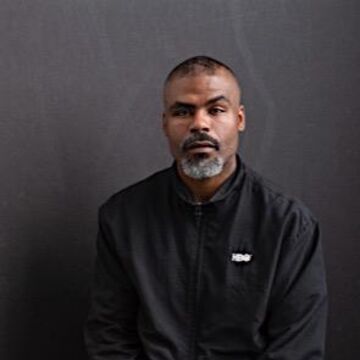 Johnathan Taylor
Fashion Designer
Johnathan Taylor is an American fashion Designer. He is a graduate of The School of the Art Institute of Chicago. Taylor worked as a Juvenile probation officer, before enrolling in the Post Graduate Fashion program at SAIC, studying menswear. After graduating in 2013, Taylor moved to New York City where he quickly received a menswear Design role at Thom Browne, designing men's runway and ready-to-wear. After leaving Thom Browne, Taylor launched his own line Moment Homme, which was listed as One's to Watch by WWD. In 2016, Taylor decided to put his brand on the shelf "temporarily" and focus on developing a more compelling story by taking head design roles for some of the hottest menswear brands in the industry, such as Willy Chavarria & Aimé Leon Dore. Currently Taylor is collaborating & working with a wide range of brands during these challenging times, while in the process of officially launching a fully operating Moment Homme for 2021.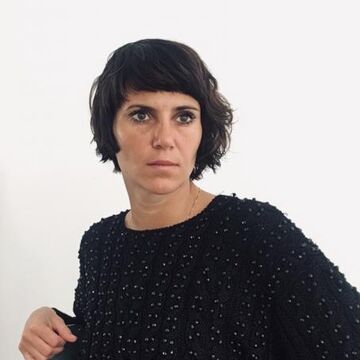 Cheryl Pope
Cheryl Pope is an interdisciplinary visual artist that questions and responds to issues of identity as it relates to the individual and the community, specifically in regards to race, gender, class, history, power, and place. Her practice emerges from the act and politics of listening. Pope received her BFA and Master's in Design from the School of the Art Institute of Chicago, where she is now an Adjunct Professor. 
Pope studied under artist Nick Cave for twelve years, was a teaching artist at the Museum of Contemporary Art for seven years, and worked in multiple community based organizations throughout Chicago. Recent exhibitions and projects include Declaration, the inaugural exhibition at the Institute of Contemporary Art, Richmond, VA (2018); Queen's University, Belfast, Northern Ireland (2019), Chrystal Bridges Museum, Arkansas. A recipient of a 2015 3Arts Award, Pope's work is in the collections of the Museum of Contemporary Art, Chicago; Joan Flasche Artist's Book Collection, Chicago; Seattle Art Museum, WA; and Museum of Fine Arts, Richmond, VA. Pope is currently based in Chicago and is represented by Monique Meloche Gallery.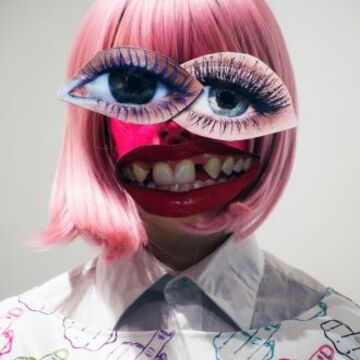 Yali Romagoza
Artist/Educator
Yali Romagoza is a Cuban-born multidisciplinary artist currently based in Queens, NY. She graduated with an MDes in Fashion from the School of the Art Institute of Chicago and a BA in Art History from the University of Havana, Cuba. Her works have been included in the Gothenburg Biennial; Havana Biennial; Bétonsalon, Paris; Liverpool Biennial; Art and Social Activism Festival, NY; The Immigrant Artist Biennial, NY. She has performed at Links Hall Theater, Chicago; White Box, NY; Teatro LATEA, NY; Art in Odd Places, NY; Southeastern Center for Contemporary Art, NC; Grace Exhibition Space, NY; NY Latin American Art Triennial, NY. Romagoza has been granted numerous awards and residencies, including Cátedra Arte de Conducta by Tania Bruguera, La Habana, Bétonsalon Centred'art et de recherché, Paris; NYFA Immigrant Artist Mentoring Program, NY; Creative Capital NYC Taller, NY.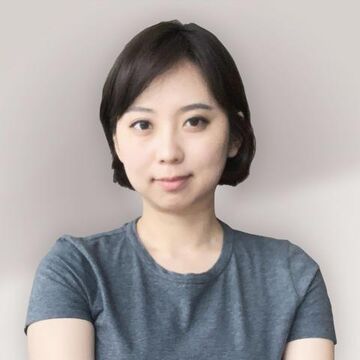 Minjung Michelle Kim
Lecturer/SAIC, Graphic Designer/Estée Lauder Companies
Michelle is the founder and a creative director of Mizel Jewelry, which was launched in 2006 in Seoul, Korea. Her jewelry designs have been sold in many luxury department stores and museum shops nationwide. Her work has been featured in Vogue, Elle, Allure, W, In Design, and several other fashion and design magazines.  
After completing her BFA in Visual Communications at SAIC, she returned to school to pursue her graduate degree in fashion. Developing her creative vision beyond the commercial world of fashion and researching issues of identity have pushed her to explore new territory as a designer.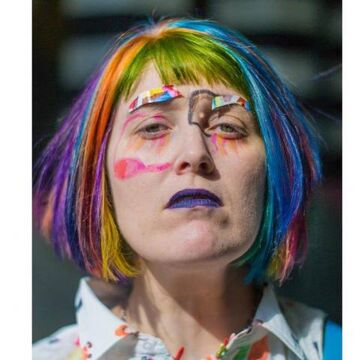 Lindsey Whittle
Professor, Artist, Gallery Co-owner
Lindsey Whittle is a multimedia performance/garment artist, print designer and facilitator whose primary mediums are collaboration and color. The foundation of her work is the use of her daily duration projects and wearable print language to carry conversations of her artwork experiences out of traditional art spaces and into her daily routine. Whittle is a professor/educator that has developed custom garment art and performance art programs for the Art Academy of Cincinnati since 2016. 
Whittle co-owns and co-instigates PIQUE experience gallery and Airbnb in Covington, Ky with her husband and fellow artist Clint Basinger and Annie Brown and Noel Maghathe. She holds a painting degree from the Art Academy of Cincinnati (2007), studied fashion design at the University of Cincinnati (2012), and has a masters in Fashion Body and Garment from the School of the Art Institute Chicago (2014). Whittle was the craft editor for Kiki Magazine (2012-2015) and taught English at a fashion high school in Gifu, Japan (2009). Whittle's work has been exhibited in Salem, MA, Chicago, IL, and Cincinnati, OH. PIQUE's Airbnb has been featured in Architectural Digest and Whittle's artworks by Hyperallergic.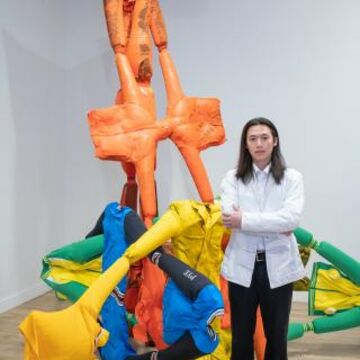 Yang Mai (MDes 2016)
Born and raised in Guangzhou, China, Yang Mai is a Chinese artist and currently based in New York.
Mai's work focuses on the possible functions that clothing can have in sculpture and how to articulate these possibilities in the language of gallery installation. By removing commercial seriousness from the industrial and introducing playful or exaggerated features, his work hopes to encourage and celebrate our rebellious human nature and establish alternative symbolizations of the present reality.
His work has shown internationally, in the United States his art work has been featured in shows and exhibitions in, such as: Aqua Art Miami Fair, New York Fashion Week, Chashama Non-Profit Art Organization. In 2020, Mai's new body of work will be shown at CUE Art Foundation. Mai holds a Master degree from School of Art institute of Chicago, and a Bachelor degree from Beijing Institute of Fashion Technology.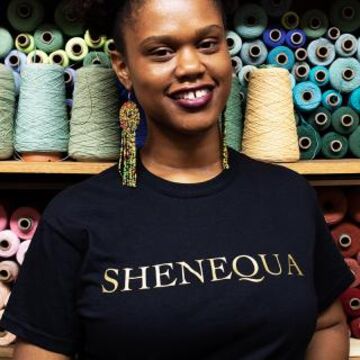 Shenequa Brooks
Artprenuer + Artist Coach
SHENEQUA is an Artprenuer and Artist Coach who received her Masters of Design in Fashion, Body, & Garment at School of the Art Institute of Chicago under the mentorship of Nick Cave and Liat Smestad. 
Her solo exhibition Woven Narratives was on view at Haw Contemporary (Stockyards) in Kansas City, Missouri on September 20 - October 30, 2019 . She has exhibited her works in Performing Labor at Patricia Sweetow Gallery in San Francisco, CA, The Space We Grow Into at Woman Made Gallery in Chicago, IL, and Mane N' Tail at The Luminary in St. Louis, MO, to name a few. 
A Featured Artist for Ties that Bind in American Craft Magazine and in the Kansas City Star she spoke about her process of weaving synthetic-hair in relationship to the African- American Hair Experience. 2014's Windgate Fellow of the Center for Craft Creativity & Design. 2017-2018's recipient of the inaugural YoungArts Daniel Arsham Fellowship, presented by the Ridinger-McLaughlin Family, SHENEQUA continues to reflect, create, and expand the process of weaving beyond the loom.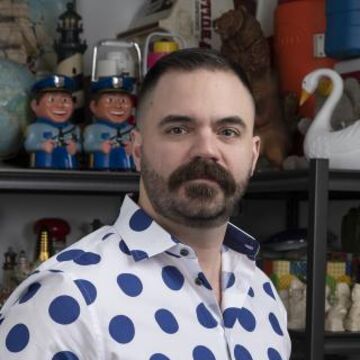 Benjamin Larose
Benjamin Larose is a Québécois artist and Assistant Professor in Fashion Design at the School of the Art Institute of Chicago. In 2016, Larose completed SAIC's Master of Design in Fashion, Body and Garment and was awarded the distinguished RumChata Foundation Fellowship. Since then, Larose participated in the BOLT residency program at the Chicago Artists Coalition and presented three solo exhibitions, including a solo booth at EXPO Chicago 2018. 
His work was also shown in several group exhibitions at venues such as 6018|North, Ralph Arnold Gallery, Illinois State Museum Art Gallery, John Michael Kohler Art Center in Wisconsin and Chicago Cultural Center. In 2019, Larose was named Breakout Artist 2019 by NewCity Magazine and won the 2nd prize in Miami University's Young Sculptors Competition for the William and Dorothy Yeck Award.