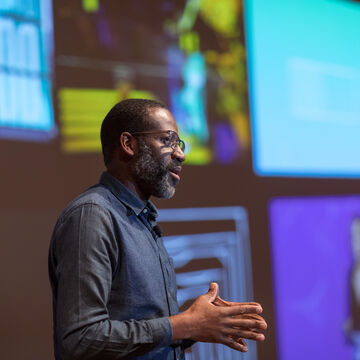 Eddie Opara Lecture, Art Institute of Chicago Rubloff Auditorium, October 2019
Explore Past Visiting Artists Program Events
View a playlist of past lectures from 2013–present on YouTube (closed captions available). Please note, in compliance with the speakers' wishes, not all lectures are available for public release. 
SAIC students, faculty, and staff can watch or listen to the full archive of past lecture recordings from 1977–present on Panopto (SAIC login required).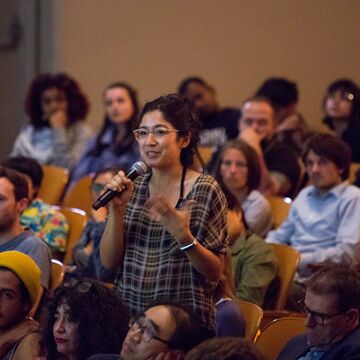 Listen to Recordings
Access rare digitized recordings from 1977–1997, including talks by renowned contemporary artists and scholars such as Susan Sontag, Howardena Pindell, Guerrilla Girls, Félix González-Torres, and more. 
Recent Events
Guadalupe Maravilla
September 12, 2023       
Athena LaTocha
Distinguished Alumni Lecture Series  
April 4, 2023       
Watch
Haas Brothers
March 21, 2023
Watch
Whitaker Malem
March 14, 2023       
Watch
Torkwase Dyson
March 7, 2023       
Watch
Brendan Fernandes
We Came to Dance     
February 28, 2023      
Watch
Nicole R. Fleetwood in Conversation with Maria Gaspar
Artmaking and Incarceration     
November 7, 2022      
Watch
Holland Cotter 
October 18, 2022
Tsai Ming-Liang 
October 3, 2022    
Watch
Wu Tsang
Distinguished Alumni Lecture Series    
September 27, 2022
Walter Hood
Bill and Stephanie Sick Distinguished Visiting Professor   
September 20, 2022    
Watch