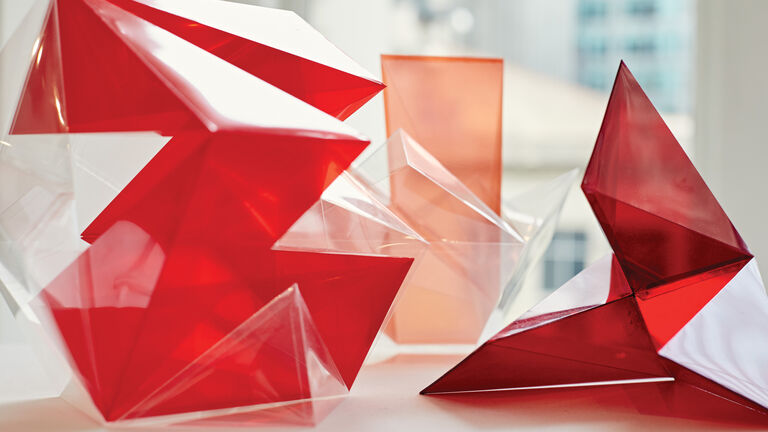 Li Han, DeBach–the Visualization of Bach's "Well-Tempered Clavichord," 2016–2017
Independent Study Projects
Purpose
Independent Study Projects (ISP) allow undergraduate students to complete a supervised project for credit in a specific area of interest to supplement the established curriculum. The project requires independent study but also includes faculty supervision from an SAIC faculty member who has expertise in the field and availability in their teaching schedule; its purpose is to meet individual student needs by providing an opportunity to study subject matter that is not covered in any regularly offered courses.
Undergraduate students in any degree program may take up to a total of three credits of ISP.
ISPs cannot be used as a substitution for a required course.
ISP applications must be submitted by the relevant deadline in order to receive consideration.
ISPs cannot be used as a substitution for a course where the student received a grade of NCR.
The proposed ISP cannot replicate course content from any pre-existing courses offered at SAIC. Proposals can supplement/expand on content from pre-existing courses, however.
Full-time faculty may oversee one ISP per academic year.
Part-time faculty may oversee one ISP per academic year.
Faculty supervising a fall- or spring-scheduled ISP must also be contracted to teach at least one course in that same semester.
Faculty supervising a summer- or winter-scheduled ISP must have taught at least one course in the preceding fall or spring semester.
Graduate students are not normally eligible to apply for ISPs.
Guidelines
The total amount of work involved (including meeting times, research, and writing) must be roughly equivalent to the amount of work the student would do in a typical course for the same number of credits. Each individual credit hour is equivalent to three hours of work per week for the student, or 45 hours of work per credit in any given term. For comparison, if a 3-credit studio course meets for six hours per week, with an expectation of at least 3 additional hours of out-of-class work, students will typically be doing a total 9 hours of work per week over the course of a 15-week semester, or 135 hours total. The equivalent amount of time and effort must take place for shorter semesters, such as winter or summer.
The student and ISP faculty supervisor must meet a minimum of four times per term, regardless of the number of credits that the ISP fulfills. The ISP meetings should occur on campus. E-mail as the sole form of communication with the instructor is not acceptable, although videoconference or similar technology could be. The description and rationale of the ISP, the schedule and manner of work to be produced, the meeting schedule, and the method of evaluation and what constitutes successful completion of the ISP should be articulated very clearly and thoroughly on the Independent Study Application form in order to receive a review. Incomplete applications will not be accepted for review.
Students who engage in an ISP off-campus do so with the understanding that SAIC is not responsible for any claims that may arise at the off-campus location(s) where the ISP-related activities take place.
Roles & Responsibilities
Ensure that the educational merit of the proposed project will meet the standard of what is expected in a comparable course
Ensure that the proposed project will meet the credit-hour guidelines for the amount of work/time that the ISP will require (i.e. each individual credit hour is equivalent to 3 hours of work per week for the student, or 45 hours of work per semester for each credit hour)
Ensure the feasibility of a satisfactory and timely completion of the project, in light of the student's overall course load for the semester and other obligations
Evaluate any facility or technology requirements relative to requirements for access, training, and availability
Establish with the student the agreed upon schedule and manner of meetings for the semester (minimum of four meetings)
Establish with the student the preliminary material research, bibliography and/or research tasks for the ISP
Establish with the student the agreed upon requirements (a series of small papers/projects, one big paper/project, form of research, presentation, etc.)
Establish with the student how the ISP is going to be evaluated and identify which Degree Program-level learning goal the ISP falls under (contact the Associate Dean of Undergraduate Studies if you need guidance)
Complete the faculty rationale section of the ISP application and, if needed, help the student to complete other sections of the application form (including any attachments)
Sign off on the application and submit the proposal promptly to appropriate Department Chair
If satisfactory progress is not being made by midterm, submit a midterm Course Progress Report for the student
Submit a final grade at the end of the term

Review submitted proposal. If approved, submit promptly to the Registrar/New Course Proposal Committee for final approval (saic.registrar@saic.edu). If not approved, notify the student and faculty supervisor of any issues preventing approval
Join New Course Proposal Committee members in dialogue with faculty as requested should questions or concerns arise in reviewing a Chair-approved proposal
Undergraduate Student Eligibility & Application
Undergraduate students in any degree program may take up to three credits of Independent Study. The ISP credits may be used in place of a traditional 3-credit course in a single semester, or may be taken in smaller increments (1, 1.5, etc.), or as an 'add-on' to an existing course in which the student is currently enrolled where the student wishes to complete extra, independent work that goes beyond the regular course requirements.
Graduate Student Eligibility & Application
Students pursuing graduate degrees or certificates at SAIC are not eligible to submit an Independent Study Project proposal as described above except in extraordinary circumstances that must be pre-approved by the appropriate Graduate Program Department Chair in consultation with the Dean of Graduate Studies. Graduate students in good academic standing who are interested in pursuing an ISP must first contact their Department Chair or Program Director prior to initiating an application or approaching faculty to serve as supervisors. Should the case appear to be exceptional, the Department Chair or Program Director will then consult with the Dean of Graduate Studies to determine approval for ISP credits. Only after consent has been given by both the Graduate Dean and the student's home department may the graduate student approach a faculty member in application for supervision. The procedure then follows the steps outlined in the undergraduate ISP application process.
For all students pursuing graduate degrees or post-baccalaureate certificates, ISP credits may only be used as Elective credits (not Studio, not Art History, etc.). The number of ISP Elective credits approved for graduate students will be determined by the Dean of Graduate Studies and will not exceed three credits total for any graduate degree or certificate.