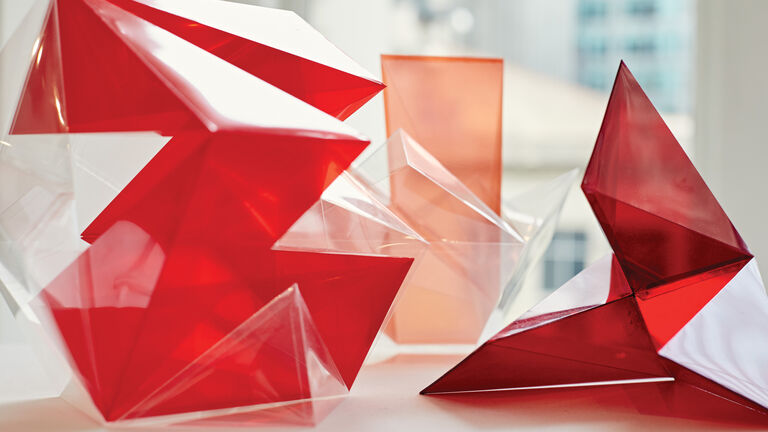 Li Han, DeBach–the Visualization of Bach's "Well-Tempered Clavichord," 2016–2017
Degree-Seeking Students
SAIC's undergraduate and graduate course offerings are intended for credit-seeking students.  All students should enroll in courses which contribute to their creative or academic goals and which provide applicable credit hours towards the completion of their degree requirements.  
Enrollment in undergraduate- or graduate-level courses on a non-creditor (audit) basis by enrolled, degree-seeking students is not generally recommended, but is permitted under the following circumstances:
The student is in Good Academic Standing and enrolled in at least one for-credit course in the semester in which they wish to audit a course AND;
The course must be offered by either the Art History or Liberal Arts department AND;
The instructor of the course permits auditing in general and is in agreement with the individual student about the scope of their participation in the course while enrolled as an auditor AND;
There is an open seat available in the course at the conclusion of the Add/Drop period for the semester, students cannot enroll prior to the end of Add/Drop
Both graduate and undergraduate students can be enrolled to audit a class at either the graduate or undergraduate level, provided the class meets the above conditions for auditing and they have the permission of the instructor.  
Instructor Approval
During the semester's Add/Drop period, the student should attend the Art History or Liberal Arts course they are interested in auditing and ask the instructor if they permit non-credit (Audit) enrollment. The student should be prepared to discuss why the Audit option is appropriate for their situation, and why this option is preferable to their taking the course for credit. Instructors may, at their own discretion, determine whether they permit audit enrollment in their course in general, regardless of space availability. Instructors may also decline or amend the specific audit arrangement being proposed by the student, and may define their own parameters for what auditing their course must entail. 
Art History and Liberal Arts instructors are encouraged to document in their course syllabus whether auditing is permitted and/or any specific parameters they require for students who wish to audit their course.
Audit Enrollment Form
To be enrolled as an auditor, students must provide an audit enrollment form and receive the instructor's signature. The student should submit the completed form to the Office of Registration and Records (36 S Wabash, Suite 1450) during the semester's Add/Drop period. 
Finalizing Enrollment
The Registrar will process audit enrollment forms after the conclusion of the Add/Drop period. In the event that an open seat in the course remains available, the student will be enrolled in the course as an auditor. If the course has filled to capacity with credit-seeking students, the student requesting audit enrollment and the course instructor will be notified via email that the audit enrollment could not be completed.
Audit Considerations
There is no tuition charge for a degree-seeking student to enroll for a grade of AUD in a course which meets the conditions outlined above.
The student must be active (enrolled in at least one credit-bearing course) in the semester in which they wish to audit a class.
Audit-enrollment hours count towards a student's maximum enrollment cap. Undergraduates may enroll in a maximum of 18 credit hours (Fall/Spring), and graduate students may enroll in a maximum of 15 credit hours.
However, because they are not credit-bearing, audit-enrollment hours are not factored into students' full- or part-time status or related considerations (financial aid, health insurance, etc.)
Students with an active registration (REG) or enrollment hold (ENR) cannot be enrolled in a course as an auditor.  
A student may enroll as an auditor in a maximum of two (2) courses per academic career. 
Exclusions from Audit Eligibility
The following types of courses cannot be audited under any circumstances:
Courses which are offered by departments other than Art History or Liberal Arts
Study trips
Co-operative education internships
Independent Study Projects
Graduate Projects
Ox-Bow classes
Unofficial Auditing
"Unofficial" auditing, or "sitting in" a course, refers to participating in a course/course activities for the majority of the term without any type of official enrollment.  Such unofficial auditing is not permitted at SAIC under any circumstances.
Spring 2020 Audit Policy
As a result of the COVID-19 pandemic, continuing students that were enrolled in in the Spring 2020 term are eligible to enroll in up to six credit hours for audit enrollment during their SAIC career and/or in the two years following their graduation. 
Contact
Questions about SAIC's Audit Policy should be directed toward the associate deans in the Office of the Dean of Faculty.