Winter 2024 Faculty-Led Study Trips
Faculty-led study trips are credit-bearing courses taught by SAIC faculty where instruction takes place off-campus. Students can earn credits towards their degree completion and the off-campus study credit requirement. We are happy to announce that in the Winter 2024 term we will be offering a study trip to New York City.
Image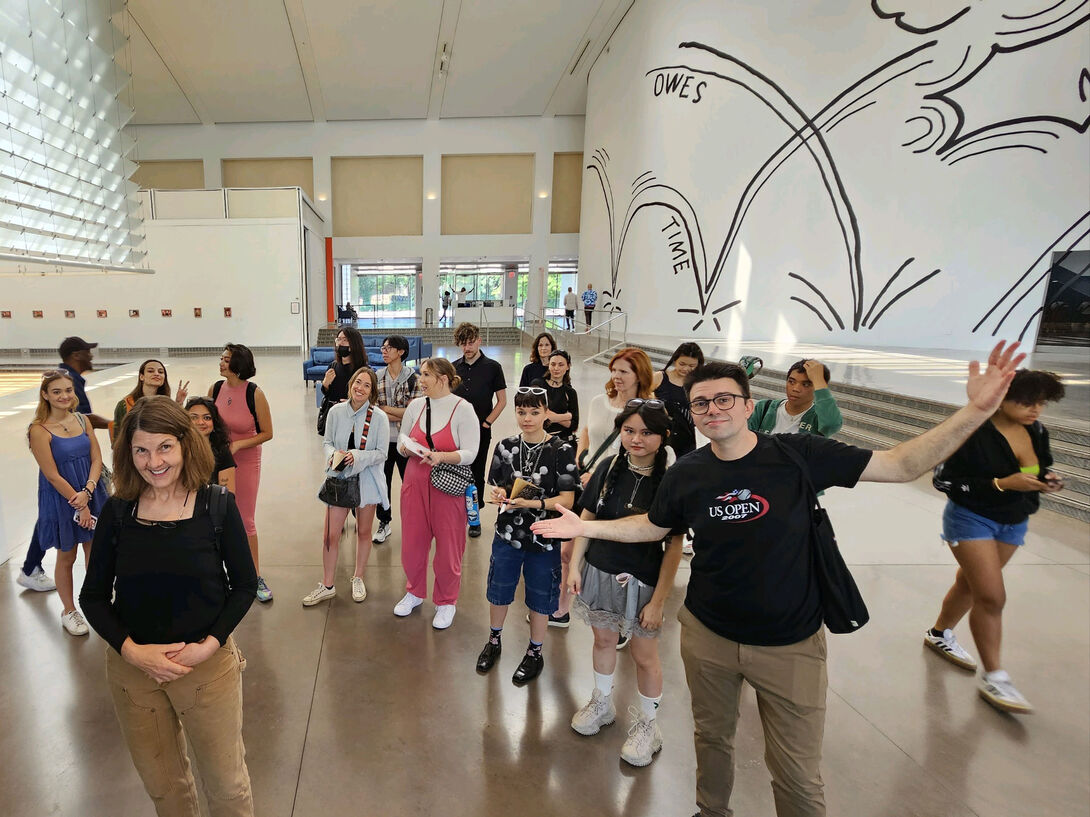 Contemporary Art and Criticism in NYC
Faculty: Professor Michelle Grabner (Painting and Drawing), Professor Lisa Wainwright (Art History, Theory and Criticism)

Dates: January 8–20, 2024*

Credits: 3 Studio and/or 3 Art History
*Dates subject to change
To learn more about Contemporary Art and Criticism in New York City study trip please join Study Abroad and Faculty trip leaders at one of the scheduled info sessions.

Thursday, September 14, 2023 - In-Person
11:15 am - 12:15 pm 
Sharp 817

Wednesday, September 27, 2023 - Online
3:30-4:30pm
Join via Zoom

New York City is a cultural center, and no matter where you choose to live and work, you will need to negotiate the economic, critical, and institutional hierarchies governing this metropolis. This trip starts to map the different art worlds that operate in this city and their intersections.  We will meet with artists, critics, curators, dealers, and collectors as a means of examining the dense exchanges of making and discourse. Sites visited will include artists' studios, current exhibitions, museums, commercial galleries, and non-profit spaces.

This class is both exciting and more importantly hugely essential to all young artists and burgeoning cultural producers as it illustrates firsthand the increasingly important interrelationship between making and distribution. The contemporary art landscape is shaped by a supply-and-demand economy and to pretend otherwise is naïve. Thus, this class focuses on the interchange set up between critical, commercial, and institutional frames of success. It discusses the pros and cons of living in a cultural and economic center and should be a required class for all students, even if they hail from NYC.

Tuition Fee cost per credit (NOT INCLUDED IN PROGRAM FEE):

Undergraduate $1,785 per credit hour 
Graduate $1,860 per credit hour

Program fee (DOES NOT INCLUDE TUITION FEES):

Approx. $1250 (not including airfare to New York and accommodations). Includes admissions, ground transport, and any group meals. A group accommodation option will be provided. Students are not required to stay in group accommodations for this trip.

Accommodation

Students are not required to stay in the group accommodation for this class and may find their own accommodation provided they can meet the faculty at the scheduled departure point each morning. Details about the arranged group option accommodations, including costs, will be available at the information sessions.

Airfare

Budget appx. $300 for airfare if flying from Chicago. (Note this is only an estimated figure. Actual fare will depend on many variables including airline, number of stopovers, ports of departure and return, and date of ticket purchase).

Other expenses

Students need to plan for personal expenses while on the study trip. These would typically include primarily meals, and any other incidental items (for example, art supplies, souvenirs, etc.).

Itinerary and internal transport

Students should meet at the designated location and time for the first day of class. Students who selected to stay with the group accommodations should arrive at the designated check-in day and time.

Public transportation will be the main source of transportation and Metra Cards will be provided.
                    
Previous trip's course testimonials

"The class was very challenging and rigorous as well as rewarding. Every day was full of activities, but we were also asked to apply critical thinking to every meeting with an artist or curator, not to accept things as they are presented to us and to question everything around us- from curatorial choices, how certain artists presented their practice and so on. We were encouraged to ask questions and lead discussions which was extremely challenging but also very rewarding." 

"This course was an excellent way to scratch below the surface of the NYC art ecosystem and meet some of the artists, gallerists, curators, and museum administrators that make it all tick. I've done my own DIY version of this, but I especially appreciated having more of a behind-the-scenes view."

"I would highly recommend this course to absolutely anyone at SAIC - this course is incredibly valuable to both artists, art historians, and art administrators alike. The first hand experience you will receive being on the ground and meeting with people in New York is absolutely invaluable and there is no other course that will teach you these things. Being able to see artists' studios and meet with artists who are showing at galleries and museums was incredible, and being able to meet with curators and administrators at some of the most prominent and important institutions in New York (and the world) was such a life changing experience."                
Summer 2024 Faculty-Led Study Trips
Study Abroad is currently preparing for the study trip proposal process and review for summer 2024. We will post all the relevant information on this page when updates are available. We anticipate having more details available for summer 2024 study trips by the end fall 2023 semester. 
Eligibility
All usual academic requirements must be met to register for a study trip. For example, to register for Art History credits, a student must have completed both parts of the Survey of Art History; for Liberal Arts, all English requirements must be completed. Undergraduate students must have completed 30 credits at the time of registration.
Some study trips may require an application and study trip leaders' approval before registration. If so, this will be listed on the trip description in Course Options.