Film, Video, New Media, and Animation Graduate Overview
Drawing on the expertise of SAIC faculty and our innovative curriculum, Film, Video, New Media, and Animation (FVNMA) students engage in formal experimentation, technical innovation, and critical investigation in all forms of media-based work.The materials and discourses of film, video, new media, and animation as art forms are not simply techniques, but defining elements of our culture and society. The FVNMA department moves far beyond a traditional approach to media, investigating the inherent possibilities in nonfiction, narrative, installation, interactive art, curatorial work, and web-based projects.
FVNMA graduate students often invent interdisciplinary, hybrid work exploiting traditional forms to create new avenues of expression, and the department is highly supportive of this exploration and risk-taking.
Faculty Connections of the Highest Order
FVNMA faculty are award-winning pioneers and revolutionaries whose work is represented in museums, galleries, web-based forums, festivals, music clubs, performance arenas, and community-based venues. Students select and engage regularly with graduate advisors from among these remarkable practitioners, as well as from those across all departments at SAIC, in order to shape media of expression to their own interests. Graduate Seminars ensure students receive in-depth knowledge of theories relevant to moving image and media art.
Faculty connections bring prominent visiting artists such as Apichatpong Weerasethakul, Meriem Bennani, Tsai Ming-Liang, Tabita Rezaire and Sondra Perry to campus to give lectures and work directly with students on projects.
Cutting-Edge Resources
The Art Institute of Chicago's Film, Video, and New Media Gallery, housed in its Modern Wing, showcases many artists who have been guests of or have relationships with the department. SAIC's Gene Siskel Film Center is a consistent resource for FVNMA students—a place for viewing world cinema, a venue for annually showcasing student work, and a collaborator for such projects as Conversations at the Edge (CATE).
CATE is a dynamic series of screenings, artist talks, and performances that provides access to compelling contemporary media artists. Video Data Bank is a leading resource for video by and about contemporary artists, and its collection includes the work of more than 550 artists and 5,500 video art titles. The Phil Morton Memorial Research Archive at the Video Data Bankhouses more than 500 videotapes from the 1970s that document the development of the department as well as the local, national, and international communities of media art. Additionally, the Flaxman Library's 16mm Film Study Collection includes extensive holdings by acknowledged masters of film art such as Maya Deren, Stan Brakhage, Jordan Belson, Kenneth Anger, and Joseph Cornell. 
As a FVNMA graduate student, you will have access to the cutting-edge resources of the department.
Graduate Projects
The cornerstone of SAIC's graduate studio program is its focus on tutorially guided studio practice. Each semester in addition to selecting from graduate advisors in the department, you will select from more than 100 graduate faculty advisors at SAIC, representing myriad disciplines, approaches, and intellectual positions. Ultimately, it is the student's work that drives the choice of advisor, and both disciplinary and interdisciplinary work is supported and advanced. Faculty from the academic programs in Art History, Arts Administration and Policy, Art Education, and Visual and Critical Studies also serve as graduate advisors, providing yet more expertise in support of SAIC Graduate Projects.
Critique Week
Critique Week, one of the principal means of assessment each semester, is a week-long schedule of critiques during which classes are suspended and the entire faculty and invited visiting artists and designers assemble into panels that conduct intensive studio critiques with all studio and writing graduate students.
Studio critiques are required of every full-time graduate student pursuing an MFA in Studio or Writing degree. Typically, SAIC graduate students have at least four critique panels throughout their studies at SAIC, augmenting biweekly tutorials with their graduate advisors.
Take the Next Step
Graduate Programs Application Deadline: January 10
Apply to SAIC's Graduate and Post-Bacc programs by 1/10 for Fall 2024 admission.  APPLY
Continue to explore the FVNMA department website to learn about our curricular offerings, faculty, students, and alums, visit the Master of Fine Arts in Studio degree program for more detailed information, or schedule a tour.
Visit the graduate admissions website or contact the graduate admissions office at 312.629.6100, 800.232.7242, or gradmiss@saic.edu.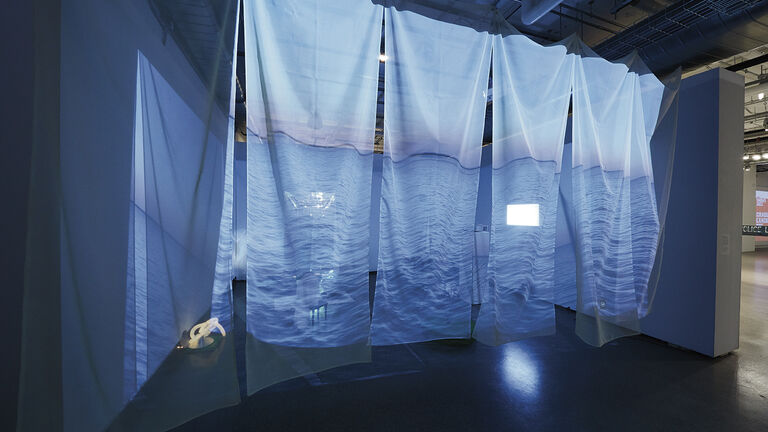 MFA Film, Video, New Media, and Animation Program Brochure
Linhan Zhang, "Things I cannot handle," 2021-22, Multimedia installation, artist's body