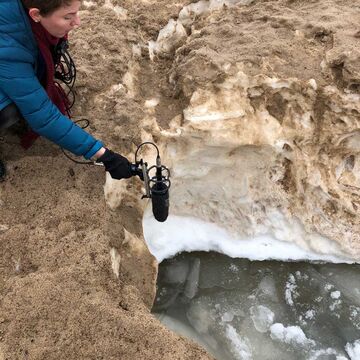 Katie Wood (MFA 2019) sourcing sound at Indiana Dunes National Park. Courtesy of "Hyperallergic."
Adrian Wood (MFA 2019)
Adrian Wood (MFA 2019) creates soundscapes, videos, transmissions and live works featuring sounds of water and wind, howls, whispers, seismic vibrations, and radio interference. Their work deals with knowledge production around land and landscape. Adrian has shown work in the Museum of Contemporary Art Chicago, the Gene Siskel Film Center, Links Hall, Joan Flasch Artist Book Collection, Experimental Sound Studio, LITHIUM gallery, and the College of William & Mary. Adrian's work has been featured in online broadcasts and publications like Radio Borealis, Collective Terrain and Bivouac Recordings. Adrian has received a number of scholarships and grants including the ESS/SAIC Alba Sonic Arts Residency, and the Arts, Science & Culture Collaboration Grant from the University of Chicago.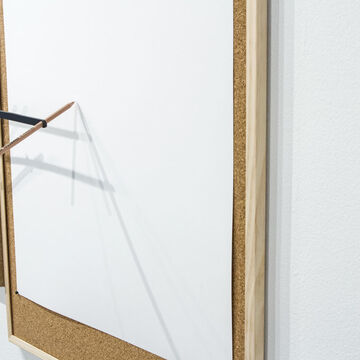 Milad Hosseini-Mozari, Pantograph (2016)
Milad Hosseini-Mozari (MFA 2013)
Milad Mozari is an interdisciplinary artist and educator whose work in video, performance, and installation moves through concepts of music, belief systems, absence, and structures. His research-based practice often starts with sound or spatial experiments, which then attempt to resonate physically, historically, and experientially. While studying for his BS in International Studies at the University of Utah, he began to make and exhibit work about language and place. He continued his studies at the School of the Art Institute of Chicago, where he received an MFA in the Department of Sound. His work has shown internationally at the Hong Kong Arts Centre, International Symposium of Electronic Arts, Chicago International Film Festival, Litmus Community Space, Chicago Cultural Center, the Studebaker Theater, Roots & Culture and Experimental Sound Studio. Fellowships and residencies include Asian Cultural Council Grant to individuals, ACRE, Tsung-Yeh Artist Village and soundpocket.
Jonny Farrow and Milad Mozari: Soft Power at Experimental Sound Studio, Audible Gallery, Chicago, IL 17 July - 31 August 2015. Curated by Erin Toale.
Jonny Farrow (MFA 2013)
Jonny Farrow is a multi-disciplinary artist working with sound as both a poetics and a material to create works that interrogate the liminal spaces of belief, memory, and history. Using concepts such as resonance, feedback, and transmission, he sounds these liminal spaces through various material and conceptual means in order to set them vibrating. Farrow has shown and presented work in New York, Chicago, San Francisco, United Kingdom, Kuwait, the United Arab Emirates and elsewhere. From 2011-2016 he produced The Distract and Disable Program heard monthly on WGXC 90.7 FM in Hudson, NY. He holds a BA in English, an MA in Music, a Master of Fine Art in Studio from the School of the Art Institute of Chicago. Farrow currently lives and teaches sculpture, printmaking, and sound art courses in Abu Dhabi, UAE.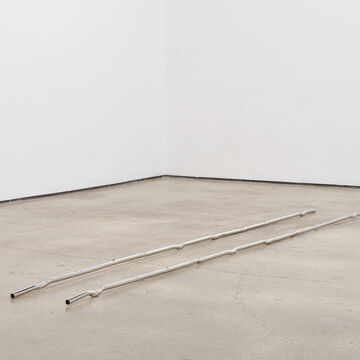 Austen Brown, Unfolded (Mies)
Austen Brown (MFA 2015)
Austen Brown (b. 1985) is an artist living in Chicago, IL holding his Master of Fine Arts from the School at the Art Institute of Chicago. Using a site-based practice, he works with sound, video, and installation to draw conceptual lines between sites, using buildings as evidence to investigate histories of urban planning, as well as relationships of nature to industry and labor. Brown's work has been shown internationally at Triumph Gallery, Chicago, IL; The Chicago Artists Coalition, Chicago, IL; The SUB-Mission, Chicago, IL; Super-Sensor, Madrid, Spain; EXPO Chicago, IL; ACRE, Chicago, IL; Switched on Garden with funding from the Pew Charitable Trust, Philadelphia, PA; Flat Gallery, Chicago, IL; LODGE, Chicago, IL; Delaware Center for the Contemporary Arts, Wilmington, DE; Rebekah Templeton Contemporary Art, Philadelphia, PA. Residencies and awards include ACRE, HATCH Projects, the Municipal Arts League Fellowship, and Siragusa Foundation Fellowship.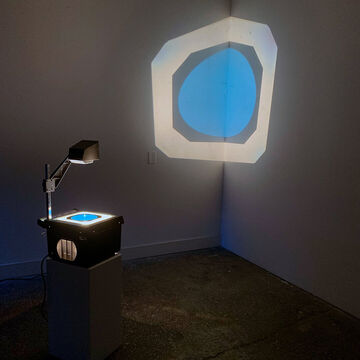 Peter Speer, Decorated Air
Peter Speer (MFA 2013)
Peter Speer is an artist and musician based out of Asheville, NC. His sonic work incorporates performance, recording and sound installation, and takes inspiration from the quiet stillness at the center of loud fast things. Working primarily with the modular synthesizer, Speer's experimental electronic compositions present field recordings from a world based in voltage.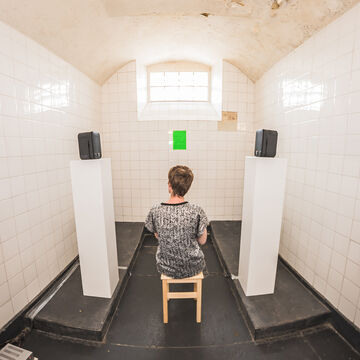 Kim Walker, To The Next - Confined Spaces, Campbeltown, Scotland (2016) - Installation View. Images by Raymond Hosie.
Kim Walker (MFA 2011)
Kim Walker is a Scottish artist working with sound, video, installation and new media. She gained her MFA in Studio from SAIC (School of the Art Institute of Chicago) and her BA (Hons) Time Based Art from DJCAD (Duncan of Jordanstone College of Art and Design). Walker also holds a PgDip in Library and Information Studies from the University of Strathclyde. Walker has exhibited widely through artist-led spaces, larger galleries, video screening festivals and radio broadcasts. Venues include Patriothall Gallery (Edinburgh), Centrespace, DCA (Dundee), Exhibitions DJCAD (Dundee), Heaven Gallery (Chicago), Area 405 (Baltimore), Studio 41 (Glasgow) and South Hill Park (Bracknell). She has held artist in residence positions with Common Ground Projects, Exhibitions DJCAD, SSW, Outlandia and recently with the Woodlands Trust Scotland at Glen Finglas. Kim Walker is a current Ph.D. candidate in Composition and Sound Arts within the Music Department at the University of Aberdeen, Scotland and is part of the SERG sound arts research group.
Dr. Michael Graeve, Whole & Part, Translation Across Modality, Memory & Trace 2020
Michael Graeve (MFA 2007)
Dr. Michael Graeve is a sound and visual artist living in Melbourne Australia. A 2007 alumnus of SAIC's MFA Sound program, he currently exhibits and performs internationally across mediums such as painting, sound performance and composition, and site-specific installation. Dr. Graeve is committed to artist-run culture: he has been a board member of Liquid Architecture Sound Inc since 2011, was a founding member of Grey Area Art Space, and previously served as both a board member and program manager at West Space Inc. Dr. Graeve lectures at RMIT University in Sound, Sculpture, Expanded Studio Practice, Honours, and in the Master of Fine Arts program.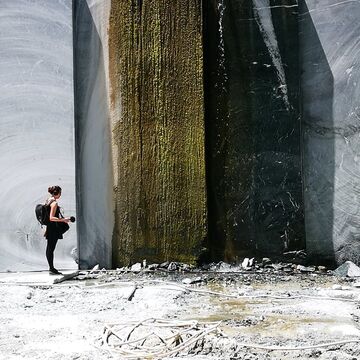 Alyssa Moxley, Sound Entangled Spaces, 2017, Composition/Installation for "Reassembly" at Tinos Quarry Platform.
Alyssa Moxley (MFA 2014)
Alyssa Moxley is a composer and artist working with narratives of identity, place, and embodied experience through sound. Much of her practice involves the use of field recordings to transform environments, via live performances, compositions and installations. She also curates sound events and produced the Kinisi Festival of Sound in 2015 and 2016. Moxley studied ethnomusicology at the School of Oriental and African Studies, sound design at the London College of Communication, studio production techniques at the Banff Centre for the Arts, and an MFA in Studio Art in the Sound Department at the School of the Art Institute of Chicago. Her solo and collaborative works have been heard and installed in venues and radio stations in the UK, USA, France, Canada, Ireland, Portugal, Germany, Croatia, Hungary and Greece.
Ethan Rose, Variation, 2017
Ethan Rose, Variation, 2017
Ethan Rose is a composer, artist, and designer who loves all things sound. Drawing from years of composing music for the moving image and creating sound installations, his work has grown to introduce sonic design to events, objects, and buildings. Ethan currently runs Parallel, an audio focused design studio that specializes in sound design for the built environment. Past projects include permanent installations at Microsoft, Nike, and the University of Oregon.