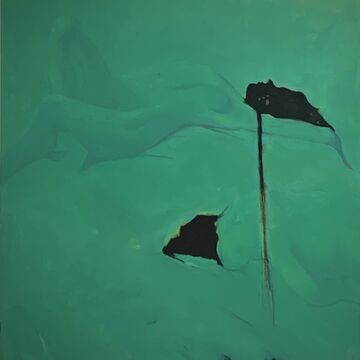 Bassim Al Shaker, Death for Happiness, 2021, oil canvas
Bassim Al Shaker
Bassim Al Shaker is an Iraqi artist and United States citizen. Bassim was born and raised in Baghdad, Iraq, during a period of political conflict and humanitarian torment. He graduated with a bachelor of fine arts from the University of Baghdad College of Fine Arts, where the primary focus of his studies was on cultivating his drawing and painting skills using an academic technique. His style is the culmination of a background in academic drawing and painting techniques and a pursuit of exploration in creating contemporary art. Bassim is continuing to work toward his goal of further self-discovery and development of his artistic style during his completion of the Master of Fine Arts program at SAIC.
Anko Chang, Lazuli, 2017, Oil on canvas
Anko Chang
A diverse background between East and West, new and old gave me at first a yearning for self discovery, and then a purpose for social activism. I see my artworks as "inanimate" experiences of social/political advocacy discussing themes of belief. Advancements of technologies have made many traditional art media anachronistic in this era; I am a painter in a time where visual creation may soon be outdated. Under this threat, I am strongly influenced by the evolution of society and the casualties of obsolescence. Seeing bleeding edge concepts daily, I feel displaced in time. I am a futurist with antique tool sets. I see art and fine design disrupted from being sovereign entities viewed or awed upon. In fact, I believe in a continuum with rapid technological advancements, the media that will go beyond the painter's craft is nonetheless, technology. With social media and technological evolution, the world will quickly become a four dimensional experience.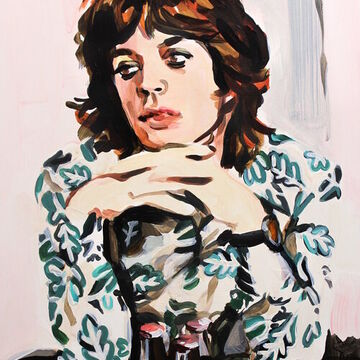 Laura Collins, Mick Jagger Wearing Eyeliner
Laura Collins
I am a visual artist based in Chicago. I have earned a master of arts in new media and a graduate certificate in women and gender studies from DePaul University. Previously, I earned a bachelor of fine and applied arts in painting from the University of Illinois. I work in a variety of mediums including painting, drawing, and collage. I am interested in the mass circulation of both printed and digital imagery. My work opens a discourse on vulnerability, perceived confidence, and the objectification of women. I strive to humanize celebrities and create empathy through the exploitation of their candid faltering. My practice is an invitation to consider the absurdity of pageantry, a celebration of societal idolatry, and a beacon for popular culture fanatics. 
Patrick Dean Hubbell, YOUR ENERGY SHIELDS OUR SPIRIT
Patrick Dean Hubbell
Patrick Dean Hubbell is originally from the Navajo Nation in the Southwest United States. My work is an investigation of my Indigenous identity as it pertains to my position in contemporary society. I am drawn to the questioning of themes in this examination and find inspiration in various themes rooted in Indigenous methodologies, traditional and cultural processes of creating and use them as a foundation for my creative exploration. I am equally interested in the abstract qualities of expression as well as representational imagery. Using culturally traditional stories, philosophies, and abstract representations of nature, time, and place, I am able to depict the existence, perseverance, and the future of my Indigenous identity. My work includes a multidisciplinary approach, combined with the integration of various elements of design, installation, paintings on traditional two dimensional surfaces as well as the use of painting substrate with sculptural elements. These facets of my practice allow me to create my own aesthetic which reflects the personal experience of memory, physical, mental, emotional and spiritual instances from life and Indigenous cultural presence. 
Kelly Lloyd, Old Town Road, 2019. Photograph Credit: Hannah Farrell
Kelly Lloyd
Kelly Lloyd is an interdisciplinary conceptual artist who focuses on issues of representation and knowledge production and prioritizes public-facing collaborative research. Her work interchanges humor, denial, and the personal to maintain a level of indeterminacy that destabilizes stock relationships between looking, identifying, and understanding. Her current research focuses on interviewing people in the arts sector about their livelihoods. 
Kelly Lloyd received a dual master of fine arts in Painting and Drawing and a master's in Visual and Critical Studies from SAIC. Recent projects include solo exhibitions at the Royal Academy Schools and the Institute for Contemporary Art Baltimore. She co-founded HAIR CLUB in 2014 with Suzanne Gold and Michal Lynn Shumate, and works with Eva Duerden and Lou Macnamara in London-based 12ø Collective. 
She has taught at SAIC., Baltimore School for the Arts, Ox-bow, and Humboldt University. Lloyd completed the Starr Fellowship at the Royal Academy Schools and is currently studying for her doctoral degree in Practice-Led Fine Art at the Ruskin School of Art and Wadham College, University of Oxford.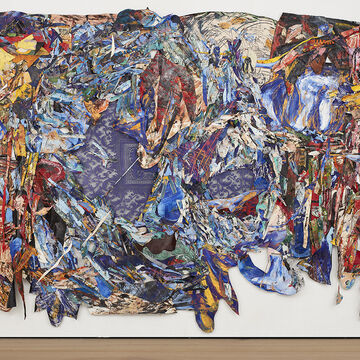 Angel Otero, Dreaming in Blue (To Arnaldo Roche), 2019, oil skins on fabric, 105" x 144" x 7"
Angel Otero
Angel Otero is a visual artist best known for his process-based paintings. While much of his works have been influenced by memories based on photographs and other family memorabilia combined with the gestures of 20th century painting, his latest works highlight the artist's unique process as a form of narrative in itself. 
Through his innovative process of oil paint scraping, Otero venerates historical oil painting while confronting it head on. His work is a constant negotiation between the individual and art history. Otero received his master of fine arts in 2009 and his bachelor of fine arts in 2007 from the School of the Art Institute of Chicago. 
Solo exhibitions of his work have been organized at the Bronx Museum of the Arts, New York (2017); Contemporary Arts Museum Houston, TX (2016); Centro Atlantico de Arte Moderno, Las Palmas de Gran Canaria, Spain (2015); SCAD Museum of Art, Savannah, GA (2013); and Contemporary Art Museum, Raleigh, NC (2012). Select groups exhibitions and biennials featuring his work include Inherent Structure, Wexner Center for the Arts, Columbus, OH (2018); Surface Area, Studio Museum in Harlem, New York (2016); Nexo / Nexus: Latin American Connections in the Midwest, DePaul Art Museum, Chicago (2016); 6th Prague Biennale (2013); El Museo Bienal The [S] Files, El Museo del Barrio, New York (2011) and Queens International 2012: Three Points Make a Triangle, Queens Museum, New York (2012), among others. 
Otero is the recipient of the Leonore Annenberg Fellowship in the Visual Arts. His work can be found in collections at DePaul University Museum, Chicago; Istanbul Modern, Istanbul; Nerman Museum of Contemporary Art, Overland Park, KS; the North Carolina Museum of Art, Raleigh, NC; and the Virginia Museum of Fine Arts, Richmond, VA.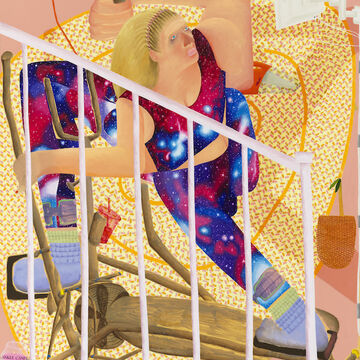 Celeste Rapone, Home Gym, 2018, Oil on Canvas, 64" x 56"
Celeste Rapone
Celeste Rapone was raised in Wayne, New Jersey. She received her bachelor of fine arts from the Rhode Island School of Design in 2007 and her master of fine arts from the School of the Art Institute of Chicago in 2013. Her work has been shown at Corbett vs. Dempsey in Chicago, Roberts Projects in LA, Josh Lilley in London,  Monya Rowe in New York City, Steven Zevitas Gallery in Boston, Julius Caesar in Chicago, the Hyde Park Art Center, and the Georgia Museum of Art. Her work has been featured in New American Paintings, Fabrik, New City, The Chicago Tribune, and the Georgia Review. She is also a 2018 recipient of a Pollock-Krasner Foundation Grant. Rapone is represented by Corbett vs. Dempsey. She lives and works in Chicago.