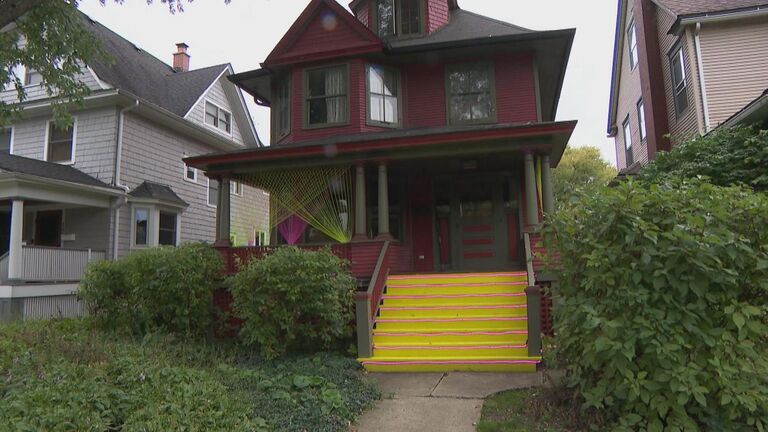 Chicago Tonight Spotlights SAIC Community at the Terrain Biennial
PBS program Chicago Tonight features SAIC community members whose works are part of the Terrain Biennial, which is on view through November 17. Initiated in 2011 by the late Chicago artist Sabina Ott, the Terrain Biennial expands experiences with art by presenting art installations on across front lawns in Chicago. According to Assistant Professor of Contemporary Practices, Tom Burtonwood an "incidental viewer, the person walking their dog, kids walking to and from school" could come across art and experience it outside the confines of a four-wall gallery. The biennial features hundreds of artists in Chicago, across the nation, and internationally.
SAIC community members include Lecturer Cass Davis (MFA 2017, BFA 2009, Fiber and Material Studies), Lecturer Sarah Belknap (MFA 2010, Contemporary Practices), Adjunct Assistant Professor Joseph Belknap (MFA 2009), Adjunct Assistant Professor Rosalynn Gingerich (MFA 2003, Contemporary Practices), Assistant Professor Tom Burtonwood, Adjunct Professor Claire Ashley (MFA 1995, Painting and Drawing), Adjunct Associate Professor Paola Cabal (MFA 2003, Painting and Drawing), Adjunct Professor Stephanie Brooks (Sculpture), and Adjunct Associate Professor Rebecca Keller (Sculpture, Art Education, Art History, Theory, and Criticism).