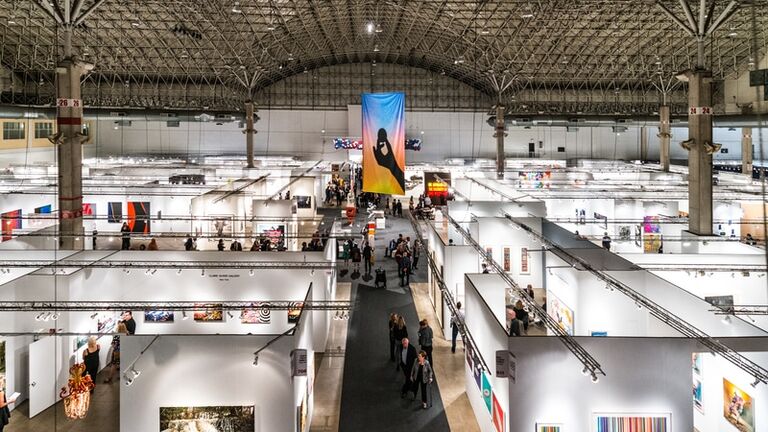 SAIC's Vital Presence at EXPO CHICAGO
At this year's EXPO CHICAGO, faculty and alums from SAIC continue to dominate the renowned exposition with work at the SAIC Booth, galleries, and with their engagement in various programs. At the SAIC Booth, Sarah Skaggs (MA 2016) and Sophie Jenkins (MA 2020) present work by five 2019 MFA graduates. In partnership with EXPO, SAIC will present /Dialogues, a series of conversations between artists, curators, and professionals in modern and contemporary art. Participants in the program are visiting artist Jeffrey Gibson (BFA 1995),  Associate Professor in the Photography department Jan Tichy (MFA 2009), lecturer in the Contemporary Practices department Edra Soto (MFA 2000), and Stephanie Cristello (BFA 2013).
EXPO runs from September 19–22 at Navy Pier.  See this handy map of SAIC faculty and alums exhibiting. Below are more ways to connect with the SAIC community:
SAIC @ EXPO Booth
September 19–22
Sarah Skaggs (MA 2016) and Graduate Curatorial Assistant Sophie Jenkins (MA 2020) organized this year's SAIC booth which will feature the work of recent alums including MFA 2019 graduates Julie Boldt, Rosemary Hall, Ed Oh, Parvin Peivandi, and Marie Ségolène.
/Dialogues
Walks to the Paradise Garden: Histories of the American South
Friday, September 20, 2:00–3:00 p.m.
Featuring Jeffrey Gibson (BFA 1995)
100 Years of Bauhaus | Future/Past: Bauhaus Palmistry and Astrology
Friday, September 20, 5:00–6:00PM
Featuring Associate Professor of Photography Jan Tichy (MFA 2009)
 
The Cosmos: Possibilities of a Structure
Sunday, September 22, 2:00–3:00PM
Featuring Edra Soto (MFA 2000), lecturer in Contemporary Practices

Book Launch 
Creative Chicago: An Interview Marathon
Sunday, September 22, 3:00–4:00PM
Featuring Edra Soto (MFA 2000) and moderated by Stephanie Cristello (BFA 2013)

IN/SITU
IN/SITU features large-scale, suspended sculptures and site-specific works including Rodney McMillian's (Post-Bac 2000) Untitled (4443 Prospect Ave.) and Associate Professor in the Painting and Drawing Department Scott Reeder's Kiosk.

IN/SITU Outside
Engaging the city's long legacy of pioneering public art, EXPO CHICAGO presents major initiatives presented in collaboration with the City of Chicago's Department of Cultural Affairs and Special Events, the Chicago Park District, and Navy Pier for IN/SITU Outside to highlight work by internationally recognized artists, including Assaf Evron's (MFA 2013) Collages for the Esplanade Apartments and Claes Oldenburg (SAIC 1951–54, HON 1979) and Coosie Van Bruggen's Architect's Handkerchief.

OVERRIDE | A Billboard Project
Fifteen artists will create work for the fourth edition of the citywide public art initiative OVERRIDE, including Jessica Campbell (MFA 2014), Tony Lewis (MFA 2012), Chris Pappan (SAIC 1994), and Chris Ware (SAIC 1991–93, HON 2019). OVERRIDE has also collaborated with Art on theMart to showcase the work of Chris Ware and Kay Rosen (SAIC 1967–71) during the opening weekend (September 21–22) of Art on theMart's projections.
Curatorial Initiatives
Featuring Allison Glenn (Dual MA 2012) and Felicia Mings (MA 2014).

Art after Hours
EXPO CHICAGO visitors are invited to the numerous art spaces for Art after Hours around Chicago and experience the city's vibrant art scene, among them SAIC's Sullivan Galleries.
Sullivan Galleries
33 S. State St., 7th floor
Reception: Friday, September 20, 6:00–9:00 p.m.

Re:Working Labor
September 21–November 27
 
Envisioning Justice
Through October 12
 
Faculty Projects
Through October 19
 
A Constellation of Instances
Through October 19