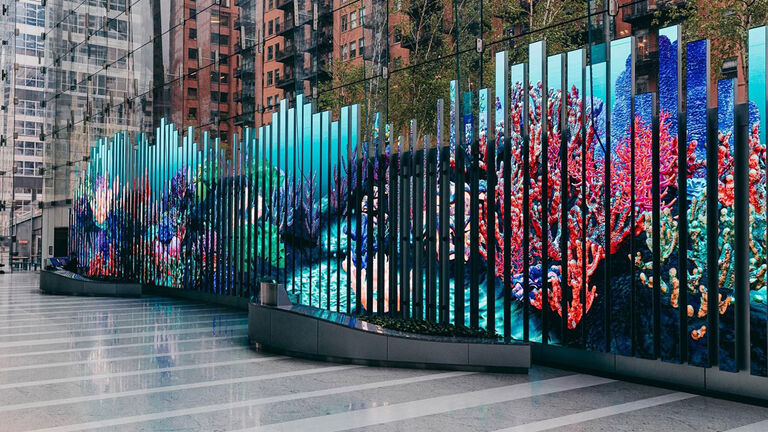 Adjunct Associate Professor Marlena Novak's "Choral" combines visuals depicting reefs with a musical score designed to spark curiosity about the underwater coral ecosystem. Image courtesy Northwestern University via WTTW.
Marlena Novak's Coral Reef 3D Animation Featured on WTTW
Adjunct Associate Professor Marlena Novak's (Film, Video, New Media, and Animation) installation, Choral, at 150 North Riverside Plaza, which immerses visitors into the world of coral reefs, was featured on WTTW news. On display through September 30, the project is the work of Novak and composer Jay Alan Yim.  "Combining art, architecture and technology, Choral offers an immersive look at the underwater world of reefs—a world often overlooked by humans, they say—using 89 vertical LED panels and a musical score of celestial harmonies," reports WTTW.
Their interest in reefs was inspired by personal encounters with them and news of the bleaching of coral reefs occurring due to warming sea temperatures. "At some point it seemed obvious that something seriously problematic was going on with respect to corals worldwide," said Novak to WTTW. The 3D animation artist, along with her former SAIC student assistants, Mak Hepler-Gonzalez, Nathaniel Gillette, Malu Ayers, Snow Xu, and Max Crider, created computer-generated animation depicting the coral ecosystem in all its vivid colors. The 3D animation plays out on a row of LED panels that stretches 153 feet wide and 22 feet tall. Yim created the accompanying score, which is mysterious yet upbeat.