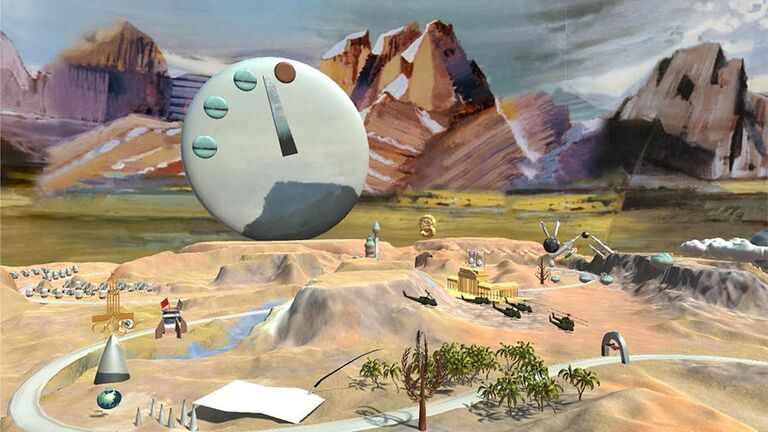 SAIC Alums Featured in Gallery Show Celebrating New Media
Gallery 400's current exhibition, Chicago New Media 1973–1992 features almost 100 contributing artists and is curated by School of the Art Institute of Chicago's (SAIC) Film, Video, New Media, and Animation Associate Professor Jon Cates. The exhibition tells the story of Chicago's contribution to new media history through video games, digital art, video art, and archival materials. Cates credits Chicago with the evolution of new media thanks to collaborative communities that got their start in the '70s.
Pieces by SAIC alums flank the gallery space beginning with films pulled from SAIC's Video Data Bank and projected on the walls at the entrance by artists including Nancy Bechtol (MFA 1984). Forest (1991), a piece to the left of the gallery entrance by SAIC alum Ellen Sandor (MFA 1975, HON 2014), Stephan Meyers, Janine Fron, and Craig Ahmer can only be accessed and visited through a virtual reality headset. Jason Salavon (MFA 1997) uses custom design software to create a bullseye shape that is projected through the entire gallery in a piece called Everything, All at Once (Part III) (2005). As viewers move through the gallery they are confronted by old and new technology juxtaposed with backdrops of American landscapes or other more traditional types of art. The intent is to showcase how Chicago artists paved the way for more contemporary electronic arts. "Their connections were social, artistic, educational, and technological," Cates told the Chicago Reader. "These figures...fostered ethical commitments through new kinds of art, novel in their form and content." SAIC alum Siebren Versteeg's (BFA 1995) post-9/11 piece Emergency (2002) for example is a video played on a flat-screen TV of summer trees and sky played against sounds of emergency vehicles. Chicago New Media 1973–1992 will be on display at Gallery 400 through December 15.