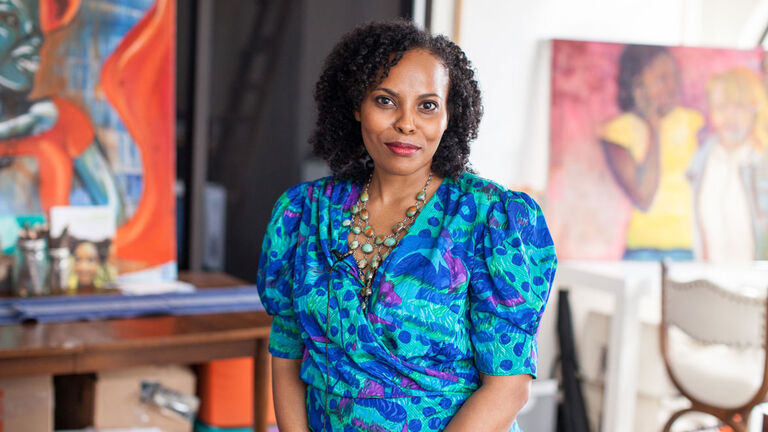 A Long Walk Home Cofounder Scheherazade Tillet Hosts Town Hall at SAIC
Cofounder of Chicago-based national nonprofit A Long Walk Home (ALWH) and SAIC alum Scheherazade Tillet (MA 2005) moderated a town hall at SAIC October 4 joined by Tarana Burke. The #MeToo movement founder joined Tillet on stage for a conversation about the best way to ensure the safety and freedom of Black women in Chicago and ways to shift the focus of the movement.
"It reminds me of Black Lives Matter," Tillet told the Chicago Tribune. "Being founded by three black, queer women, and how the women had to redirect it to create a #SayHerName movement to recenter black women and girls." The town hall was held by A Long Walk Home which according to their website uses art to educate, inspire, and mobilize young people to end violence against girls and women. After the confirmation of Judge Brett Kavanaugh to the US Supreme Court, Burke and other organizers spoke during the town hall to discuss how the movement can better include women of color and create safe spaces that serve their needs. Tillet cofounded A Long Walk Home, Inc. with her sister Dr. Salamishah Tillet in 2003. The organization partners with rape crisis centers, universities, high schools, and state coalitions to provide inclusive programming for underserved communities. ALWH continues to educate survivors and allies on how to build safer communities and end gender violence.