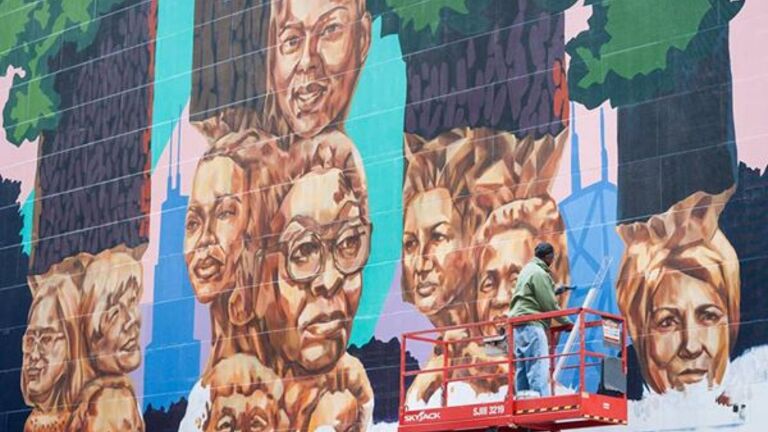 Public Art by SAIC Alumni on Display Now
From Edgewater to Hyde Park, Chicago is increasing its public art with new murals and installations from some of the cities most talented artists including several SAIC alumni. The 17 newly created or restored pieces are now proudly on display throughout Chicago's neighborhoods with even more to come. A full list of the featured works can be found in the article for Curbed Chicago. 
Chicago-based artist Lynn Basa (MFA 2016) has a new design on display in Wicker Park titled Worker Cottage Parklet. It is meant to pay homage to an architectural style of building once frequently seen in Chicago's neighborhoods that in recent years has decreased. Opening later in July comes a geographic installation of large colorful shapes from artist Robert Burnier (MFA 2016) whose installation is titled Black Tiberinus and is a reference to the Roman god of the Tiber River. The piece will be in the riverbank segment of the Chicago Riverwalk. Yuge Zhou (Post-Bac 2013, MFA 2015) has curated a 3,000 square foot screen that has featured many interesting visual displays including one of Chicago's historical past. The current display is a collaboration with Adler Planetarium. Located behind the Chicago Cultural Center, artist Kerry James Marshall (HON 2017) has created his largest mural to date titled Rush More, depicting 20 women instrumental in shaping Chicago's artistic and culture scene. Recent SAIC graduate Ashley Pastore (MFA 2018) has repurposed pieces of a water damaged mural found in Chicago's Union Station and created a new piece for the station's Metropolitan Lounge titled Riding the 4 ft. 8 1/2 in. And finally, Richard Hunt (BA 1957, HON 1979) has designed a permanent monument honoring Chicago's role in hosting the first Special Olympics Games in 1968. The piece is titled Eternal Flame of Hope and resides along McFetridge Drive and Soldier Field's north lawn.