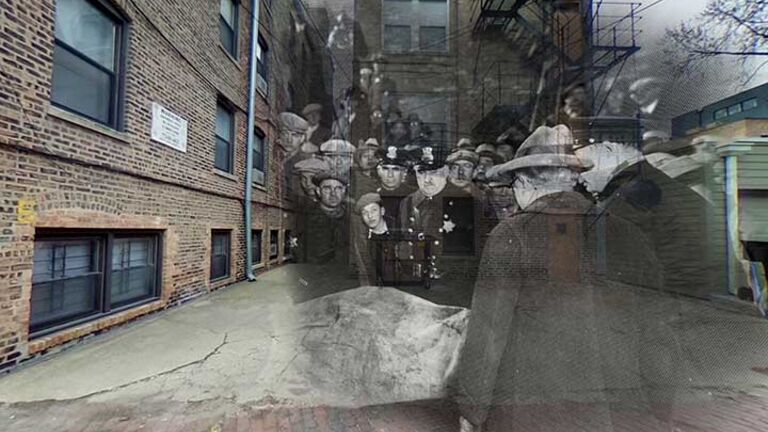 Geoffrey Alan Rhodes' Virtual Reality App Travels Back through Time
Geoffrey Alan Rhodes, filmmaker and associate professor of Visual Communication Design at SAIC, and John Russick, vice president for interpretation and education at the Chicago History Museum—have won the 2018 American Alliance of Museum's Silver MUSE award for Mobile Applications for their virtual reality app, Chicago00 St. Valentine's Day Massacre VR. The app is the latest from the Chicago00 Project, which began with a conversation between Rhodes and Russick, who discussed the potential place new media has in retelling history. This garnered both attention and funding from the Princess Grace Foundation and the National Endowment for the Arts.   
Released in February 2017, the app uses the same technology as Pokemon Go. It takes users to the exact locations where infamous photos were taken of the St. Valentine's Day Massacre of 1929. Superimposing crime scene photos in 360 degrees, the app comes equipped with a narrator that guides the user on a virtual tour of five significant sites. Chicago00 St. Valentine's Day Massacre VR is one of three releases by the Chicago 00 Project. The first in the series, Chicago00 The Eastland Disaster, gives a tour along the Chicago River to where the passenger steamship Eastland capsized in 1915. The other, Chicago00 A Century of Progress, is a tour of the 1933 World's Fair in Chicago.
"We're connecting today's screens with historical cameras—the mobile device of the last century," said Rhodes. "It makes you aware of the photographers throughout history who stood at certain places and times, pointed their lenses, and captured moments." To learn more about the Chicago00 Project, visit their website and download the apps.