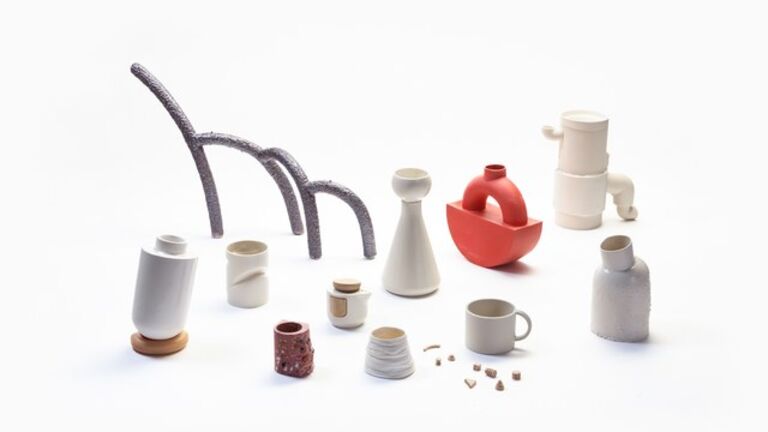 SAIC Students' Drinkware Stands out at Sight Unseen Offsite
The ceramic drinkware created by SAIC students from the Designed Objects program was chosen as a standout presentation at the Sight Unseen Offsite fair by Architectural Digest. Now in its fifth year, this iteration of Sight Unseen Offsite underscores collaboration and category-fluid design, and is spread across New York to fully engage the city.
As a leader in contemporary design, both undergraduates and graduates are showcasing their work—a collection of ceramic drinkware guided by Assistant Professor in the Department of Architecture, Interior Architecture, and Designed Objects (AIADO) Pete Oyler and AIADO Lecturer Jonah Takagi—alongside industry legends. SAIC students participating in Sight Unseen Offsite include Ana Maria Buitrago (BFA 2018), Yuting Chang (MFA 2019), Ben Paul Harle (MFA 2018), Ramón Jiménez Cárdenas (BFA 2018), Kazuki Anno Guzman (MFA 2019), Natalie Rachel Khelif (BFA 2019), Hun Seung Lee (BFA 2018), Nate Patrick Phillips (MDes 2018), Travis Rukamp (MArch 2019), Jacob Samuel Schwartz (BFA 2018), Kevin Solis (BFA 2018), Mingxuan Tan (BFA 2018), Xinda Wang (BFA 2018), Marco Wu (BFA 2019), Kai Ming Yang (MDes 2019), and Saebom Yang (MDes 2019). Five of these students were chosen as talents to watch by Sight Unseen: Ana Buitrago, Ramón Jiménez Cárdenas, Hun Seung Lee, Kevin Solis, and Mingxuan Tan.
Check out Architectural Digest's write-up to learn more about the event.