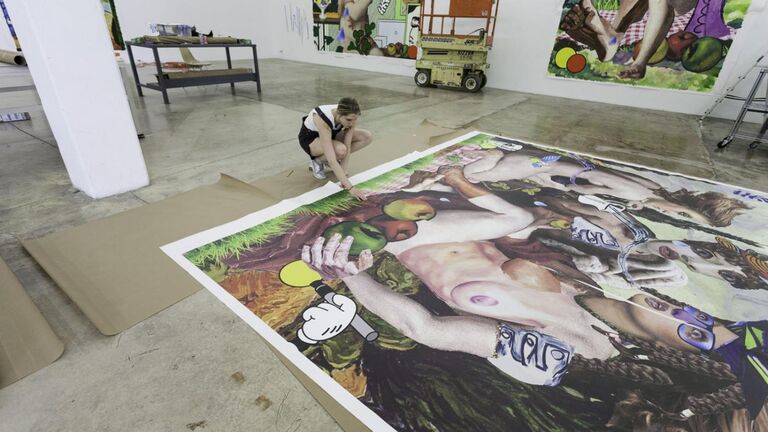 December 4 saw the start of Miami Art Week 2017 and the SAIC community was featured prominently at several fairs.
Allison Zuckerman (Post-Bac 2013, MFA 2015) opened her first solo museum exhibition at the influential Rubell Family Collection during Art Basel in Miami Beach. According to Artnet, Zuckerman was working at a SoHo gallery and painting in her spare time just a year ago. Now, thanks to a digital-first philosophy and a series of lucky breaks, she'll be featured on one of the art world's biggest stages as one of its most prominent rising stars.  Zuckerman's work will also be showing at Kravets Wehby's booth at Untitled Miami Beach.
Also part of the Miami fairs are Petra Bachmaier (BFA 1999) and Sean Gallero (SAIC 1993–98), the artistic duo behind Luftwerk, whose work for Maison Perrier-Jouët was shown at three Miami sites: Design Miami/, L'Eden by Perrier-Jouët, and Miami International Airport . Luftwerk uses projected color and light to reinterpret the Maison's historic links with art nouveau. Read more about their project in the Forbes article. 
As Hyperallergic reported, some of the most exciting work shown was by women artists—more than a few of whom are associated with the School. Fashion Design faculty Cheryl Pope's (BFA 2003, MDes 2010) A Silent I (2016) was a notable piece; large banners hung in rows, sharing inconvenient truths at Fair., an all-women art fair where nothing was for sale.  Also seen in the mix was Reading Women (2012-2014), a photography series by Low-Residency MFA program mentor and SAIC alum Carrie Schneider (MFA 2007) at Untitled Art Miami Beach.  
Nancy Davidson's (MFA 1975) solo exhibition, p e r Sway at local nonprofit Locust Projects, in the artist's words, sought to "change the gender of the space" through leg-shaped columns, curvy inflatable structures, and mock DNA strands, employed in a ritualistic circle.