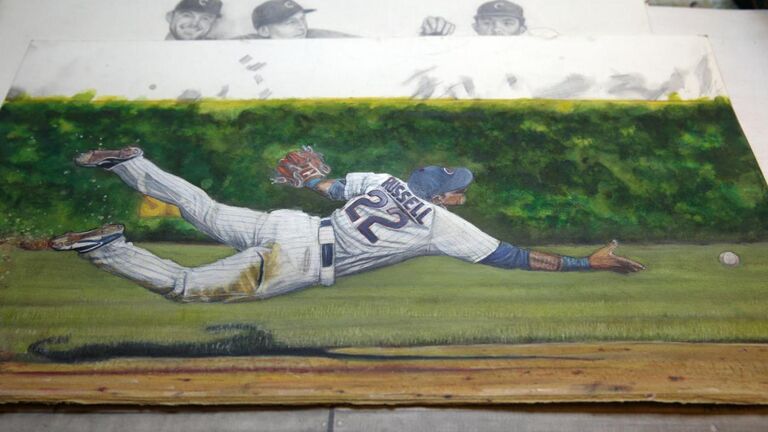 Margie Lawrence Sings Go Cubs Go!
As an SAIC alum, Margie Lawrence (SAIC 1988–90) is in an unlikely position: she's an artist who is also a diehard baseball fan. But according to the Chicago Tribune, she's managed to use her work to bridge the gap between her love of painting and her love of the Chicago Cubs.
From hearing organ noise at Wrigley Field in her elementary school classroom, to watching Sandy Koufax pitch with relatives, Lawrence's memories of the once Lovable Losers run deep; before their 2016 win against the Cleveland Indians, she'd lived through several infamous Cubs collapses, including 1969 (the Mets), 1984 (the Padres), and 2003 (the Marlins and Steve Bartman). Finally seeing the Cubs win a World Series, she began to reflect on her life as a fan—beginning a series of illustrations and paintings that draw on baseball's rich history. Her paintings have been featured in exhibitions across the country, including one next year at the National Baseball Hall of Fame and Museum.
The image that captures the Cubs current moment could also be used to describe the pleasures of art. When Cubs catcher David Ross was carried off the field after they clinched the World Series, for example, Lawrence described him as "near tears."
"There's such a range of emotion," she added.