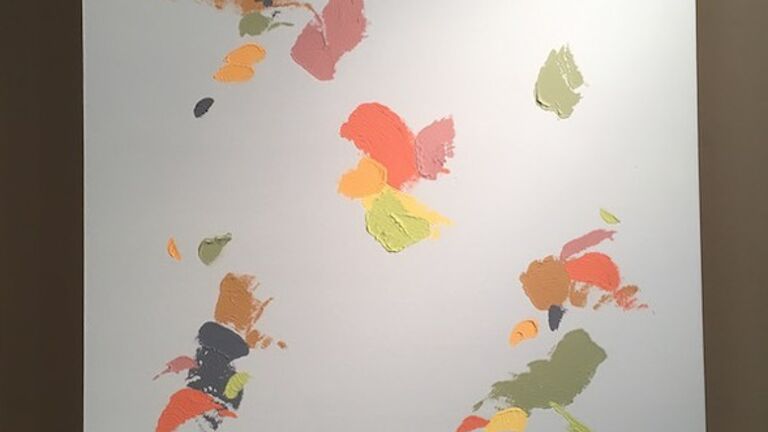 SAIC Highlighted in EXPO CHICAGO Press
The School's faculty, alumni, and student participation at EXPO CHICAGO were much talked about in the event's press coverage. At Artnet, Brian Boucher included Roger Brown's (BFA 1968, MFA 1970) The War We Won (1991) and Sanford Biggers' (MFA 1999) Grip and Grin (2017) on his list of the seven best artworks on offer at EXPO. 
Then, over at the Chicago Tribune, SAIC alum KT Hawbaker (MA 2016) spoke with EXPO founder and president Toni Karman about the event's past and future. West Loop gallery owner Rhona Hoffmann (HON 2015) cited Jeanne Gang's (HON 2013) design work with Stephanie and Bill Sick Professor of Fashion, Body and Garment Nick Cave as an example of the event's growth. Oscar I. Gonzalez (MFA 2017), a recent graduate of SAIC's Fiber and Material Studies department, spoke with Hawbaker about the platform EXPO gives to artists who might otherwise be ignored by the art world masses. Karman, for his part, cited the inclusion of Kerry James Marshall's (HON 2017) work as an example of the fair being unafraid to get political.
Meanwhile, Aimee Levitt at the Chicago Reader was struck by the Tea Project, an installation sponsored by Human Rights Watch that featured a performance and discussion by SAIC alum Amber Ginsburg (MFA 2009). Levitt also mentioned the work of SAIC alum Amanda Ross-Ho (BFA 1998), whose canvases and installations were seen in the booth of Los Angeles-based Praz-Delavallade.