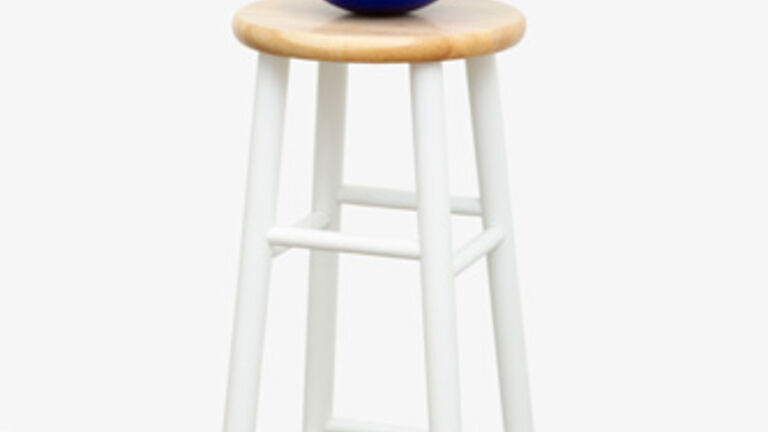 Renowned Artist Jeff Koons Will Donate Artwork To SAIC
CHICAGO–The School of the Art Institute of Chicago (SAIC), a global leader in art and design education, announced that renowned artist and SAIC alum Jeff Koons will donate an artwork to the school, which will be sold to establish the Jeff Koons Scholarship Fund.
The sculpture, titled Gazing Ball (Stool), 2013–2016, is made of polychromed stainless steel, wood, glass, and aluminum. The Gazing Ball series, which Koons began in 2013, references the classical, historical, and the everyday. Each work includes a reflective hand-blown blue glass gazing ball that is commonly used as a suburban lawn ornament. The artwork, valued at $1 million, will be sold at a later date. The proceeds from the sale will provide need-based and merit-based scholarships, to be known as Jeff Koons Scholarships, to undergraduate students.
"Studying at the School of the Art Institute of Chicago helped define my artistic vision, and it is an honor to be able to give students the opportunity to receive a world-class art and design education at such a wonderful institution," said Jeff Koons. "I try to have my art become a vehicle to help others experience growth, enlightenment and a sense of transcendence. Other artists gave that to me in my life, and I'd like to be able to share that experience."
Koons's gift will contribute to the more than $46 million raised to date as part of Beautiful/Work: The Campaign for SAIC. Coming off of a yearlong celebration of its 150th anniversary, the school launched the public phase of its $50 million fundraising campaign just one year ago. More than 1,700 individual donors have made contributions, and alumni have donated a record $10.5 million.
"In addition to being a strong show of support for student scholarships and the Beautiful/Work campaign, Jeff's leadership provides a powerful example of an alum giving back to the SAIC community," said Elissa Tenny, SAIC's President. "We are incredibly grateful for the generous support of Jeff and our alumni community in giving SAIC students increased access, opportunities and resources to help shape our world."
Koons came to SAIC to study under Chicago imagists and SAIC alumni Ed Paschke and Jim Nutt, an experience he's described as being transformative to his development as an artist. In 2008, SAIC awarded Koons an honorary doctorate for his influential and thought-provoking career and work, some of which is on display in the Art Institute of Chicago. 
About the School of the Art Institute of Chicago
For 150 years, the School of the Art Institute of Chicago (SAIC) has been a leader in educating the world's most influential artists, designers, and scholars. Located in downtown Chicago with a fine arts graduate program consistently ranking among the top three graduate fine arts programs in the nation by U.S. News and World Report, SAIC provides an interdisciplinary approach to art and design as well as world-class resources, including the Art Institute of Chicago museum, on-campus galleries, and state-of-the-art facilities. SAIC's undergraduate, graduate, and post-baccalaureate students have the freedom to take risks and create the bold ideas that transform Chicago and the world—as seen through notable alumni and faculty such as Michelle Grabner, David Sedaris, Elizabeth Murray, Richard Hunt, Georgia O'Keeffe, Cynthia Rowley, Nick Cave, Jeff Koons, and LeRoy Neiman. For more information, please visit saic.edu.