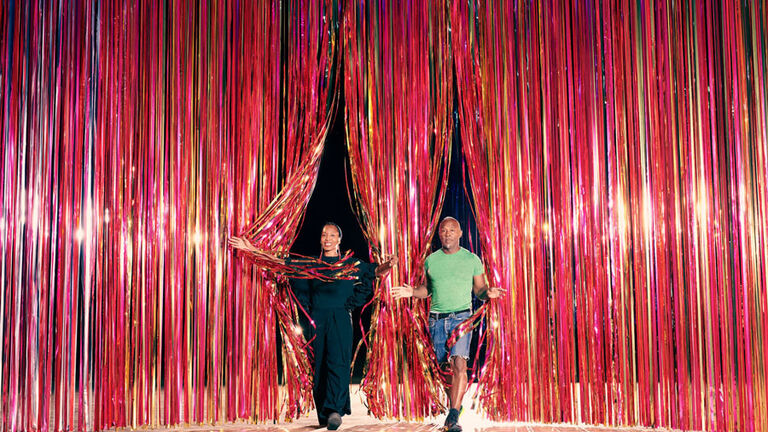 Nick Cave and Ni'Ja Whitson Awarded Bessies
Nick Cave, artist and Stephanie and Bill Sick Professor of Fashion, Body and Garment and Ni'Ja Whitson (MFA 2007) were mentioned in the New York Times in an article reviewing the recipients of this year's Bessies, the New York Dance and Performance Awards. Cave was awarded Outstanding Production for his piece titled, The Let Go while Whitson was awarded for Outstanding Visual Design for the piece, Oba Qween Baba King Baba. The Bessies have celebrated outstanding and groundbreaking creative work by independent dance artists for 35 years. 
About Cave's winning piece, the Bessies' website says, "For creating a ritual using colorful full-body masks, a moving stream of mylar, the choral uplift of the Sing Harlem choir, and Francesca Harper's inspired choreographic structures, the piece invites us to lose ourselves and find each other in this divisive time."
As for Whitson's piece, the Bessies states, "For its innovative use of projection and light, using ceiling, wall, floor, audience, and dancers' bodies as vessel and canvas. For mixing live performance, recorded and live video, and shape-shifting costumes to create a world of beauty, power, myth, and reality."
The Bessies Awards, which is partnered with Dance/NYC and the New York Dance and Performance Awards "recognize exceptional work in choreography, performance, music composition and visual design," says its website. For the full list of winners visit bessies.org.