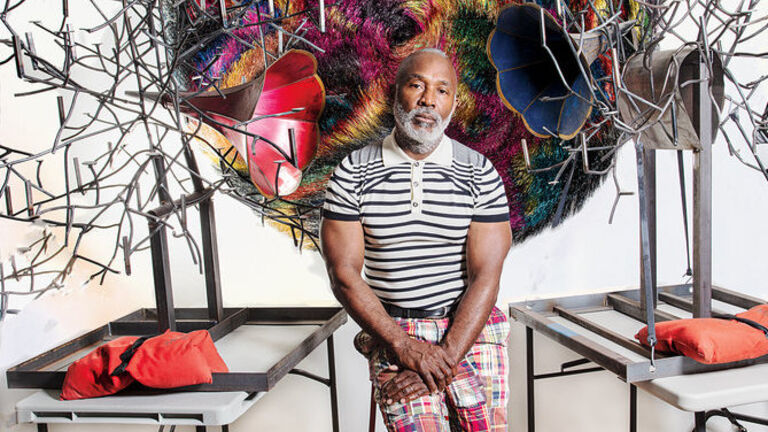 Nick Cave Named One of the Greats
"Nick Cave Is the Most Joyful, and Critical, Artist in America," reads the headline of a feature article about the artist and Stephanie and Bill Sick Professor of Fashion, Body and Garment, Nick Cave in the latest issue of the New York Times T Style Magazine. In the annual "Greats" issue, out on October 20, the magazine "celebrates four talents who, in mastering their crafts, have changed their fields—and the culture at large." Acclaimed artist Cave is featured alongside Oscar-winning actor Rachel Weisz, Louis Vuitton's artistic director Nicolas Ghesquière, and world-renowned architect Shigeru Ban.
The article, which was written by Lecturer Megan O'Grady (New Arts Journalism), gives an up-close-and-personal look into the artist's life. From watching the traveling fashion show, Ebony Fashion Fair, to memories about his mother and the AIDS crisis, Cave recounts experiences formative to his outlook. Speaking of how his mother would entertain them, Cave says, "It's nothing, but it's everything," he says. "You're just totally captivated. It's these moments of fantasy and belief that's also informed how I go about my work."
"For all his multi-hyphenates, 'teacher' may be the role that best sums up his totality of being. 'When someone believes in your work, it changes how you see your future,' he says." Through his new multidisciplinary art space, Facility, Cave has established an art competition and prizes for Chicago Public School students and funded a special award for graduate fashion students at SAIC. Currently, Cave is working on a new series of bronze sculptures, which include casts of his own hands, the first of which is meant to debut at Miami's Art Basel in December, and his presentation Until will be on view at the Momentary, an art space satellite to the Crystal Bridges Museum of American Art in Bentonville, Arkansas, from July 18, 2020, through January 3, 2021.