The School of the Art Institute of Chicago hosts programs for the North Lawndale community in our 12th-floor classroom at Nichols Tower in Homan Square. Courses, workshops, and events are offered in a variety of formats and for audiences aged nine and up.
Youth Classes and Internships at Homan Square
Youth Programs provide a stimulating environment for students to explore their artistic potential with an emphasis on problem-solving. Projects incorporate a variety of materials and methods including drawing, painting, sculpture, and mixed media. In addition to learning to work with different materials, students will learn to use art as a tool to foster self-awareness, to reconcile conflicts, and personal expression. The skills provided help students develop as critical thinkers, preparing them to use art as a tool to better understand themselves and the world around them.
Free Adult and Intergenerational Workshops
The School of the Art Institute of Chicago (SAIC) hosts programs for the North Lawndale community in our 12th-floor classroom at Nichols Tower in Homan Square. Courses, workshops, and events are offered in a variety of formats and are intended for audiences aged 13 and up.
To see previous classes and workshops, visit our project gallery.
For more information, please visit our public programs registration page.
Community Care Sessions
Community Care Sessions fosters the mental and emotional healing of black communities by building sustainable and revolutionary ways of loving and supporting each other. It is a program that promotes Black identity but also merges art and creative activities with a specific focus on promoting individual and family wellness goals.
Partnerships
WALK-H
WALK-H is an ongoing community project focused on neighborhood walkability that began in fall 2019 with community activists, youth, SAIC faculty, and alumni. In 2019, students focused on identifying barriers to walking in the 0.5-mile radius of the Kedzie-Homan Blue Line. For a copy of the final report, please email Jaclyn Jacunski at jjacun@saic.edu.
In fall 2020, community youth, Lawndale transportation activists, and SAIC degree-seeking students continued the project forward by collaboratively contributing to the initiative through three WA|K-H classes. This three-part curriculum—made up of Lawndale Civic Design youth class, SAIC Design @ Homan Square, Design Action: North Lawndale—fulfilled the fall 2020 phase of WALK-H. 
In spring and summer of 2021 and 2022, the expansion of WALK-H programming to include two 8-week spring and summer 2022 Lawndale Civic Design courses and paid internship for North Lawndale high schoolers, which engaged students in community-based artmaking, identifying and developing key elements for an Asphalt Art mural installed at Kedzie and Homan in October 2022. The installation of the streetscape interventions was marked with a large-scale community event. 
WALK-H engaged North Lawndale high school students in the research and design of the final streetscape interventions for the Kedzie-Homan intersection through the Lawndale Civic Design Course. These high school students put their personal markers of investment into the project through the self-portraits painted and installed facing the intersection, "watching over" their work.
Streetscape improvements included repaving the street (fulfilled by the Chicago Department of Transportation), the installation of delineator poles painted by Douglass Park Art and Community Festival attendees, and self portraits by high school students on a vacant lot facing the intersection. Sidewalk paintings done by community members used two motifs from nature: butterflies, representing the transition to safety, and koi fish, which speak to the spread of Asian carp from the American South to Chicago (mirroring the Great Migration) and an examination of environmental justice and "invasive" species.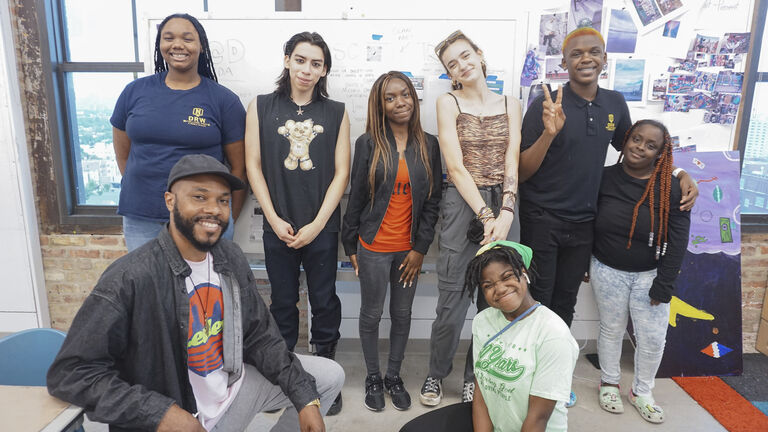 In the youth class Lawndale Civic Design, Lawndale youth conducted research that examined barriers to walkability at the Harrison-Homan intersection by conducting interviews and collecting oral histories. The data collected in this course then informs the visual and physical design solutions that SAIC degree students produced in several Architecture, Interior Architecture, and Designed Objects (AIADO) degree classes. Youth in Lawndale Civic Design developed and nurtured their observational skills, gathered oral histories, and collaborated with college-age and graduate-level students at SAIC. This collaboration provides a reciprocal benefit to both Lawndale youth and SAIC students: It gives youth an opportunity to visually communicate the impact of neighborhood gas stations on their community while offering SAIC students experience in developing resident-led, community design solutions.
Lawndale Civic Design engages neighborhood youth through design and urban infrastructure and coordinates projects with SAIC Design @ Homan Square degree class. This class dives into aesthetics, ways to use visual language to represent ideas, and connections between social and physical environments. The students' work culminates in an end-of-year exhibition in which a portfolio piece is displayed. One of the course's outcomes is to learn how to visualize data through the use of mood boards to describe North Lawndale's neighborhood aesthetic. These were then shared with AIADO degree students.
To watch the student presentations from our Fall 2020 youth course, visit our YouTube Channel.
CCA Academy is a high school located in Chicago's North Lawndale Community. Since 1978, CCA Academy provides non-traditional students, ages 17-21, a chance to earn a high school diploma and the training needed to seek gainful employment. Since 2019, SAIC at Homan Square has partnered up with CCA to create projects benefiting the students, and the North Lawndale neighborhood at large. SAIC supports CCA students by collaborating with artists and designers in non-hierarchical ways, supporting outreach, project management and building collaborative relationships between faculty, artists, and North Lawndale residents.
The first collaboration between SAIC and CCA was "Perma Park Food Forest'," a CCA student-designed "food forest" and urban farm that addresses North Lawndale's lack of access to fresh food. It allows students to explore practical green-workforce skills and use hands-on learning to brainstorm solutions and address the problems of living in a food desert. The following artists have all worked in PermaPark on shorter small-scale projects: Odile Compagnon, Howard Peller, Pete Poli, Heather Haskins, Eric Widitz, and The Bittertang Farm. More info on Perma Park can be found here.
In 2019, SAIC (artists Bo Rodda and  Eric Hotchkiss) worked with CCA to create the "I AM"  Speaker through a series of workshops that culminated in a public art installation and used science, technology, engineering, art, and math (STEAM) concepts as the core of its creation. The installation is a solar-powered speaker camouflaged as limestone rock in the park, which plays recordings captured by students from CCA who respond to the prompt, "I am…"
In Summer 2021, the institutions partnered up with the Chicago Architecture Biennial and the Danish Arts Foundation to create the "Soil Lab Project", built in collaboration with locals on a vacant lot on 1310 S. Pulaski Avenue. Soil Lab is an outdoor kiln and ceramics workshop that aims to foster community-making by activating the lab with workshops related to crafts, producing and designing.
SAIC at Homan Square looks forward to continuing the partnership with CCA Academy in the future.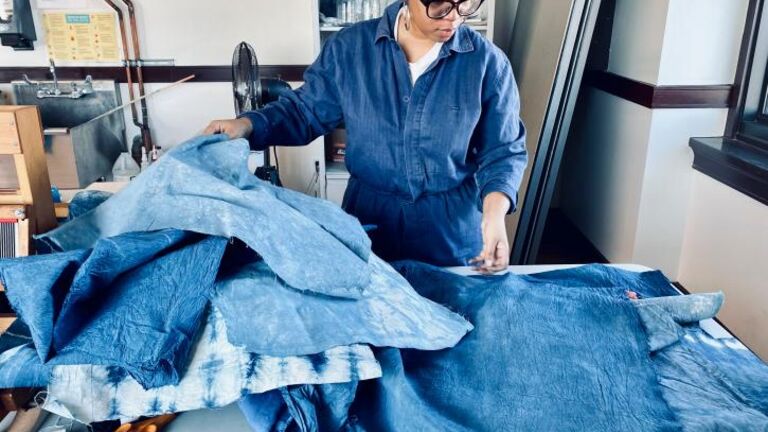 Denim Lab is a fashion design, business incubator and research lab for adults 18 and up to learn how to work with natural dyes and textiles while also gaining start-up entrepreneurial skills to launch a commercial product line. The course will use the history of African Indigo and study contributions of African American fashion in denim as themes to learn about natural dyeing, contributions from African American designers, environmental sustainability in fashion, and online business platforms. This lab is dedicated to sharing the value of craftsmanship while increasing workforce inclusivity, digital literacy, and opportunities for artisans and designers in Chicago.
During 14 sessions, twice a week for 8 weeks, the lab will combine learning about textiles, starting with ancient indigo growing techniques, and construction and pattern-making. There will be research on influential historic fashion movements from workwear to contemporary streetwear. Additionally, this program will teach participants how to create and initiate research to create a sellable product line. There will be opportunities to work with the School of the Arts and Design of Chicago.