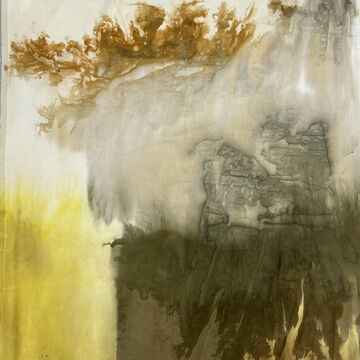 Alanna Huck-Scarry
I find inspiration in Nature and the human body: the dense midwestern prairie, the chartreuse of city-pond greens, the vastness of the Lake Michigan horizon, but also, in the similarities between my curved hips and the gentle bend of a sand dune's summit; the impermanence of physical imperfections and the impermanence of a budding spring flower. In my work I try to find connections between my body and the world in which I live in hopes of exploring greater existential questions about both.
My process is impacted by the certainty and uncertainty inherent in collaborating with Nature. Materials such as natural dye can be temperamental; the dye bleeds, the colors shift, and hours (or days) later the result is a totally different image. My joy in watching the natural world around me is in its unpredictability, and nothing closer matches that, in my opinion, than the unpredictability of the changing body. At the same time, I find joy in the knitting of an acorn-dyed tapestry that echoes the predictable repetition I might find in radially patterned coneflower petals. In my work, I try to honor the certainty of Nature's cyclical rhythm while also finding harmony in Nature's impermanence by incorporating both in my process.
The certainty and uncertainty that exist in both my body and the natural world is something I find endlessly fascinating and mysterious. Exploring both subjects through my practice I find ways in which they intersect and influence one another. The connections help me better understand myself.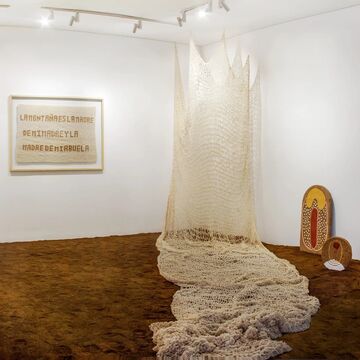 Gabriela Estrada Loochkartt
Gabriela Estrada is a Latin American, ecofeminist woman. Inhabiting her territory is the seed of her work. She built an unusual house, a nest with breathing walls, where inner life is born in conversation with the mountain that holds it. In her work she seeks to approach the earth from listening, not from imposition, because nature has been exploited by patriarchy as a capital that endlessly feeds the man. She is a bird woman who weaves her house and offers it to the earth.
Gabriela takes her house to other places and opens questions on how we have inhabited the world and on how we may do it from care and awareness. She weaves houses to remind us that we must curl up, as we once did in the uterus, our first house, but this time in the earth, which is also a sacred feminine womb where we are protected and which we must protect. The mountain, the house, and the uterus are grandmothers and mothers.
Gabriela honors the mountain as a body. Weaving the mountain allows her to be inside of her and to carry her skin. Weaving her is watching over her memory so that it remains unerasable.
Ellie Dale Anderson
Ellie Dale Anderson is a fiber and sculpture artist from Michigan. Through familial traditions, memories, and scientific findings she works to explore the ever vast relationship we hold with the natural world. Through walking and gathering materials to incorporate into her pieces, she creates an ecosystem of found objects and memories. By looking at the past lives of these materials she reimagines a new future. Common objects such as rocks, sticks, broken glass, seed pods and grocery bags are transformed. By changing common materials she contemplates new ways to envision our world and the fragility of its systems. In the process of making these ecosystems, objects are wrapped, dipped, and woven together.  She sees wrapping and weaving these materials together as an act of care towards the object in hopes of preserving it. In the process of making she reflects on stillness, gesture, and the act of mending.  Common source imagery that informs her practice comes from cellular structures of plants that she holds childhood memories with.  She is fascinated by these molecular structures and their similarities between woven thread.  Together she sees her work as a site where a patched collection of interconnected moments can coexist.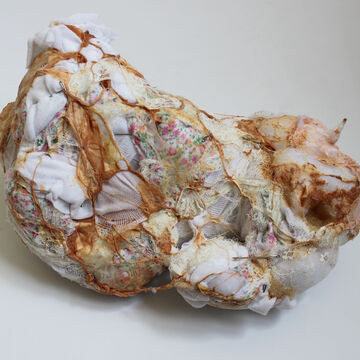 Theo Trotter
My work references the trans body as a palimpsest, through the marks of transformation and trauma that manifest on it. It deals with the idea of transformation as a necessary and transcendent, but simultaneously painful experience by utilizing the tension between beautiful and disgusting visual elements. This conflict between attraction and repulsion also represents injury and healing. I address visceral bodily experiences at the point where language begins to fail, dealing with, among other things, physical harm to the body, and the injury of forced femininity.
I utilize a variety of different media including textiles and latex. What many of my materials have in common is a pliability and vulnerability that mimics the flesh. I am drawn to other materials, such as lace, because of the closeness and intimacy to the skin that they evoke. Touch is an essential part of my process, and sometimes remains visible in the work as imprints in the materials. I am always in conversation with the materials, at once injuring or harming them, and allowing their nature to shape the trajectory of my work.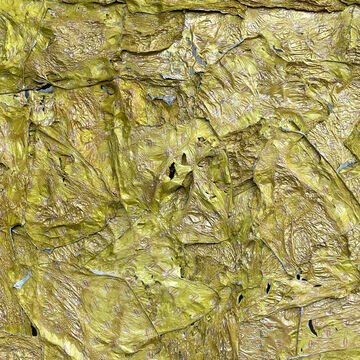 Bishal (Bhaikaji) Manandhar
Bishal Manandhar is a visual artist who sees the value, potential, and richness in the unseen and discarded objects around us. Anything, that is overlooked in people's lives and is treated as "waste" becomes the starting point of Manandhar's art practice. As a Nepali immigrant, Manandhar was in shock when he moved to the USA and saw how much stuff people use and throw away. While growing up, everything was used until it stopped functioning or was used up. Reuse was a survival strategy, not just an environmental concern. Coming from this background, Manandhar came to see "trash" as something full of beauty and life. He does not see them as lifeless objects, but objects with a voice and a new hidden use; the ability to be something that brings us aesthetic pleasure.
After seeing the waste produced in the US, Manandhar was compelled to use it in his art rather than consuming new materials. He recycles existing materials, including discarded burlap rice bags, tea and coffee packaging, plastics, tea bags, soda cans, and milk cartons into visually captivating art works. Another part of Manandhar's practice is the act of collecting all these objects either from his own home, friends, or the restaurants he has worked at. Once he has obtained the materials, everything is sent through various transformations, a process which brings great joy. His artistic practice creates new art pieces through repetition, juxtaposition, and the building of unusual textures by layering, melting, stitching, sewing, and stacking materials together.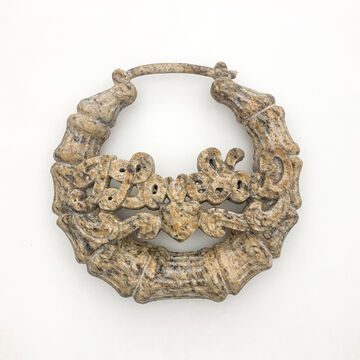 Merryn Omotayo Alaka & Sam Frésquez
Merryn Omotayo Alaka
Merryn Omotayo Alaka (b. 1997, Indianapolis, Indiana) is a Nigerian and American artist who holds a BFA in printmaking from Arizona State University, Tempe, AZ. Alaka's applied creative practice has been intuitively rooted in an exploration of collective memory and identity with a curiosity for how the histories of the Black diaspora are preserved and reproduced. Through themes of ritual, mythology, transformation, and bodily autonomy, she conceptualize safe spaces as a necessary strategy for passing on intergenerational imagery, narratives, and traditions for a people who's histories are constantly erased, misrepresented, and misinterpreted. Materiality and cultural ephemera within her work serve as vessels chronically personal or collective experiences, concentrated on Black queer subjectivity. Alaka uses hair materials and adornments, textiles, fibers, and woodworking along with craft based processes tied to the African diaspora as a way to connect with both past and future generations. Pattern making has served as an integral component of her work as a non verbal visual language and metaphor for the repetition of knowledge and traditions continually passed down.
Omotayo Alaka has exhibited at institutions including the Phoenix Art Museum, Tucson Museum of Art, Scottsdale Museum of Contemporary Art, and. Omotayo Alaka is the recipient of the 2022 Lehman Emerging Artist Grant from the Phoenix Art Museum. Merryn Omotayo Alaka currently lives and works in Chicago Illinois , her work is represented by Lisa Sette Gallery.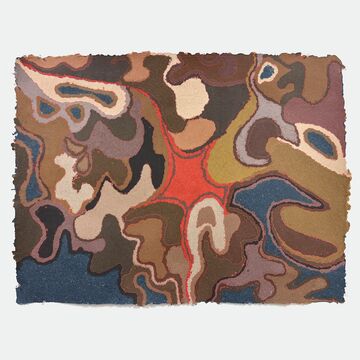 Denim, Pigmented Cotton, and Ink by Aidan Anne Frierson
Aidan Anne Frierson
Aidan Anne Frierson (they/she) is a Southside Chicago community member primarily practicing within the realms of: Handmade Papermaking and Hand Poke Tattooing. Frierson explores the physical and social practice of indelible mark-making on impermanent vessels. Frierson approaches both Handmade Papermaking and Hand Poke Tattooing as forms of citation and practices of care.
Through Hand Poke Tattooing, Frierson investigates a working timeline of experiences relevant to memory and nature using Black, Grey, and White ink in collaboration with people.
Handmade Papermaking serves as a vessel for Frierson to physically process what is lived and what is felt. Frierson engages with color, texture, size, and pattern by associations with people, places, and experiences.
Interconnected by the stories of our lives and the places we've experienced, indelible moments in time leave indelible marks in our mind. 
Jiashun Zhou
Krista Chalky
Adrienne Weiss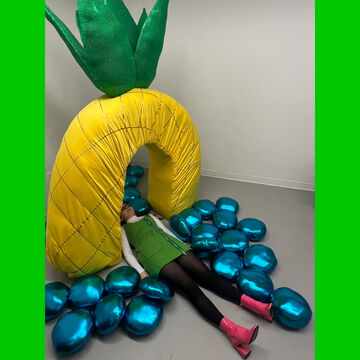 Libby Evan
Libby Evan is a multimedia artist focused on soft sculpture. She is from Albany, NY. She is a current MFA student in the Fiber and Material Studies Department at the School of the Art Institute of Chicago. She graduated from Washington University in St. Louis, The Sam Fox School of Design and Visual  Arts with a BFA in Studio Art in May 2020. Her practice breaks down the facade of being okay on the outside but no so much on the inside. Previous exhibitions include a pop-up exhibition at CAM St. Louis, The Full Light of Day at VAE in Raleigh, Art St Louis' Varsity Art XXIV, and Connected: VSA Emerging Young Artists Exhibition. In 2019, she was awarded an Award of Excellence for emerging young artists with disabilities at the Kennedy Center. In 2020, Evan was featured in Home Sick, an international juried exhibition in Poughkeepsie where she was awarded second prize.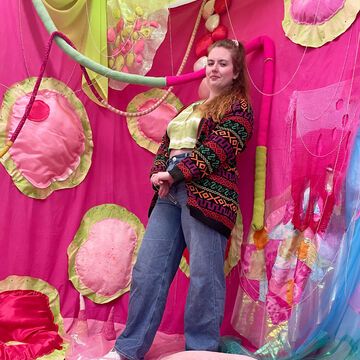 Mel Ramaker
Born in rural Pennsylvania, brought up in a strict conservative Christian community. In a lot of ways this has shaped who I am today, but mostly in terms of what kind of life I don't want to lead.
I seek to create the world I see inside my head. I am drawn to themes of childhood creativity, embracing life and death, as well as understanding the human experience and the powerful presence of a woman untethered from other people's ideologies.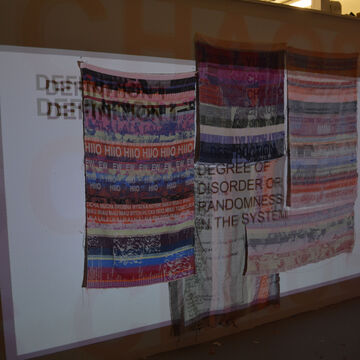 Emilka Wolniewicz
Emilka is an artist, writer, and researcher. Her discipline is grounded in trash manipulation, weaving, collage, embroidery, surrealist automatism, photography, video installation, and heavy conceptual thought. She is fascinated by politics of consumerism, collected materials - trash, mainly - craft, theory of objects, and the aesthetic experience. Guided by words (1), and working through hand and body, Emilka manipulates and plays with her material, creating layered after lives for her belongings. Her practice investigates the relationships between us and multifaceted waste, with acute detail to process, texture, and ornamentation.
Emilka Wolniewicz (she/her) is a MFA candidate in the Fiber and Material Studies Department at the School of the Art Institute of Chicago. Emilka holds a B.S. in Nutrition and a B.A. in Human Physiology from the University of Minnesota.
(1) 
ENTROPY
CHAOS
ORDER
DISORDER
DECONSTRUCTION 
RECONSTRUCTION 
REJUVENATION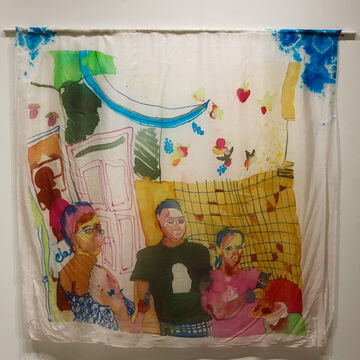 Brianna Perry
I'm kinda like if Azealia Banks was getting her MFA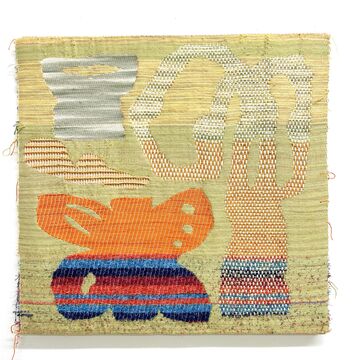 Xingyi Zhao
Xingyi Zhao is a Chicago-based artist who draws pictures, prints impressions, traces marks, weaves images, winds yarns, ties knots, and takes daily notes. She observes, collects, and rearranges.
Chelsea Bighorn
Jiajun Song
Raisa Kabir
Aleksandra Wałaszek
Madison Nelson
Disclaimer: All work represents the views of the individual artists and authors who created them and are not necessarily reflective of the School or museum of the Art Institute of Chicago.