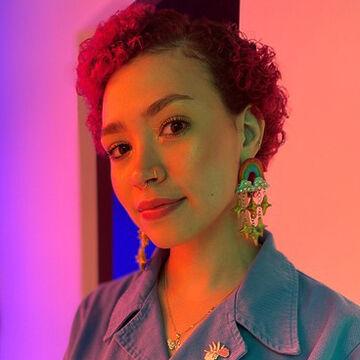 Angelik Vizcarrondo-Laboy
Angelik Vizcarrondo-Laboy (She/Her) is a New York and Los Angeles-based curator, writer, and arts administrator focusing on contemporary art and craft, with a special interest in increasing the visibility of artists of color. Her research interests include humor, leisure, and the aesthetic of cuteness. She serves as Assistant Curator at the Museum of Arts and Design (MAD), New York. She also manages MAD's Burke Prize, a contemporary craft award, and curates its accompanying exhibition.
In 2020, Vizcarrondo-Laboy curated Clay Is Just Thick Paint, an exhibition of Jennifer Rochlin's ceramics for the Jane Hartsook Gallery, New York. She is also a 2020 Curatorial Fellow at the Center for Craft, North Carolina. As part of this fellowship, she is curating Sleight of Hand, a group exhibition on the power of humor in ceramics as a tool of resistance, resilience, and healing through the lens of artists of color, which is slated to open this November. In 2018, she began an initiative that uses social media's immediacy and influence to share artists' practices with a broader community to highlight artists of color working across different artistic disciplines, especially in craft.
She holds a BA in Art History from the University of Florida with minors in Anthropology and Ceramics and an MA from the Bard Graduate Center, New York in Decorative Arts, Design History & Material Culture. Vizcarrondo-Laboy was born and raised in Puerto Rico.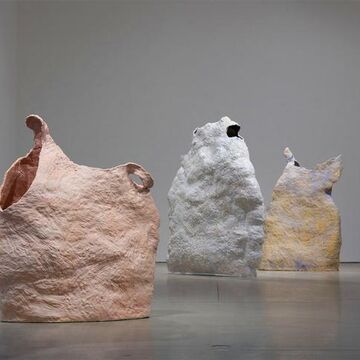 Anabel Juarez
Anabel Juarez (b. 1988) is a visual artist currently based in Los Angeles, California. Juarez's creative work is diverse in theme and style. Often working on different bodies of work simultaneously; she creates both sculptural and two-dimensional pieces that range from intimate handheld to large scale.
Anabel Juarez earned a BFA in ceramics from California State University, Long Beach in 2013, and an MFA in Art from the University of California, Los Angeles in 2017. Her work has been exhibited nationally and internationally in galleries such as Monte Vista Projects, UCLA New Wight Gallery, Five Car Garage Gallery, and Lefebvre et Fils Gallery. Additionally, some of her work is held in the permanent collection of the French National Ceramics Museum-Sevres. She is the recipient of multiple awards; including The UCLA Graduate Division Award, Laura Anderson Scholarship, and the UCLA Graduate Opportunity Fellowship Program Scholarship along with many others.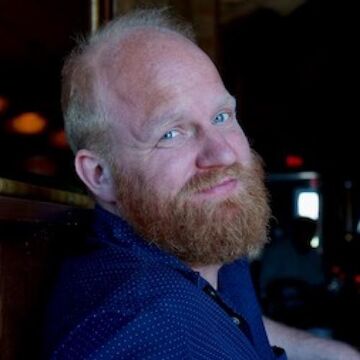 Anders Herwald Ruhwald
Anders Herwald Ruhwald (born 1974 in Denmark) is a sculptor and installation artist whose practice is grounded in ceramics. He lives and works between Detroit and Chicago and received his MFA from the Royal College of Art in London in 2005. Solo exhibitions include Century Garden, Indianapolis Museum of Art, USA (2020); The Anatomy of a Home at Saarinen House in Michigan (2012), You in Between at Middlesbrough Institute of Modern Art in the UK (2008) and more than 30 gallery and museum solo-shows as well as more than 100 group-exhibitions around the world.
His work is represented in over 25 public collections internationally including The Victoria and Albert Museum (UK), Musée des Arts décoratifs (France), The Philadelphia Museum of Art, The Detroit Institute of Arts, The Denver Art Museum, The National Museum (Sweden) and The Museum of Art and Design (Denmark). His work has been featured in publications like Vitamin C published by Phaidon as well as the New York Times Magazine, Guardian (UK), Forbes Magazine, The Architects Newspaper, Frieze, Hyperallergic and Avenuel (Rep. of S. Korea). Ruhwald has lectured and taught at universities around Europe and North America and has held an associate professorship at the School of the Art Institute of Chicago. From 2008-2017 he was the Head of the Ceramics Department at Cranbrook Academy of Art in Michigan, USA. He was a visiting professor at the National Academy of Arts in Oslo, Norway from 2018-2022.
Glenn Adamson
Glenn Adamson is a curator and writer who works at the intersection of craft, design history and contemporary art. He has previously been director of the Museum of Arts and Design; head of research at the V&A; and curator at the Chipstone Foundation in Milwaukee.
Adamson's publications include Fewer Better Things (2019); Art in the Making (2016, co-authored with Julia Bryan-Wilson); The Invention of Craft (2013); Postmodernism: Style and Subversion (2011); The Craft Reader (2010); and Thinking Through Craft (2007). He contributes regularly to Art in America.
Adamson was the co-curator of  Crafting America at Crystal Bridges Museum of American Art (2021); Objects: USA 2020 at R & Company Gallery (2021); Voulkos: The Breakthrough Years at MAD (2016); Beazley Designs of the Year 2017, at the Design Museum, London; and Things of Beauty Growing: British Studio Pottery, at the Yale Center for British Art (2017). His biographical study of the artist Lenore Tawney is included in the John Michael Kohler Art Center's exhibition catalogue Mirror of the Universe.
 His book Craft: An American History was published by Bloomsbury in January 2021. He is currently at work on A Century of Tomorrows, a new book about the history of the future.