Michelle Davo Ortiz (Dual '24)
Michelle Davo Ortiz is an arts administrator and researcher from Mexico City. She is carrying out the dual degree at SAIC with the support of the Fulbright-Garcia Robles fellowship, the Jumex Museum scholarship, and the SAIC's Pritzker Scholarship. Since 2018, Michelle has worked as the project coordinator of El Insulto Archive, where she co-curated the exhibitions "Please touch. Embracing the Memories of Desire" at La Postal-Terremoto and "A Particular Collection" at Noche de Archivos Abiertos. She has also worked as the Communication Coordinator of Vulgar -- a sex education collective focused on pleasure and social justice, a curatorial volunteer for Museo Nacional de Arte, and a mediation volunteer for Museo Jumex de Arte Contemporáneo. Her research centers on the intersections of sexuality, affect, and social justice in theoretical and historiographic arts studies.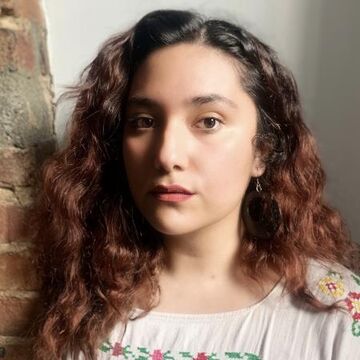 Maya Ortiz Saucedo (Dual '24)
Maya Ortiz Saucedo (Dual 24') is a curator, artist, writer and researcher from Chicago, IL. Born and raised in Humboldt Park and Pilsen, her work revolves around studying the effects of art, artists and arts institutions on housing, space and community. After receiving her BFA from the Rhode Island School of Design in 2018, she worked and interned at various museum institutions, including the National Museum of Mexican Art in Chicago, IL and The Whitney Museum of American Art in New York, NY. Her writing has been featured in The Latinx Project NYU's publication Intervenxions (Adopting Performance: A Conversation with Benjamin Lundberg Torres Sánchez, Sept 1, 2020), and most recently in the publication Digimyths (Notes on Navigating the Colonial Universe, 2021). As a curator and researcher, she has focused on Latinx Art, specifically within the US. Her most recent work as a researcher has been Maelstrom: A Visual Essay with artist Teresita Fernández (Nov. 2020)  and recently curated the group exhibition HILOS at LatchKey Gallery, New York.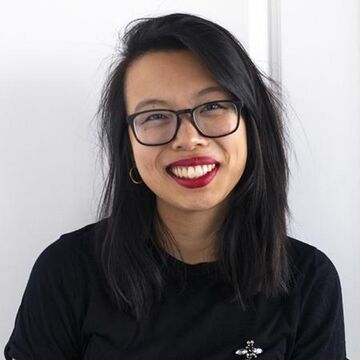 Erica Cheung (Dual '24)
Erica Cheung is a Chicago-based arts professional, writer, and artist. Building on prior experience in the commercial art world, she is currently a third-year student in the Dual Degree MA Arts Administration and Policy and MA Modern and Contemporary Art History, Theory and Criticism program at the School of the Art Institute of Chicago. Her primary areas of interest include contemporary photography, immigrant and diasporic narratives, futurist modes of thinking, and the structure and function (or lack thereof) of arts institutions.
Within her arts practice, Erica is interested in Asian American identities and the tensions that arise through these identities' various intersections with popular culture and media, traditional immigrant family values, the environment, and race relations in America. Her personal work manifests itself in a range of media, including photography, text, collage, and experimental sound and video. Erica received a BA in English and Visual & Dramatic Arts with a concentration in Film/Photography from Rice University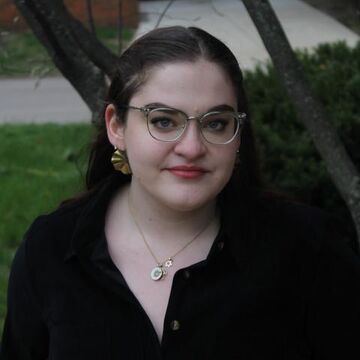 Lauren Woolf (Dual '24)
Lauren Woolf grew up in the suburbs of Philadelphia and spent her childhood exploring museums and cultural landmarks in the Northeast U.S, which cultivated a love for art history and the museum. She graduated in May of 2021 from Beloit College, having pursued a double major in History and Art History with a minor in Museum Studies. In her undergraduate years, Lauren worked and interned at a number of organizations, including the Mercer Museum and Bucks County Historical Society, James A. Michener Art Museum, Wright Museum of Art, and Philadelphia Museum of Art. Lauren is a third-year student in the Dual Degree Master's program in Art History and Arts Administration at SAIC. She is interested in 20th century Eastern and Central European applied arts through queer and transnational lenses, legacies and impacts of the historic museum, resource accessibility in public art spaces, and exploring the museum's role today.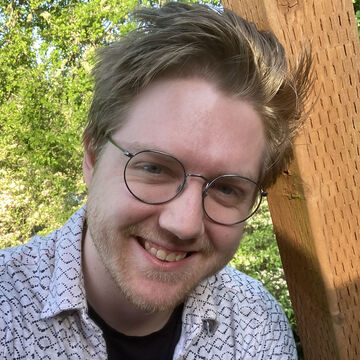 Glenn B. Rust (MAAAP '24)
Glenn B. Rust has spent the last five years living in Chicago first receiving his Bachelor's of Arts in Playwriting from Columbia College Chicago, then working as the Technical Director for the longstanding playwrights' theatre Chicago Dramatists. Glenn has dedicated his career to the development of new work whether it be his own or his peers' by creating multiple new play festivals both in college and the professional theatre world. He joined SAIC's MAAAP program to fill out his toolkit to better serve the theatre community. Glenn believes the development of new plays and the building of relationships between theatre makers and other arts/culture leaders will be key to bringing the theatre scene into a new era. His reading series Playwrights Aloud has continued its work at Columbia College Chicago following his graduation and at Chicago Dramatists after he left the organization. He hopes to continue to develop more reading/performance opportunities here at SAIC and beyond.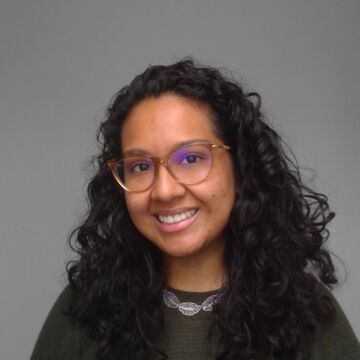 Karina Quintana (MAAAP '24)
Karina is a child of Mexican immigrants and a first-generation college graduate with a BA in Studio Art from Bard College. Upon graduating from Bard she served two years with AmeriCorps. as a Scholar Coach at George Westinghouse College Prep in Chicago for the Schuler Scholar Program. Her focus as a Scholar Coach was to mentor and prepare underrepresented high school students for entry and success in college. Her interest in the arts and access led her to The Art Center of Highland Park (TACHP) where she was a Development Intern supporting the Development Director in updating fundraising procedures and then promoted to Administrative Assistant. During the pandemic Karina was working at Chicago Artists Coalition primarily as Development and Communications Manager. Currently she is Program Manager at ChiArts Foundation where she is building the foundation for alumni engagement for The Chicago High School for the Arts.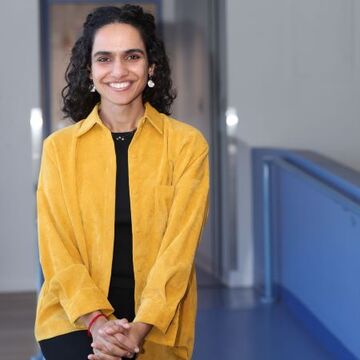 Moakshaa Vohra (MAAAP '24)
Moakshaa Vohra is an arts administrator. She has been involved in the planning, managing, and execution of multiple curatorial projects focusing on lens-based media in South Asia. She graduated from Srishti Manipal Institute of Art, Design, and Technology, Bengaluru in 2016 with a Bachelor's in Contemporary Art Practice with a minor in Film. Her interest areas are cinema studies and intermedia practices. Currently, she is based in Chicago and is a graduate student in the Arts Administration and Policy program at the School of the Art Institute of Chicago.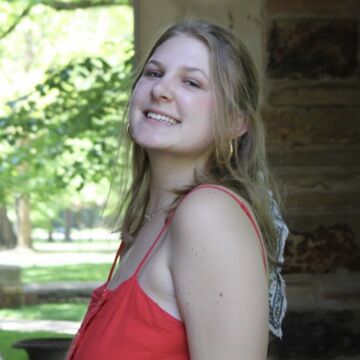 Caitlin Abigail Cooner (Dual '25)
Caitlin is a second year graduate student in the dual degree program. She grew up in Houston, Texas and recently graduated from Rhodes College with an MA in art history and a minor in religious studies. Her interests lie in the intersection of art and politics in modern and contemporary American art, with a focus on feminism. She has previously interned with various arts organizations, including the Memphis Brooks Museum of Art, the Dixon Gallery and Gardens, and Studio Gallery in Washington D.C. Through these organizations, she has gained experience working in museum curation, education, development, and event planning. She is currently working as a teaching assistant in the art history department at SAIC. She is hoping to use her degree to learn more about arts administration and find her niche in the art world. She is interested in pursuing a career in museum administration to promote the work of artists who have been excluded from the art historical canon.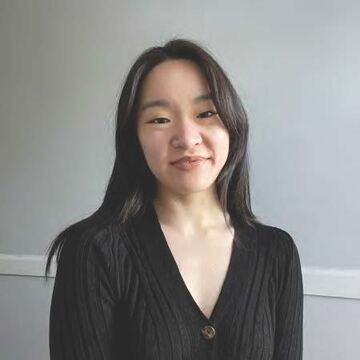 Gemma Kim (Dual '25)
Gemma is a second year graduate student in the dual degree program at SAIC. Originally from Montgomery County, Maryland, she received her BA with a double major in Art History and English at the University of Maryland, College Park in 2019. At UMD, her thesis focused on the manipulation of facial imagery and facial disfiguration in contemporary U.S. literature as it relates to critical race theory, mental and physical displacement, and questions of multiethnic identity within narratives of diaspora. Gemma currently works as a Graduate Curatorial Assistant at SAIC Galleries, assisting with thesis and specialty exhibitions. Her interests include the effects of diaspora on the production of art, the spatial relationships between art and the public, and issues of equity and access in arts institutions. She is interested in pursuing a career in arts administration to be able to facilitate better accessibility and inclusivity within the arts and the communities they serve.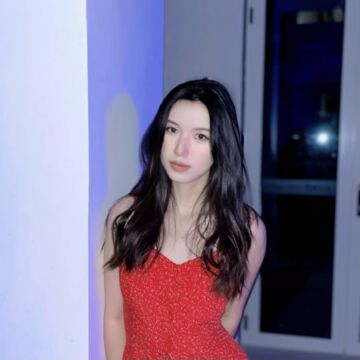 Tessie Shi Tang (Dual '25)
Shi Tang (Tessie) is a curator and artist currently living and working in Chicago. She has a degree in public art and during her undergraduate years she explored the use of different media in the public sphere as an artist; she also worked in different art institutions, gaining experience in exhibition research, public education, etc.
She notes that today's relational space has been infested with total objectification. She wants to explore how art can be used as a new social intermediary to generate new life possibilities in communities, and what is the role of art institutions and boards in this regard.
Tessie is a second-year student in the Dual Degree Master's program in Art History and Arts Administration at SAIC. She is looking forward to comparing community construction research in China and Chicago, exploring the differences between cultures in the context of globalization and the ways in which art is integrated into communities in different institutional and social contexts.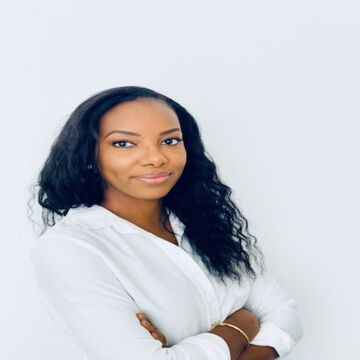 Adama Ka (MAAAP '24)
Adama Ka is Senegalese, with 15 years of experience in the financial sector. She began her career at the World Bank and spent two decades between Paris and Luxembourg, working in the consulting, banking, and private equity sectors.
She moved to Chicago in 2020, where she launched an itinerant art gallery focusing on the curation of exhibition projects in Chicago and internationally, with artists who create works exploring issues of gender, race, environment, and social inequality. She is the founder of Racines Consulting, a consulting firm providing services to financial institutions, governments, and cultural organizations.
She holds a master's degree in international business with a major in finance. Passionate about the intersection between art, business, culture, and finance, she is looking to combine arts administration skills and her background in finance, to support the cultural sector.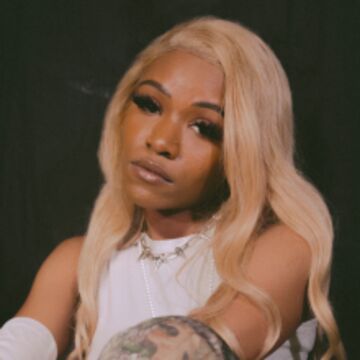 Abreihona Lenihan (Dual '26)
Abreihona (b. 1998) is an art historian, museum educator, arts administrator, curator, and creator of spaces that invest in and support Black art, artists, and communities. Since 2019, Abreihona has worked in the Carnegie Museum of Art education department as a Museum Educator, Docent Coordinator, and Youth Programs Coordinator. In the summer of 2022, Abreihona was a selected fellow of the High Museum of Art for the Museum Careers Summer Academy Program. In 2022, Abreihona received a Bachelor of Arts at the University of Pittsburgh with a History of Art and Architecture and Museum Studies degree. In the fall of 2023, Abreihona will be a first-year graduate student at the School of the Art Institute of Chicago in the Arts Administration and Policy & Modern and Contemporary Art History dual degree program supported by the 100% New Artist Society Scholarship. Her research focuses on 20th and 21st-century art and artists of the African diaspora who explore the relationship between black visual satire and popular culture.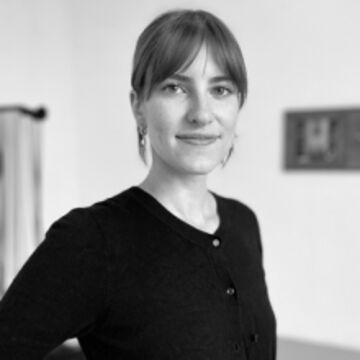 Kaitlyn Albrecht (MAAAP '24)
Kaitlyn Albrecht is a Chicago-based arts administrator and visual artist. She received her BFA from the School of the Art Institute of Chicago (SAIC) in 2018. Upon graduating she served as the Communications Manager at LVL3, where she led programming and published interviews focusing on the practices of national and international artists and designers. She is a board member for SAIC's Arts Administration Enrichment Fund and on the planning committee for Arts of Life's annual fundraiser. Within her practice, Kaitlyn facilitates collaboration amongst Chicago arts workers through exhibitions, programming, and craft to incite new conversations or ideas. Currently, she serves as the Director of Baby Blue Gallery, an artist-run space that promotes and supports unestablished artists, and Administrative Director of Academic Operations at SAIC. She is pursuing a Master of Arts in Arts Administration and Policy at the School of the Art Institute of Chicago.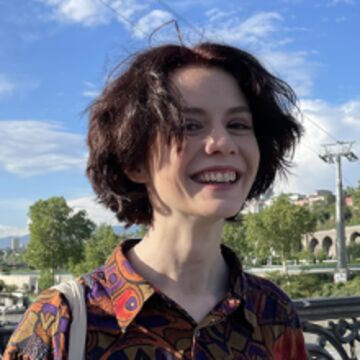 Ekaterina Korneva (MAAAP '25)
Ekaterina (Katrin) is an artist by mindset and an entrepreneur by training. Her professional goal is to support aspiring artists and create a more inclusive and diverse creative environment in her community. Katrin was born in Russia and spent several years after high school traveling around Europe, East and West Asia, and now the United States. She recently graduated from Arizona State University with a degree in Business and Arts Entrepreneurship and moved to Chicago to search for opportunities in the art market.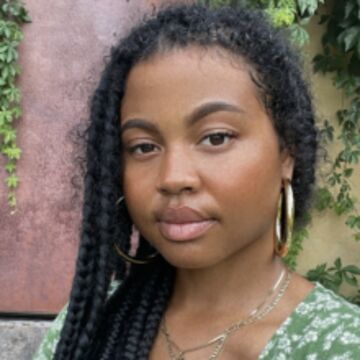 Christina McField (MAAAP '24)
Christina McField is a multidisciplinary artist, art administrator, and cultural producer. She also is the Founding Artistic and Creative Director for The Woodgrain Studio, LLC which supports the arts and cultural ecosystem as a space for collaboration, resources, and creativity rooted in community cultivation to enrich the lives of all Mississippians. Through her art practice, she examines themes of memory, time, and history by way of photography and sculpture to bring a eulogy for the lost ways of life found on various backroads throughout the rural south, that inadvertently connect her back to nature, spirit, and her childhood. Passionate about arts and culture, she is looking to combine her curatorial practice, arts administration work, and her background in community organizing to support and develop black artist careers and produce cultural programming between Chicago and Mississippi.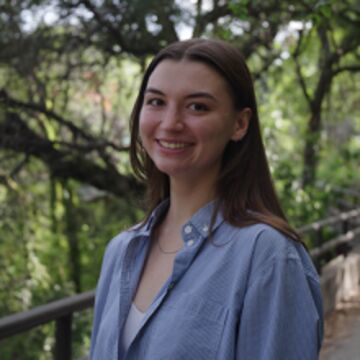 Ashley Allen (MAAAP '25)
Ashley Allen is a writer, creative, and emerging arts leader from North Texas. She earned her BA in Art History from Trinity University in San Antonio, Texas. Prior to moving to Chicago, Ashley completed an internship at Artpace San Antonio, worked as an administrator in student disability services, and has written exhibition reviews, artist interviews, and other pieces of cultural criticism for a variety of publications, some including Art & Education (now e-flux Education) and Glasstire. Ashley is interested in learning about the ways that policy, power, wealth, and culture behave in the contemporary art world and the nonprofit sector.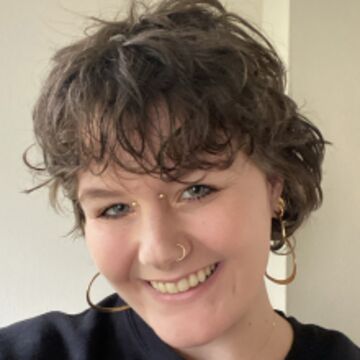 Riley Gunderson (Dual '25)
Riley Gunderson (they/them) is an emerging curator, art historian, arts administrator, and writer. Their work uses visual and written means to explore themes such as history, materiality, perception, and process, specifically regarding queer, trans, and feminist identity. Through their work, they hope to increase equity within the arts by broadening the narratives surrounding who makes art, why they make it, and whom they make it for. Riley's work has been featured in a variety of exhibitions and publications, including: 10011 Magazine; The New School; Greenpoint Gallery; and The Bridgeport Art Center.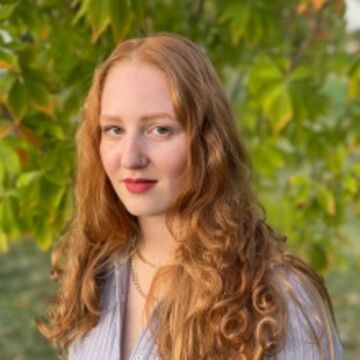 Angelia Word Mahaney (MAAAP '24)
Angelia Word Mahaney is a curator, community organizer, and DJ who holds a BA in Dance from University of Iowa. She curated SAIC's 2023 exhibition at Ars Electronica Festival and has participated in arts panels throughout the Midwest. She was the panel moderator for "Safer Space" at Chicago's Viva Acid, and for "Discussions with Kyruh & Wtchcrft" at PS1, as well as a panelist for Witching Hour Festival's "Lessons & Vision on Independent Space". She is co-founder of FemmeDecks, an electronic music collective which platforms BIPOC, LGBTQ+ and genderqueer artists, and believes in radically transforming the industry to represent its obscured diversity. FemmeDecks received the award of "Best Arts Collective" from Little Village Magazine in 2021.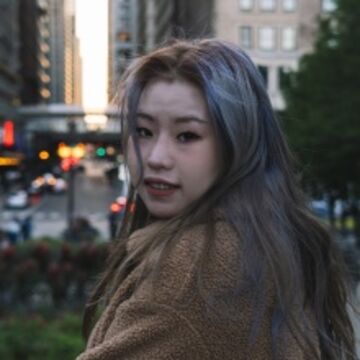 Aijun Hao (MAAAP '25)
Aijun Hao (A.J.) is currently a first-year graduate student at SAIC. She has an undergraduate degree in Visual Arts Management from Columbia College Chicago. Originally from China, she loves exploring the topics of cultural fusion and conflict. She primarily focuses on accessibility in art institutions and is passionate about supporting emerging minority artists and helping establish their careers. She practiced Chinese traditional dance for six years and is currently learning street dance. In her third year in Chicago, she aims to further explore the city and expand her vision in various contexts as an arts administrator.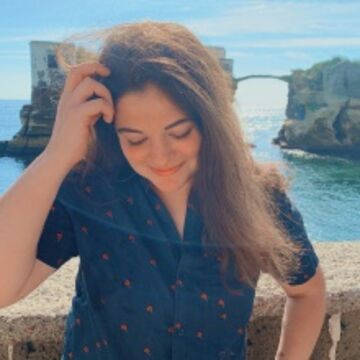 Katia Kukucka (MAAAP '25)
Katia Kukucka is a part-time MAAAP student/full-time Art Institute employee in the Analytics department. A native of Ann Arbor, Michigan, she graduated from the University of Chicago with a BA in History (Karafiol Prize), focusing on Italian Renaissance political history, and a minor in Renaissance political philosophy. Her professional and academic interests include museum collections, provenance methodology including data-activated provenance tracking, archival systems, repatriation, museum marketing and brand strategy, and art crime (research only). Her nonprofessional interests include training her cat, Cellini.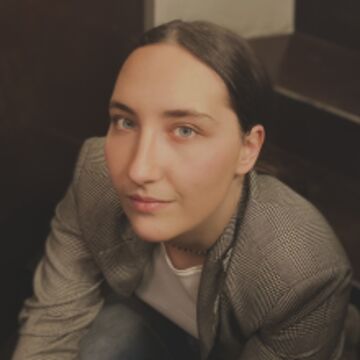 Virginia Zonca (MAAAP '25)
Virginia Zonca, an Italian art historian and aspiring art advisor, earned her BA in Art History from The Courtauld Institute of Art in London, UK. Currently, she is a first-year candidate for the MA in Art Administration and Policy at SAIC. Beyond her academic career, Virginia gained valuable experience as an intern at the Peggy Guggenheim Collection in Venice, a cataloguer and researcher for a private collector, and as a junior writer at an online newspaper in Italy. In the future, Virginia aims to bridge the gap between art, its value, and its viewers, ensuring alignment with contemporary frameworks of critical discourse.
Leah Duval (MAAAP '25)
Leah Duval holds a Bachelor of Arts degree in Music with a minor in African American Studies from Florida State University. Throughout her academic journey, she actively engaged with Non-Profit music organizations and performance spaces in her hometown of Macon, GA. Her contributions encompassed event planning, community program development, and the management of social media content, all of which underscore her deep connection to the world of music.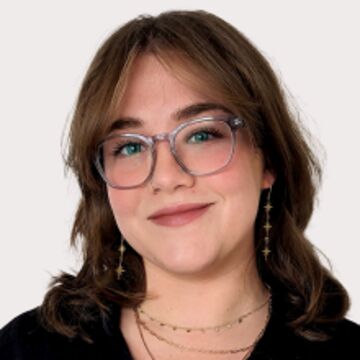 Margaret Lindahl (MAAAP '24)
Margaret Lindahl is an artist, curator and arts administrator from Minneapolis, Minnesota. Margaret received her undergraduate degrees in Studio Art and Art History from St. Olaf College and has spent most of her professional career creating and executing exhibitions in museum and gallery settings. Building on her prior experiences, she is currently a second year graduate student in the Arts Administration and Policy program at the School of the Art Institute of Chicago where she is focusing her research on academic museums and visitor-centered exhibition making.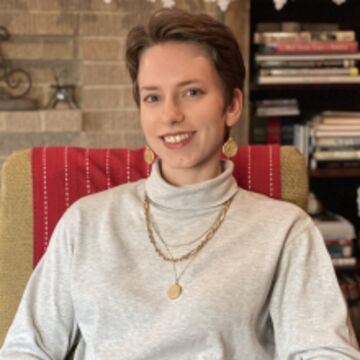 Madeleine Zimmerman (Dual '24)
Maddie is a Chicago-based graduate student pursuing the dual MA in Art History and Arts Administration at SAIC. She graduated from Hope College in 2020 with a BA in Art History and minors in Asian Studies and Gender Studies. Her academic research engages with modern and contemporary photography and visual culture, and how artistic practice is influenced by gender identity and queerness. Maddie is interested in challenging conceptions of the art historical canon and hopes to pursue a career in curation.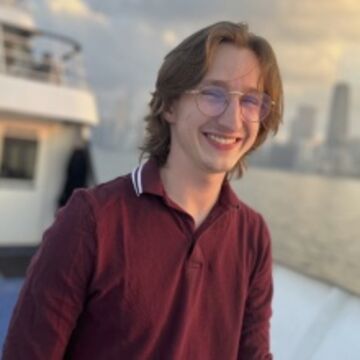 Charlie Nawara (MAAAP '25)
Charlie Nawara is an emerging arts administrator with a passion for helping in underserved and underrepresented organizations within the world of art. With bachelor's degrees in Art History and Communication Studies, Charlie focuses on building strong relationships to support a more progressive art industry. Through a variety of experiences in the arts, some of which include working with Young Rembrandts, the MCA and WNDR museums, and Foursided Custom Framing, Charlie has fostered skills in afterschool education, visitors services and relations, and art handling, amongst others. Whether eventually working with individual artists or longstanding institutions, Charlie's education at SAIC will be put towards positive social change and equity in an ever evolving field.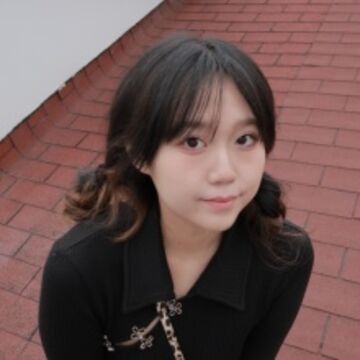 Yijing Luo (Dual '26)
I am a passionate art administrator with an interest in curatorial work and auction house operations. I am pursuing a dual degree of MA in Art Management and Policy and MA in Modern and Contemporary Art History at SAIC. My goal is to gain an in-depth understanding of how the art market works and to explore different ways to better promote art and provide a platform for artists to showcase their talents. I believe that art is not only a kind of expression, but also a kind of value transmission. We need to make the value of artwork recognized and appreciated by more people through different ways.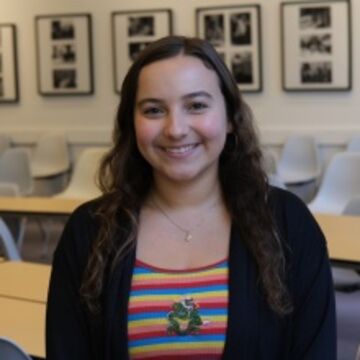 Nicole Laboy Zapata (MAAAP '25)
Nicole Laboy Zapata is a graduate student in the Arts Administration and Policy Program at the School of the Art Institute of Chicago. Originally from San Juan, Puerto Rico, she completed her undergraduate degree in Anthropology with a minor in Art History at the University of Chicago. Nicole's academic interests revolve around archaeology, material culture, and material studies. She has gained valuable experience through internships at institutions like The Blanton Museum of Art, The Smart Museum of Art, and Museo de las Américas. Her future goal is to return to Puerto Rico and foster artistic and cultural exchange across the Caribbean.