Event Details
Sunday, October 15, 2023, 12:00 – 4:00 p.m. (CT)  
School of the Art Institute of Chicago (SAIC)  
280 S. Columbus Dr.   
Chicago, IL 60603
Image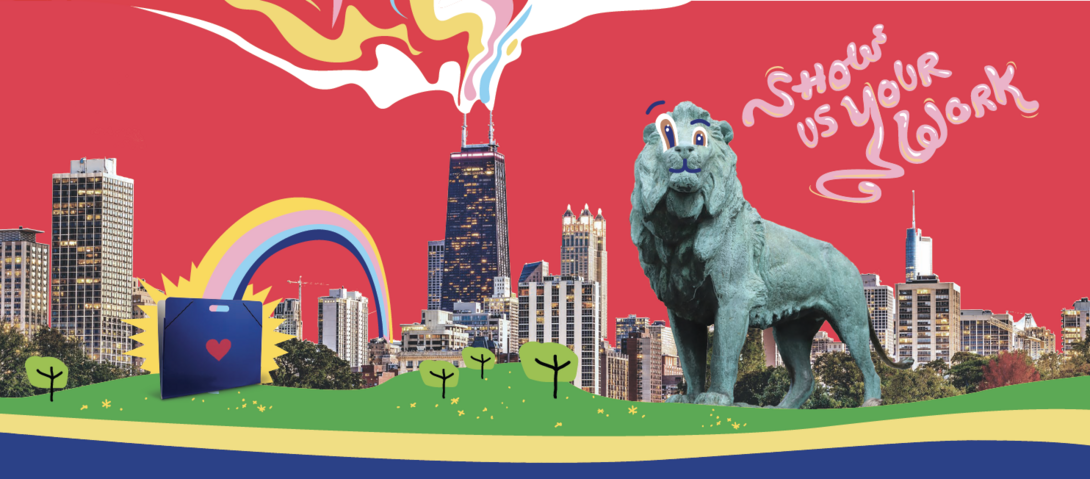 RSVP required at nationalportfolioday.org  

The event will be hosted from 12:00 – 4:00 p.m. (CT) at SAIC's 280 Building. You may begin to line up outdoors starting at 11:00 a.m. (CT). The venue is accessible by public transportation, and more info on traveling to our campus can be found by visiting:

SAIC invites you to one of the nation's largest portfolio days with representatives from nearly 50 nationally accredited art schools and universities on hand to discuss your work and assist you in pursuing an education in the visual arts. High school students, parents, teachers, guidance counselors, and college transfer students are encouraged to attend this four-hour educational event, created for emerging visual artists and designers. Representatives from colleges of art and design will review artwork, discuss programs, and answer questions about creative and professional careers.  

This is an educational event—no admissions decisions or scholarship awards will be offered. Portfolios should include your best and most recent work, but can also include works in progress, sketchbooks, and tear sheets—it is not necessary to mat or frame work. Bring original artwork whenever possible, and keep your presentation simple; the work itself is what is important.  

We look forward to meeting you and seeing what you do! If you have any questions, please call us at 800.232.7242 or 312.629.6100, or email ugadmiss@saic.edu.  

For more info on SAIC's admission process and other events for prospective students, visit saic.edu/ug.
Join us for a Pre-NPD Event "Saturday with SAIC"
Saturday, October 14, 2023 
SAIC MacLean Ballroom 
112 S. Michigan Ave. 
Chicago, IL 60603 

Check-in begins: 2:30 p.m. CT 
Presentation: 3:00 p.m. CT 
RSVP 

Prepare for National Portfolio Day with Saturday with SAIC! This event will feature the presentation "Portfolio Day Survival Guide" to help you make the most of your National Portfolio Day experience, including portfolio preparation tips for both admission and merit scholarship. Campus tours will be offered, and current students, faculty, and staff will be on hand to answer your questions!
NPD Participating Schools:
Alfred University School of Art & Design + Performing Arts Division
Art Academy of Cincinnati
Art Center College of Design
Boston University School of Visual Arts
Bradley University/Heuser Art and Design
California College of the Arts
California Institute of the Arts
Cleveland Institute of Art
College for Creative Studies
Columbus College of Art & Design
Cornish College of the Arts
Drexel University, Westphal College of Media Arts & Design
Fashion Institute of Technology
FIDM/Fashion Institute of Design & Merchandising
Herron School of Art and Design, IUPUI
Illinois State University Wonsook Kim School of Art
Iowa State University College of Design
Kansas City Art Institute
Kendall College of Art and Design
Laguna College of Art + Design
Maine College of Art & Design
Massachussets College of Art and Design
Miami University
MICA
Milwaukee Institute of Art & Design
Minneapolis College of Art and Design
Montserrat College of Art
Moore College of Art & Design
New York School of Interior Design
Northern Illinois University
OCAD University
Otis College of Art and Design
Pacific Northwest College of Art at Willamette University
Parsons School of Design/Parsons Paris at The New School
Pennsylvania Academy of the Fine Arts
Pratt Institute
PrattMWP College of Art and Design
Ringling College of Art & Design
RISD
Rochester Institute of Technology
School of the Art Institute of Chicago
School of the Museum of Fine Arts at Tufts University
School of Visual Arts
Syracuse University College of Visual and Performing Arts
The Cooper Union
The University of Kansas
Tyler School of Art and Architecture at Temple University
University of Illinois
University of Michigan Stamps School of Art and Design
University of St. Francis
University of the Arts
Vincennes University
Virginia Commonwealth University (VCUarts)
Washington University in St. Louis
Western Michigan University