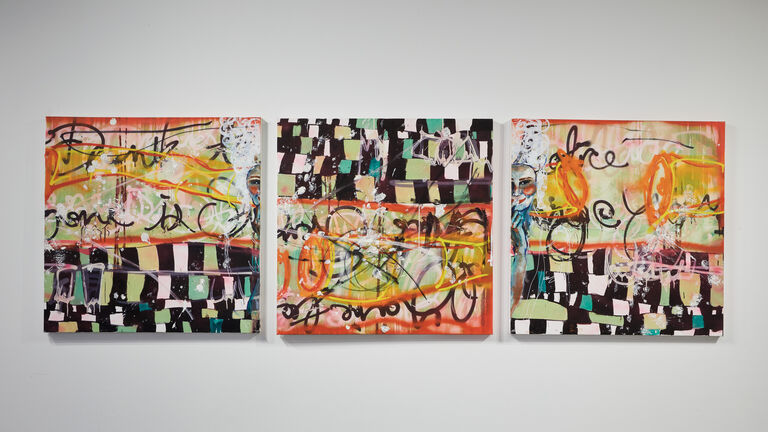 Olivia Minshall, "Split," 2022
Chicago Studio: Painting & Drawing + First Year Studio (FYS) I
Event Details
July 11- August 19, 9:00 a.m - 4 p.m. CT
Instructors: Paola Cabal & Peter Thomas
(6 Credits)

Registration is open now.
Space is limited due to our small 15-person class size. 

Watch the Online Info Session (May 5, 2022)

Contact Lauren Hogan Casser at lhogan@saic.edu, or call us at 1.312.629.6100 during office hours (M–F 8:30 a.m. –4:30 p.m. Chicago time) with questions or to schedule a registration appointment.

Please note: Students are required to live on campus during this program.

What better way to explore creative Chicago, expand your conceptual and technical artmaking, and sharpen your college-level writing skills than by drawing inspiration from the studios of working artists from across our city's diverse neighborhoods? This newly offered course combines painting and drawing with your First Year writing course, allows you to experience Chicago in the summer, and familiarizes you with our incredible urban campus prior to the fall semester!

Every artist makes and thinks about their work differently, and our studio visits will introduce you to a variety of different approaches to bring back to your own work. Maybe you'll discover a new process or material that intrigues you. Perhaps you are interested in the reference images or impressions from the physical space within the space. Or, you might be inspired by the subject matter being investigated by one of the artists we visit.
Course Information
Artists take notes – of the visual and verbal references which can act as catalysts for their art making. During your studio visits, you will be taking notes, drawing in your sketchbooks, and be encouraged to take photos and images with your phone to refer to for your projects. We will also be reading short pieces authored by Langston Hughes, Twyla Tharp, Scott McCloud, Bernard Cooper, Margaret Atwood, G.K. Chesterton, Maya Lin, and Vincent van Gogh, among others.

Your faculty will work one-on-one with you to help you create your response pieces to the artists we visit. Expect to create a series of five to six pieces that thoughtfully explore the experience of visiting each artist's studio piece. The course will culminate in a final critique of the works you produced over the summer.

You will also be producing short writing assignments and in-class journals, as well as writing and revising 3 main essays totaling 15-20 pages of formal prose. Similar to your studio experience, you will have one-on-one meetings with your faculty and informal interim critiques.
Living On Campus + Meal Plan
Student housing will be provided in SAIC's 162 N State Street Residences. Located in the heart of the city, this building is directly across from the Chicago Theatre. Each loft-style room has a private bath and kitchenette, with a full size refrigerator, microwave oven, and stove top, and great wireless internet. These generous accommodations boast 11-foot ceilings with track lighting, ample closet space, and large windows with views of Lake Michigan or the Chicago Loop. They are furnished with an extra-long twin bed, drafting table, and chair.

Common area amenities and resources include:

24-hour security desk
Resident Advisors (RAs): Upper class students who will plan fun events in & around the building as well as help build connections to the SAIC community.
24-hour Wet & Dry Studio: Work on your work from home! Use our wet & dry studio spaces to complete all of your projects.
Laundry rooms: Easily access these 24hr spaces by checking online for available machines.
Exercise Room: After a short orientation, take care of your fitness with both cardio & weight machines.
Computer Lab: Use our Mac computers, scanners, and a pay-to-print station.
Media Room: Have fun with friends binging your favorite cable television shows, hooking up your gaming system, or watching your favorite movies.
Kitchen: ​Cook amazing things on your room's stove top. Then bake some amazing things in the spacious common area kitchen.

Once open, the application will be available in the Housing Portal at saic-housing.artic.edu. You will need to electronically sign your housing contract and submit the $150 prepayment in order to complete the application.

Eat. Engage. Enjoy. All students who live on campus are able to enjoy the declining balance meal plan. Although students are able to learn the art of cooking in their residence hall room, SAIC's flexible, declining balance meal plan allows for great food within the community. The $400 summer meal plan can be used for breakfast, lunch and/or dinner. Students only pay for what they eat, so use it how it best meets your needs. For most students, the meal plan will cover approximately 5-10 meals a week.
Student Benefits
You will be fulfilling your First Year Seminar I (writing) course requirement. You will then be taking First Year Seminar II in Fall 2022. This allows you to begin choosing from our full selection of liberal arts courses beginning in Spring 2023.
This course is the equivalent of a painting and drawing studio elective. This means that in your first year at SAIC, you will be able to take 3 studio electives, rather than 2 that students beginning in the fall are allowed to take.
You have special access to the studios of artists living in various neighborhoods throughout the city. This is a very unique opportunity to meet one-on-one with working artmakers to see their spaces and learn about their processes.
CHICAGO IN THE SUMMER! Chicago is an extraordinary place year round, and is especially lively during the summer months with musical events (Pitchfork and Lollapalooza), art walks, and neighborhood festivals.
Arriving on campus early allows you to get familiarized to SAIC and its resources, as well as the city of Chicago.
You will be allowed to remain in the residence hall until the start of the Fall semester for no additional cost, as well as keep the same room into the Fall semester (if desired).
 
Note: single rooms are not available to first-year students in the academic year, so if you have a single for the summer, you will likely have to move to a different space for the fall.
Costs
Please note: Any merit scholarships and financial aid you received for the fall 2022 semester will be pro-rated toward the cost of tuition for this program.

Tuition
$10,440 (6 credits)

Housing
$2250 (double room)
$3000 (single room) 

Art Supplies and Incidentals
Will vary based on your needs and faculty estimates. 

Health Insurance: New summer domestic students who are enrolled in summer classes part-time are eligible to enroll in the summer insurance plan via submission of an online request for coverage. For summer 2022, the cost is $473 and coverage dates are 06/11/2022 - 08/17/2022.

Ventra U-Pass: Students are eligible to purchase a Ventra U-Pass, which allows unlimited use of Chicago's public transportation system. The cost of this pass is $115 plus a one time card fee of $5.
Frequently Asked Questions
Meet the Instructors:
Paola Cabal
Adjunct Associate Professor, Painting and Drawing

A native of Bogotá, Colombia, Paola Cabal has lived in Chicago since 2001. Trained in observational realism, Cabal continues to implement responsive looking in her increasingly diverse practice, which includes site-specific installation, collaborative work, and more recently curating and writing in addition to her ongoing engagement with more traditional drawing media. Alongside her own art-making, Paola Cabal is an active member of the three-person collaborative (ƒ)utility projects and an educator at The School of the Art Institute of Chicago and DePaul University.
paolacabal.com
Peter Thomas
Adjunct Assistant Professor, Liberal Arts

BA, 1993, Beloit College, Beloit, WI; MA, 1993, Beloit College; MFA, 2002, Indiana University, Bloomington, IN. Plays Produced by: American Theatre Company, Chicago; Museum of Contemporary Art, Chicago; New Plays Coop; Chicago Dramatists.