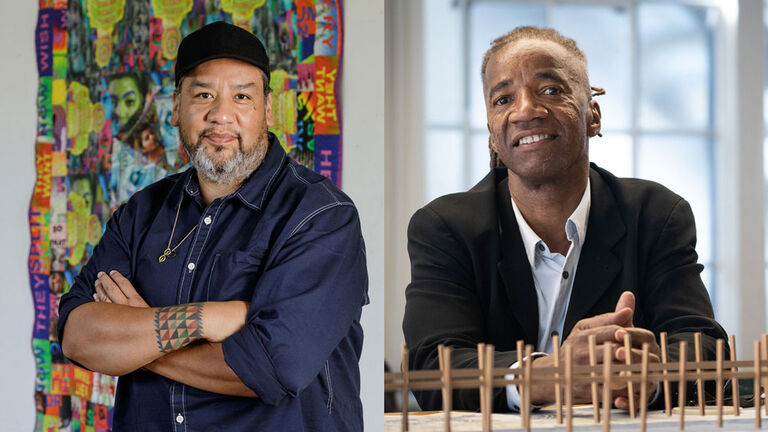 Jeffrey Gibson and Walter Hood Receive 2019 MacArthur "Genius" Grants
Jeffrey Gibson (BFA 1995), interdisciplinary artist and craftsperson, and Walter Hood (MFA 2013), landscape and public artist, were awarded 2019 MacArthur "genius" grants by the John D. and Catherine T. MacArthur Foundation. Every year the MacArthur Fellows Program provides unrestricted fellowships to individuals doing transformative work across a wide range of disciplines.
According to the MacArthur Foundation, "Gibson, a member of the Mississippi Band of Choctaw Indians and of Cherokee descent, is forging a multifarious practice that redresses the exclusion and erasure of indigenous art traditions from the history of Western art as it explores the complexity and fluidity of identity." He will give the Distinguished Alumni Lecture Series at SAIC on October 28, as part of the Visiting Artists Program, and his solo exhibit CAN YOU FEEL IT runs through December 14, at Kavi Gupta gallery in Chicago.
Hood's work "melds architectural and fine arts expertise with a commitment to designing ecologically sustainable public spaces that empower marginalized communities," according to the MacArthur Foundation. Founder of Hood Design Studio, he presents work at this year's Chicago Architecture Biennial. Hyperallergic, the Chicago Tribune, and the Architect's Newspaper reported on the 2019 MacArthur fellows.
Since 2001, six SAIC alums and faculty have received this prestigious honor. Wu Tsang (BFA 2004) received the MacArthur grant in 2018, Trevor Paglen (MFA 2002) received the grant in 2017, faculty member in the School's Photography department, LaToya Ruby Frazier, received the honor in 2015, and Iñigo Manglano-Ovalle (MFA 1989) received the grant in 2001. See the full list of winners here.